I just love summer berries … blueberries, strawberries, raspberries, blackberries….bring 'em on!!! As July is Blueberry Month, we wanted to share some of our favourite recipes—they are foolproof and easy—and if they don't look perfect, well who cares! They still taste amazing and it is the summertime when we are more relaxed and enjoying the moment!
BLUEBERRY MUFFINS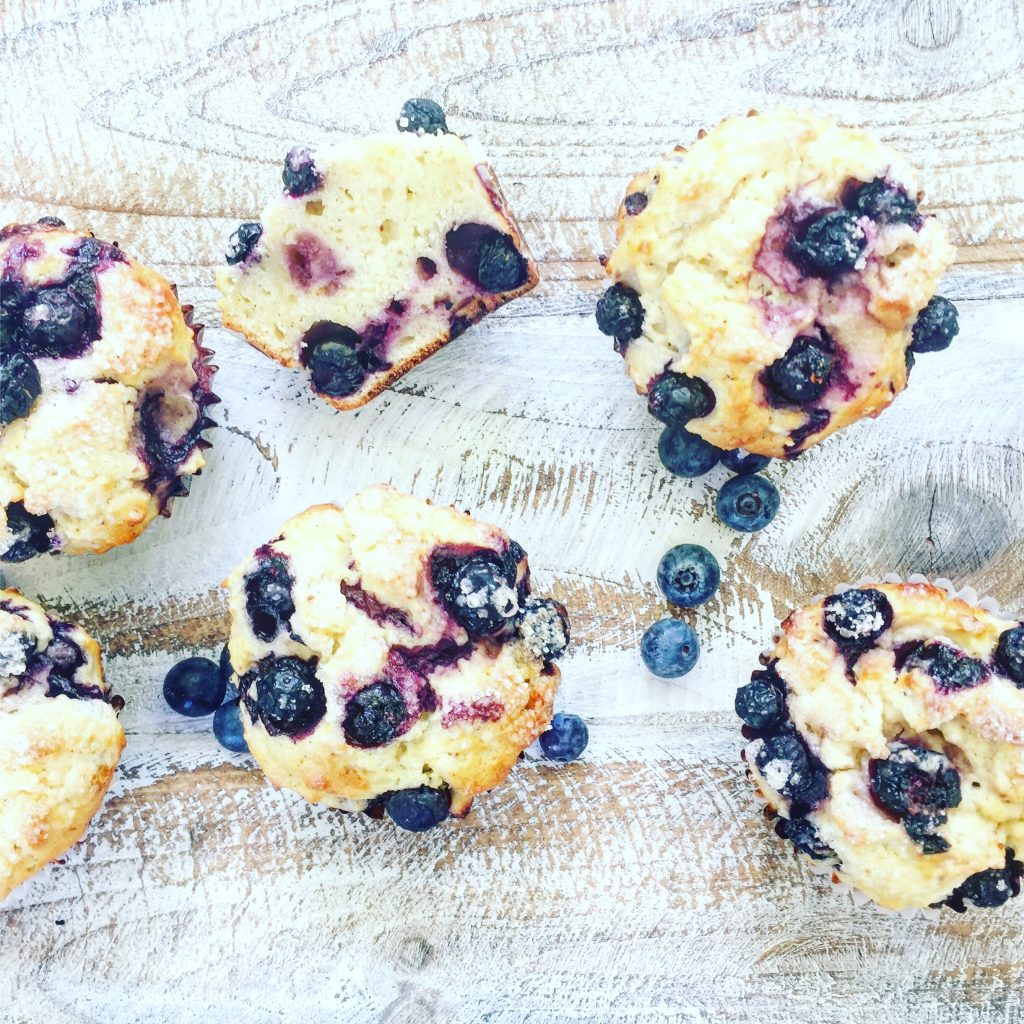 Muffins are great all day long. Perfect for breakfast, brunch, or even a light dessert with a blueberry jam and vanilla ice cream.
Makes 12 Muffins
Nonstick vegetable oil spray
1½ cups all-purpose flour
1 cup whole wheat flour
1 cup granulated sugar
2½ tsp baking powder
2 tsp kosher salt
½ tsp freshly grated nutmeg
2 cups fresh blueberries, divided
2 large eggs plus 2 large egg yolks, beaten to blend
1½ cups plain whole-milk yogurt
½ cup (1 stick) unsalted butter, melted
1 tsp finely grated lemon zest
2 tsp fresh lemon juice
2 tsp vanilla extract
2 Tbs raw sugar
Preheat oven to 425°. Lightly coat cups of a standard 12-cup muffin pan with nonstick spray. Whisk all-purpose flour, whole wheat flour, granulated sugar, baking powder, salt, and nutmeg in a large bowl to combine. Add 1½ cups blueberries and gently stir until evenly distributed.
Whisk eggs, yogurt, butter, lemon zest, lemon juice, and vanilla in a medium bowl until combined and creamy, about 30 seconds. Gently fold egg mixture into dry ingredients just to combine (be careful not to overmix).
Divide batter evenly among muffin cups. Top with remaining ½ cup blueberries, gently pressing to adhere (you should have 4–5 berries per muffin). Sprinkle with raw sugar.
Bake muffins, rotating the pan halfway through, until a tester inserted into the center comes out clean, 25–30 minutes. Transfer pan to a wire rack and let muffins cool in pan 5 minutes. Turn out onto rack and let cool completely.
BLUEBERRY LEMON CREAM TARTS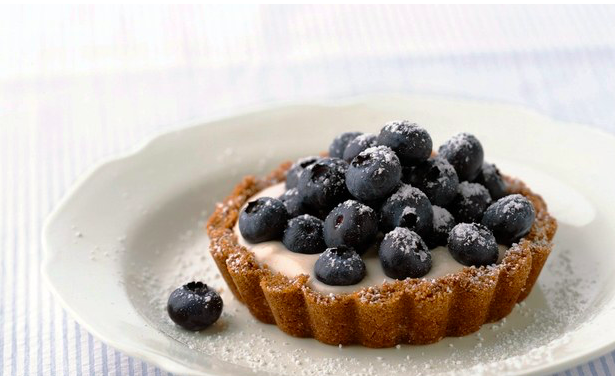 This recipe never fails to please. It works just as well as a large tart or as 4 individual ones.
1 cup graham cracker crumbs
1 1/2 Tbs granulated sugar
1/2 stick (4 tablespoons) unsalted butter, melted
2 Tbs packed light brown sugar
1/4 cup sour cream
1/4 tsp vanilla extract
4 oz cream cheese, softened
1/2 tsp finely grated fresh lemon zest
1 1/3 cups blueberries (6 ounces)
Confectioners sugar for dusting
Special equipment: 4 (3 3/4-inch) nonstick fluted tart pans or 4 (8-ounces) ramekins
Preheat oven to 350°F with a baking sheet on middle rack.
Stir together graham cracker crumbs, granulated sugar, and butter in a bowl with a fork until combined well, then press mixture with your fingers and back of a spoon evenly and firmly onto bottom and up the side of each tart pan. (If using ramekins, press mixture 3/4 inch up sides.)
Put tart pans on a preheated baking sheet and bake crusts until slightly darker, about 10 minutes, then cool 10 minutes on a rack. (Ramekins will need to cool an additional 5 minutes in the refrigerator.) Gently push the bottom of each tart pan to loosen crust, then invert crust onto your hand and place on a serving plate. (If using ramekins, leave crusts in ramekins.)
While crusts cool, whisk together brown sugar, sour cream, and vanilla in a small bowl until sugar is dissolved. Beat cream cheese in a medium bowl with an electric mixer until smooth, then add sour cream mixture and zest, beating until just combined well.
Divide cream cheese filling among tart shells, spreading evenly, then top with blueberries and dust with confectioners sugar.
Give these recipes a try and let us know what you think! What's your favorite blueberry recipe?