With life already feeling like there's not enough time in the day, I understand people who are skeptical of the world of meditation. I mean, who really has the time to wake up and make the time in between getting ready for the day and heading off to work to sit on the floor and empty your mind?
I know that it can sound gimmicky and maybe not worth your time or effort, but hear me out—Meditation has been scientifically proven to not only positively impact your mental health, but your physical and emotional health as well. Today we're going to be taking a quick look at the history of meditation, and how it can change your life.
While it's difficult to pinpoint the origins of the practice, it is speculated that meditation can be traced back to the Indus Valley, know known as Pakistan and northwest India. There is evidence of wall art depicting meditators that are estimated to have been created anywhere between 5000-3500 BCE. That being said, meditation didn't seem to gain speed or recognition until around the time of the formation of Buddhism, and Hinduism in Ancient India. Buddhism, a religion based on spirituality and the teachings of the Buddha, used meditation to connect the mind with the essence of the world, and to develop an understanding of interrelatedness between all things.
But our understanding of meditation has grown in the years since it's founding, and we know have a firm grasp on how and why meditation can truly impact and affect your life.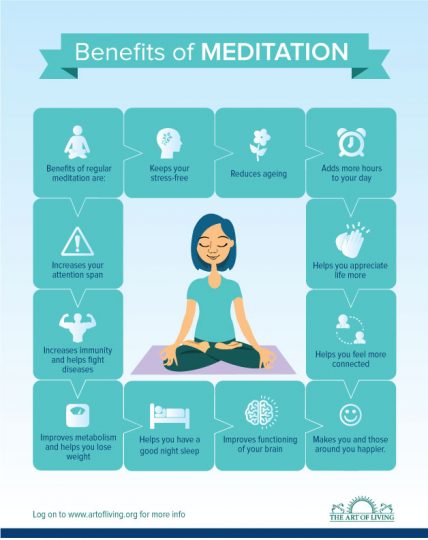 In terms of your brain and your mental wellbeing, a Belgian study showed that students who follow a mindfulness program report a significant decline in depression, anxiety and stress up to six months later. Mindfulness Meditation has also shown to reduce and treat depression in soon-to-be mothers, and actually showed a more intense bond created between mother and child, as shown in findings published to Complementary Therapies in Clinical Practice.
Not only does meditation have a huge impact on depression, but it can also have an incredibly beneficial impact on anxiety and panic disorders. In a study published to the American journal of Psychiatry, 22 patients diagnosed with anxiety or panic disorders participated in a 3 month meditation practice, which resulted in 20 of the patients reporting significantly reduced panic and anxiety symptoms.
While mental health is the obvious and main draw of incorporating meditation into your daily routine, the science behind actual physical effects is astounding. MRI scans show that in those submitted to mindfulness courses, grey matter concentration increases in areas of the brain involved in learning, memory, emotions, and perspective.
Helping you slow your breathing and clear your mind, meditation impacts everything from the quality of your sleep, to improved athleticism by refining your ability to focus on a situation. It also boosts the immune system by slowing the production of cortisol (the stress hormone) and lowers heart rate, respiratory rate and oxygen consumption.
So stop using your busy schedule as an excuse to avoid meditation—because it's your busy schedule that's causing you to need it!
If you're interested in meditation but don't know where to start, here are a few resources we love:
Calm App: The #1 App for Mindfulness and Meditation, calm seeks to make the world healthier and happier through the super power of meditation and mindfulness. Offering a series of various guided meditation courses, this is an awesome option of a beginner
Simple Habit App: This app is perfect for anyone who uses lack of time as an excuse to avoid meditation, as it encourages just 5 minute sessions to sharpen focus, sleep well, calm anxiety, and boost productivity. Similar in format to Spotify, Simple Habit has dozens of meditative playlists for whatever your goal may be. From a "31 Day Fresh Start" playlist—which offers daily guided meditations from instructors that last only about 5 minutes, to the "Simple Habit Starter," which is essentially a 7 day introductory course to mindful meditation, Simple Habit is a fantastic resource for the busy bee's who need to find time to relax
The 30-Day Meditation Challenge: Coming from the Do You Yoga channel on YouTube, this free 30 day challenge guided by Faith Hunter compiles daily 10-minute meditations that are simple and perfect for adding clarity and focus to your everyday life.