Although it's not considered a Federal holiday, the National Freedom of Information Day was created as a reminder of the importance of transparency in the American government, as well as people's right to be informed. It was also meant to commemorate the birthday of the 4th U.S. President, James Madison, AKA the "Father of the Constitution," and who also authored the U.S. Bill of Rights.
Freedom of information is a powerful notion in America's society. Back in 1966, President Lyndon Johnson signed the Freedom of Information Act (FOIA) law, permitting U.S. citizens to access records from federal agencies, which are required to provide any information requested unless it's protected by law. According to History.com, FOIA requests have revealed everything from the FBI's surveillance of dozens of well-known African-American writers for five decades starting in 1919, to even exposure to activists in the 1980s that the Environmental Protection Agency knew paper mills were discharging a toxic substance, dioxin, into rivers.
The UNESCO, says that the free flow of information and ideas is not only an integral part of the fundamental right of freedom of expression, but it also lies at the heart of the very notion of democracy and is crucial to effective respect for human rights.
While in recent years, there have been growing concerns about the stability of democratic countries, a Pew Research Center says that public support for democratic ideals remains strong. In fact, according to their study, "As of the end of 2017, 96 out of 167 countries with populations of at least 500,000 (57%) were democracies of some kind, and only 21 (13%) were autocracies." In 1977, only 35 of the 143 countries rated by Polity (24%) qualified as democracies, while 89 (62%) were classified as autocracies of one stripe or another (including nine absolute hereditary monarchies).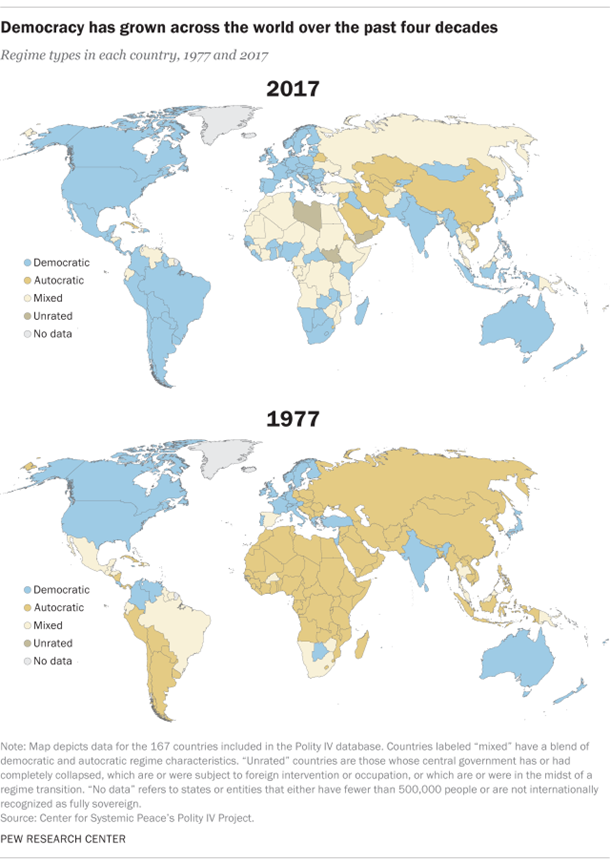 Nevertheless, having the right to access information held by public bodies is key, since among other things it allows people to make decisions that can impact their future. The knowledge of laws or rights applicable in the country, as well as the state of the economy, social systems, and even the use of public funds, can help drive accountability and prevent and fight against corruption.
This National Freedom of Information Day can serve as a time to reflect on our government system, which may not be perfect, but it allows basic rights worth maintaining and improving. Is the perfect time to encourage citizen participation in order to help progress in issues such as equality, the effectiveness of government, and socio-economic development, to mention a few things.