The eco18 team recently attended the 30th Annual Natural Products Expo East trade show in Baltimore, MA. Out of the 1,350 exhibitors, over 25 percent were new company launches. This year, the show saw a debut of over 400 new brands that utilized Expo East as a launch pad into the natural and organic marketplace. We loved checking out all of these new products as well as some old favorites.
Some healthy food and beverage trends we noticed included: floral ingredients; upcycled food and packaging waste; "Pegan" products (a paleo and vegan mashup containing no dairy, grains, or animal ingredients); enhanced waters, such as watermelon, alkaline, aloe, coconut, maple, probiotic‐packed; and cashews as the new almonds.
It was thirsty work visiting all the booths, talking with the exhibitors, learning about the products and sampling all the different foods, so we are constantly on the look out for hydrating beverages to keep us going. Here are three new brands that we really liked: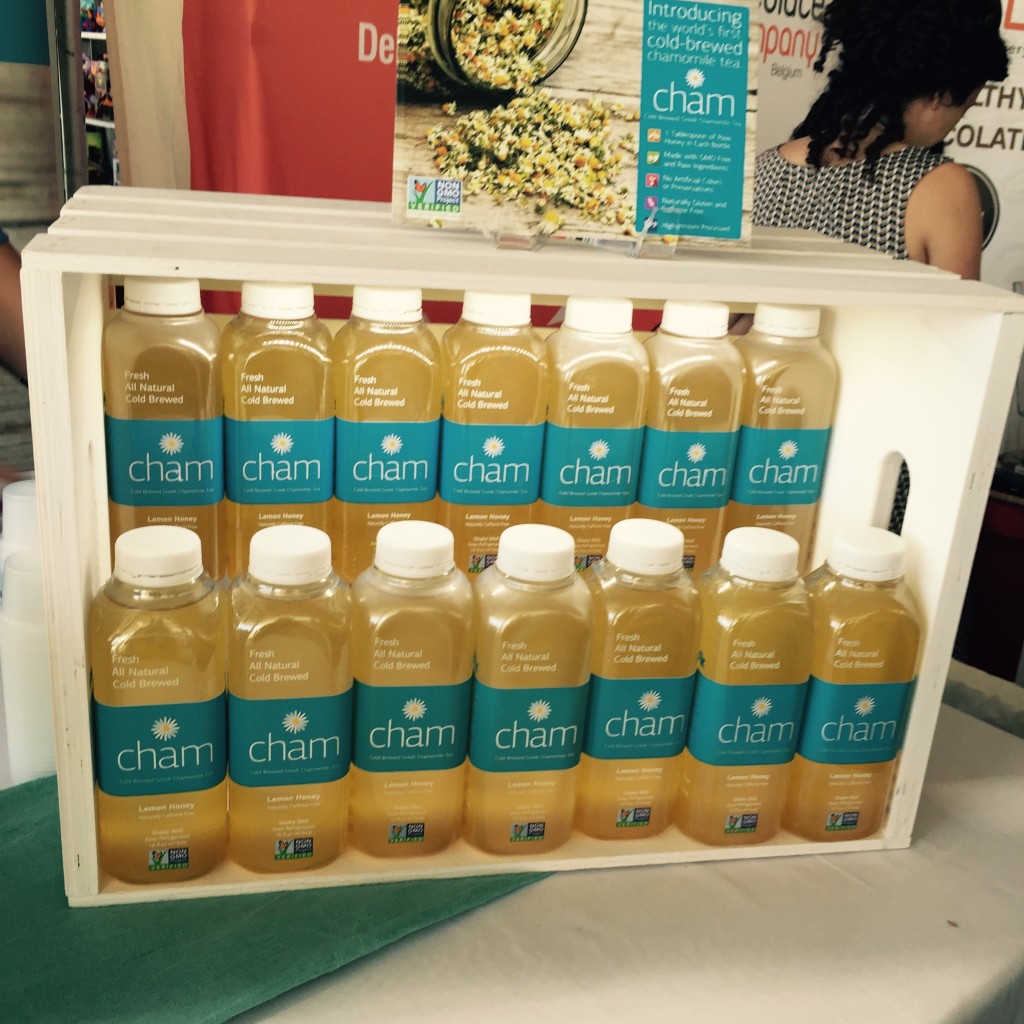 A refreshing modern take on an old Greek classic, Cham is cold brewed to help preserve as many naturally occurring properties of Chamomile that high heat in traditional brewing can diminish or deteriorate. This fresh, all natural tea, which has been cold brewed for 18 hours in small batches, is delicately flavored with citrus and raw honey. Not only is it delicious, but the calming properties of Chamomile are good for the body and soul!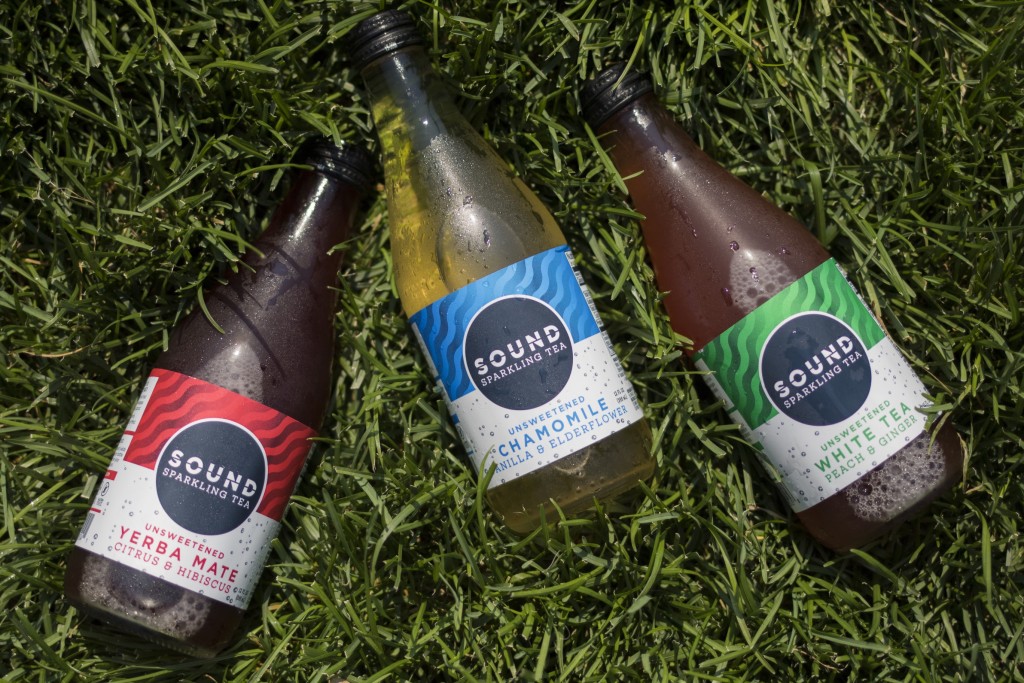 Another of our favorite refreshing beverage picks! This simply brewed organic tea is mixed with crisp sparkling water and unique, subtle flavor notes. These unsweetened teas have zero calories and are non GMO, but what was really surprising were the delicious flavor combinations, which were so interesting. We loved them all. White Tea was enhanced with Peach & Ginger, Chamomile Tea with Vanilla & Elderflower and Yerba Mate with Citrus & Hibiscus.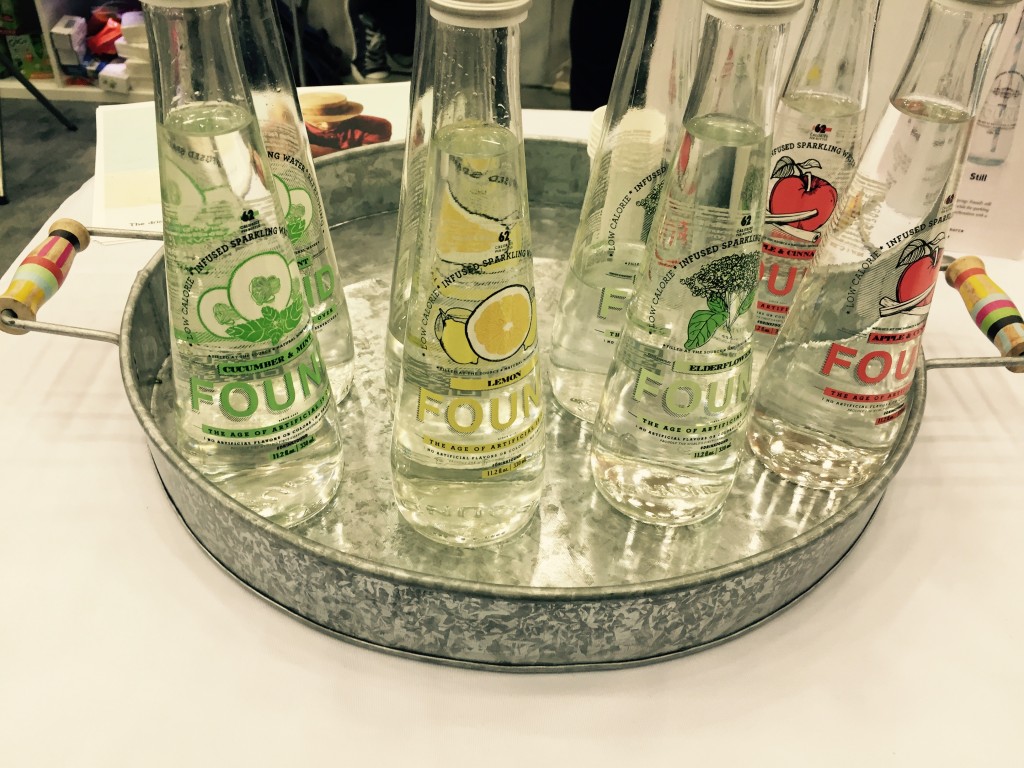 These infused sparkling waters come from Mount Uludog, Turkey's highest peak. From the moment the natural mineral water begins its journey from the snow capped peaks, it flows through the mineral rich mountain and the water becomes naturally carbonated with the perfect amount of gentle bubbles. It is then lightly sweetened with natural (non-GMO) beet sugar and infused with natural aromas including Apple & Cinnamon, Cucumber & Mint, Lemon and Elderflower. These refreshing concoctions are 100% natural with no preservatives.
We dropped by one of our favorite brands for a little antioxidant boost!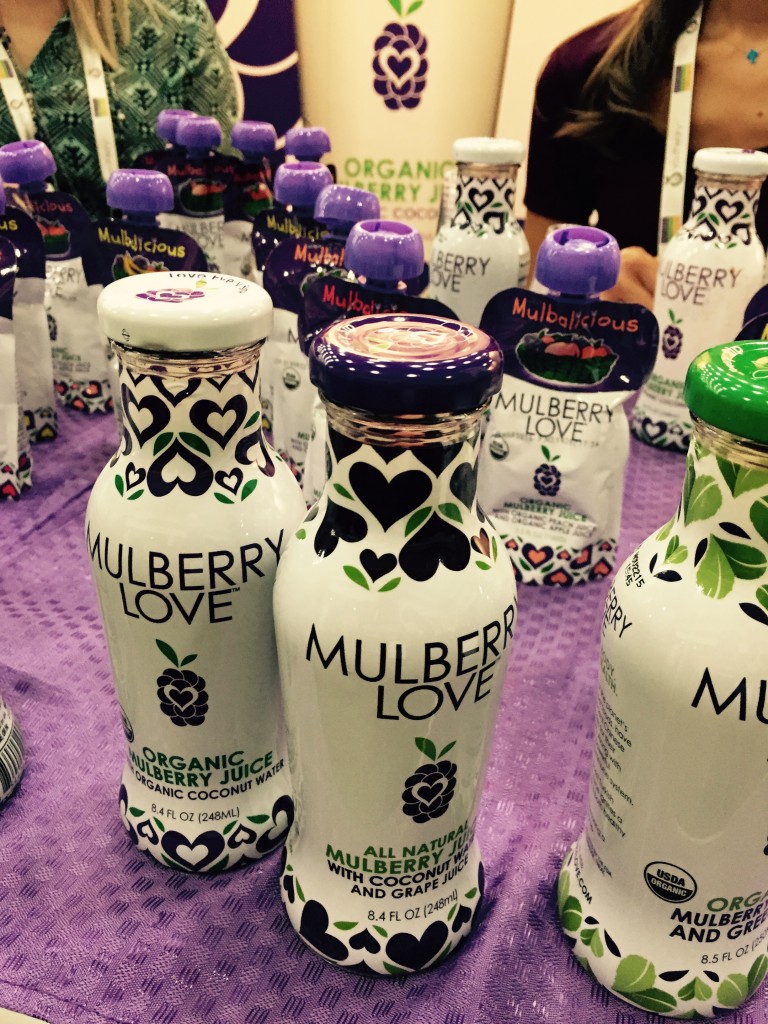 Mulberry Love is an all organic, all natural premiere superfruit drink combining mulberry juice and just the right amount of coconut water and white grape juice to make a delicious, healthy, and refreshing beverage. Not only does it quench your thirst, but it also boosts your immune system with antioxidants and potent phytonutrients, including anthocyanins and resveratrol.
"Anthocyanins in purple foods [such as mulberries] do double duty," notes Dr. Oz in his Antioxidant Diet. "They go in and prevent damage and help heal the damage that is already done. The deeper the hue the better."
So we took the doctor's advise and had our fill of the deep purple Mulberry Love!
Refreshed and rehydrated, we now needed an energy boost and we found the perfect one!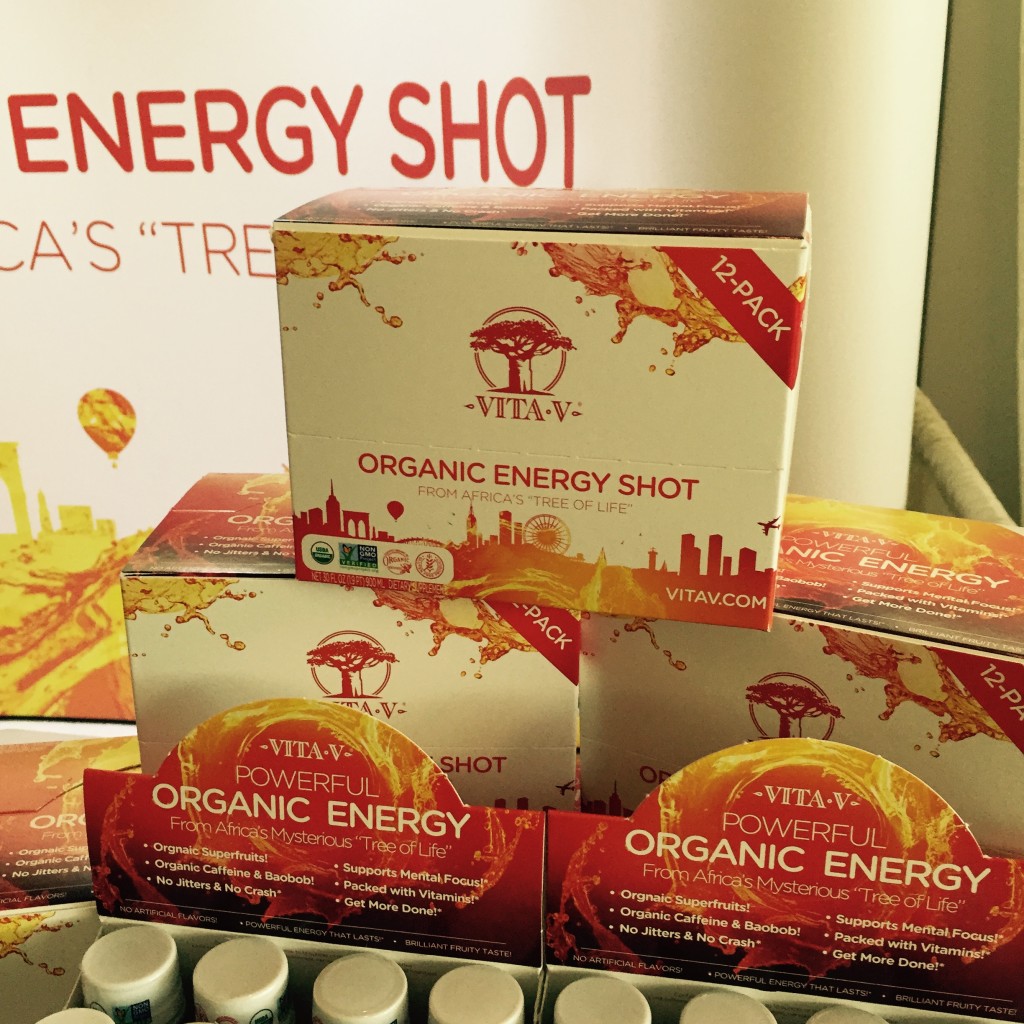 Not only was this the very best tasting energy shot we have ever tried, it's certified organic and packed with superfruits. All that and it really did work! Vita-V is infused with baobab pulp from the African baobab tree renowned for its healing and nutritional properties, together with five other superfruits (acai, mangosteen pomegranate, banana, pears). It's packed with B vitamins, Niacin and Thiamin for a powerful energy and focus boost with no jitters and no crashing. Vegan and non-GMO it really topped our list.
Always on the lookout for something unique and different, we found it at The Wakaya Perfection Collection—as the company says—Imported from where you would rather be…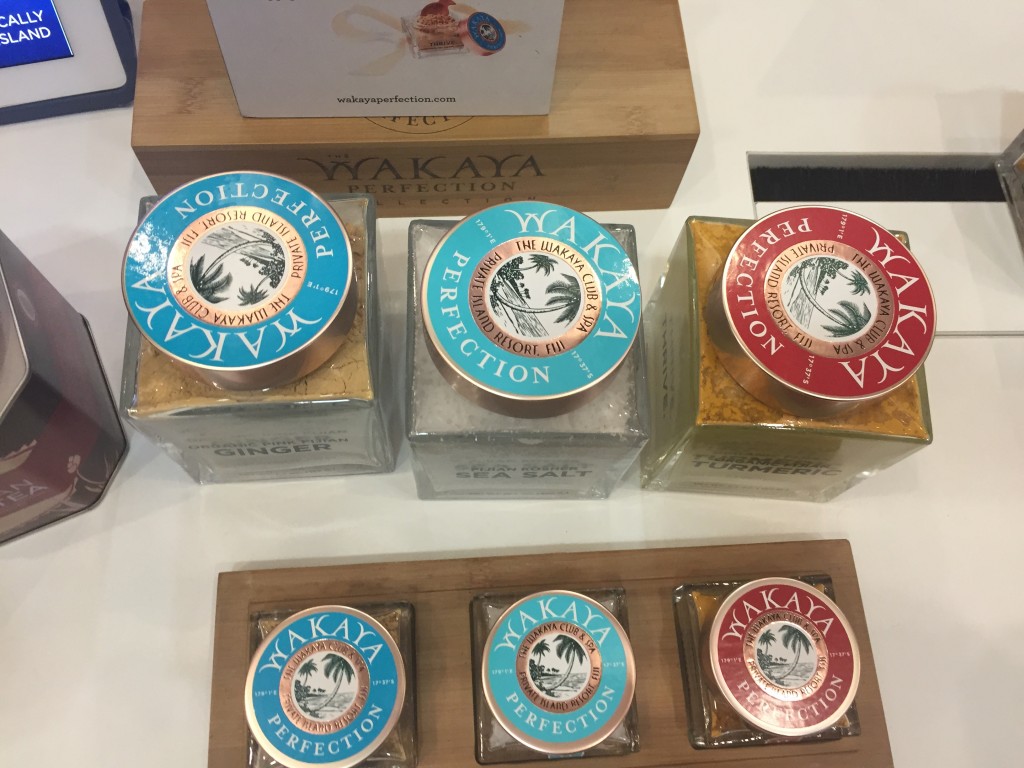 Wakaya Island has virgin volcanic soil that is the unique source for the Wakaya Perfection's organic, life enhancing products. All are sustainably cultivated for purity and proven performance from a source unlike any on earth. Nothing is added to the products, their potency is due to the natural elements in the soil of this amazing Fijian island. The proprietary Wakaya Perfection Organic Pink Fijian Ginger and Private Reserve Organic Fijian Turmeric are harmoniously hand-cultivated side by side in slopped paddocks that are rotated every 12 months to let the soil rejuvenate. Everything is harvested by hand and packed as powder for use in cooking, capsules as a nutritional supplement or teas as a healing beverage. Beautifully packaged these are truly unique products.
As we made our way through the personal care aisles, we noticed that there were several companies with products for beard maintenance, just in time for Movember, which is right around the corner!
Companies with products for beard care who were on display at Expo include:
Also, a new beard product called Beard Guyz™ Beard Balm is almost ready to launch, so be on the lookout for that soon!
There were a lot of beauty products on display this year, but here are a few that really stood out to us: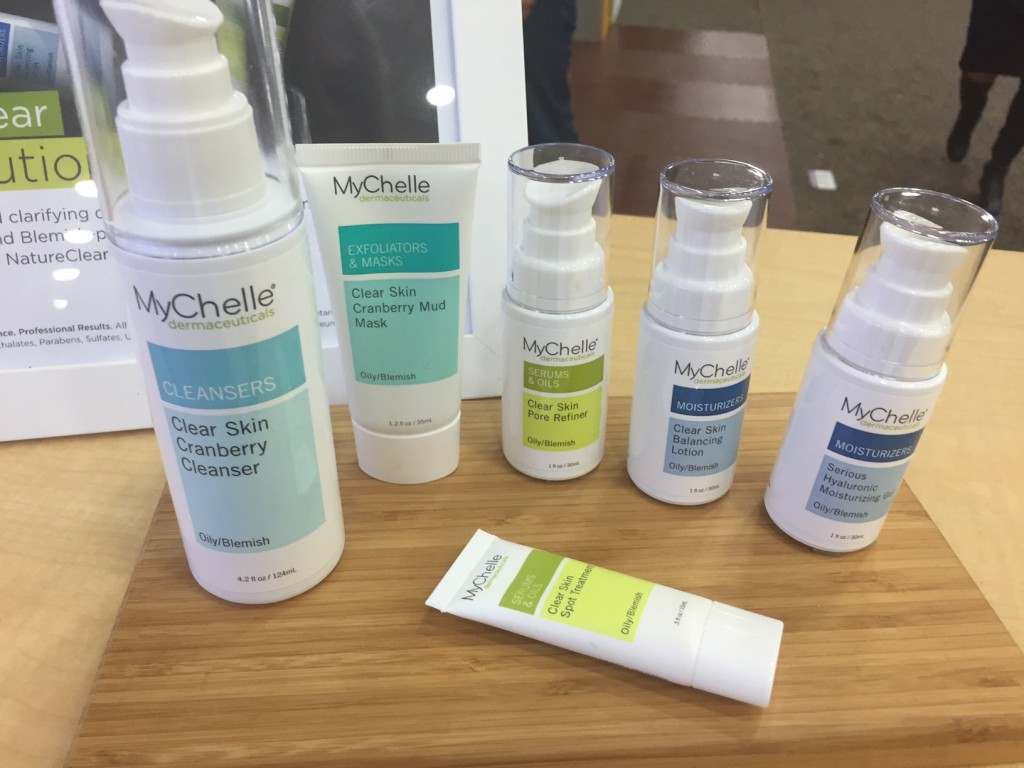 MyChelle Dermaceuticals has transformed the natural beauty industry by being the first to use anti-aging peptides, plant stem cells, and clinically proven dermatological ingredients. Its products are made without GMO, parabens, petroleum, phthalates, sulfates, ureas, artificial fragrances, artificial color; vegetarian/vegan, cruelty-free; and recyclable. At the show, MyChelle was highlighting its "Advanced clarifying collection to restore balance to Oily and Blemish-prone skin." The products in this line feature the exclusive NatureClear Complex™ and include a Cranberry Mud Mask, Cranberry Cleanser, Spot Treatment, Pore Refiner, Balancing Lotion and Serious Hyaluronic Moisturizing Gel.
EO®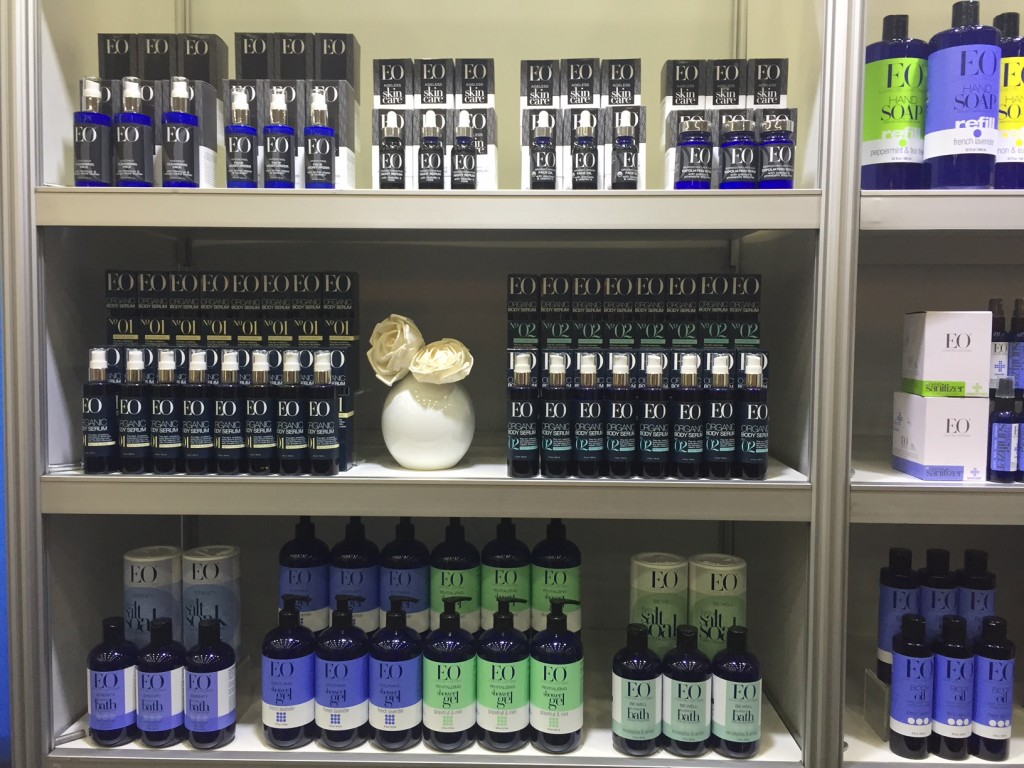 EO, which stands for Essential Oils, was featuring its Ageless Skin Care Collection for all skin types, made from pure, active plant derivatives that provide both preventative and restorative skin care. All products in this line – including the Coconut Cleansing Mil, Moroccan Lava Clay Exfoliating Scrub, Hydrating Face Moisturizer and Transformative Night Serum – sound promising, but we received a sample of the Organic Argan Face Oil and we love it! It absorbs quickly and contains Avocado Oil, Vitamin E, jojoba and rejuvenating essential oils to improve skin elasticity. All EO® products are Organic or GMO Free, Cruelty Free, Gluten Free, Sodium Lauryl Sulfate Free, BPA Free, Synthetic Fragrance Free, Paraben Free and Triclosan Free.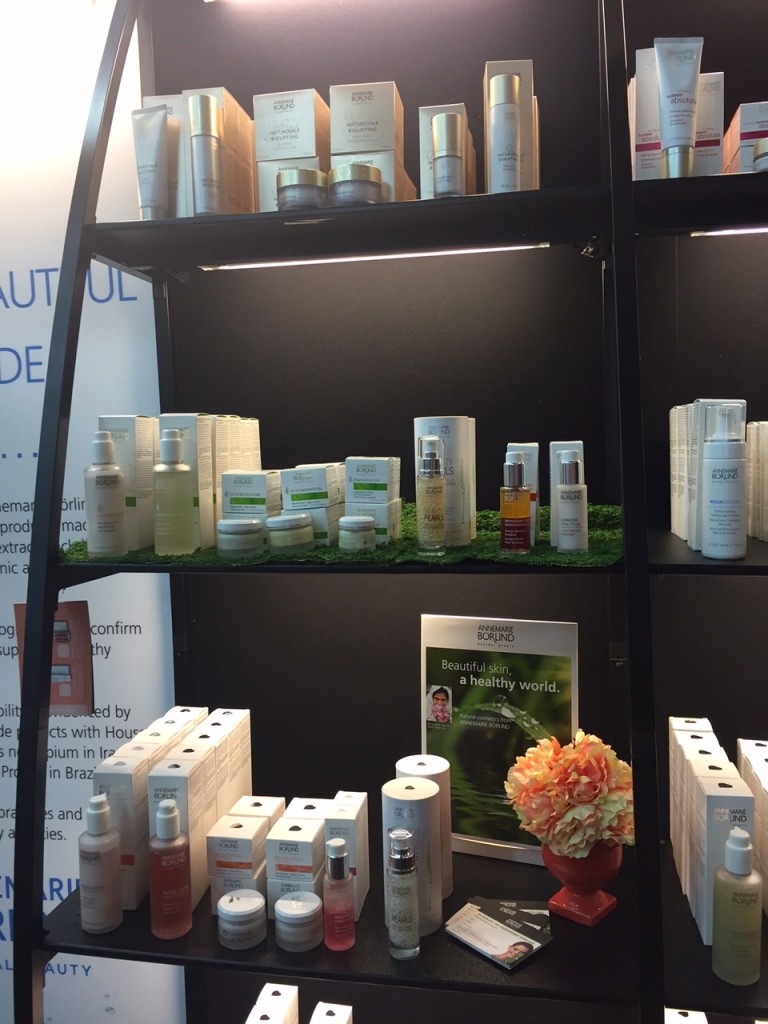 AnneMarie Borlind was highlighting its Beauty Pearls, which are gentle shimmering pearls floating in an active ingredient serum made of Botanical Caviar and Hyaluronic Acid, creating a 3D Matrix on the skin that protects against environmental influences. The pearls feel very silky on the skin and absorb quickly, so you aren't left with a greasy feeling. There are three types of Beauty Pearls available, so you can find the perfect one to address your specific skincare needs: Regeneration & Anti-Pollution Serum, Moisture & Anti-Pollution Serum, and Sensitive & Anti-Pollution Serum.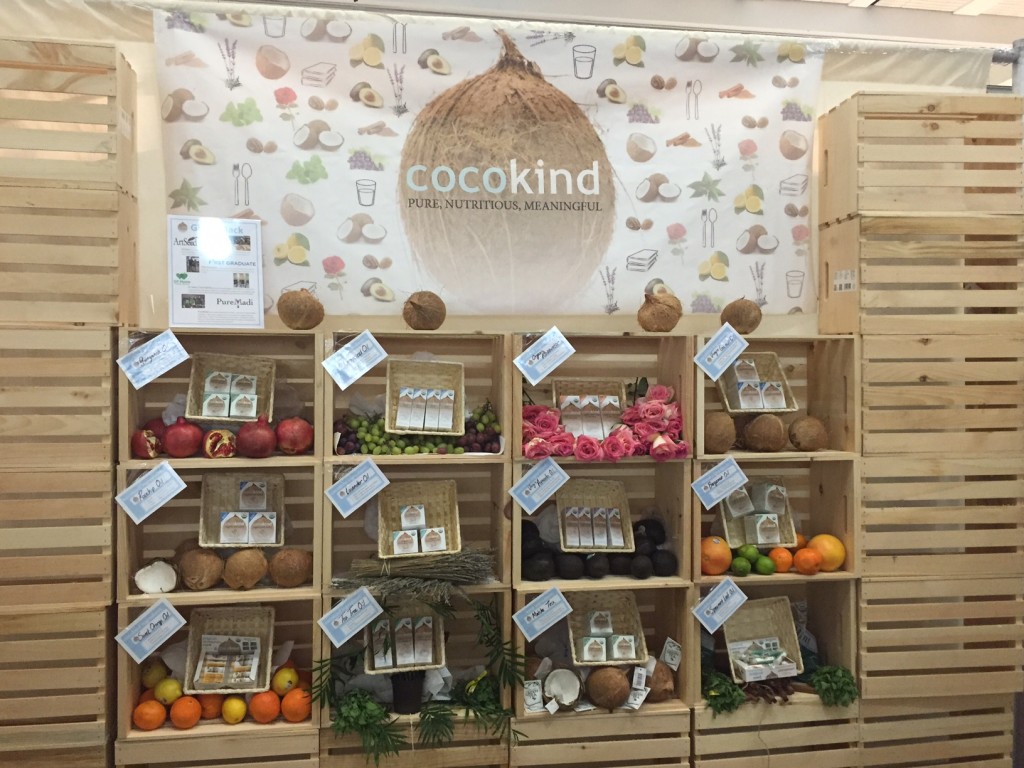 Cocokind is a new line of USDA certified organic products – facial cleansing oil, facial repair serum, eye firming oil, all-purpose salve, rosewater toner, skin butter, body moisturizer, face moisturizer and lip balm – centered around organic virgin coconut oil. Chemical-free products are quickly absorbed by skin and use rich and nourishing ingredients, leaving you with cleaner, strong skin that can better defend skin impurities caused from acne, sun damage, fine lines and premature aging. We received a sample of the Organic Cinnamon Lip Balm, and it has quickly become an everyday necessity! It's very moisturizing and we love the hint of cinnamon smell.
There were also a few pet companies exhibiting, with some new products to help keep your pet happy and healthy.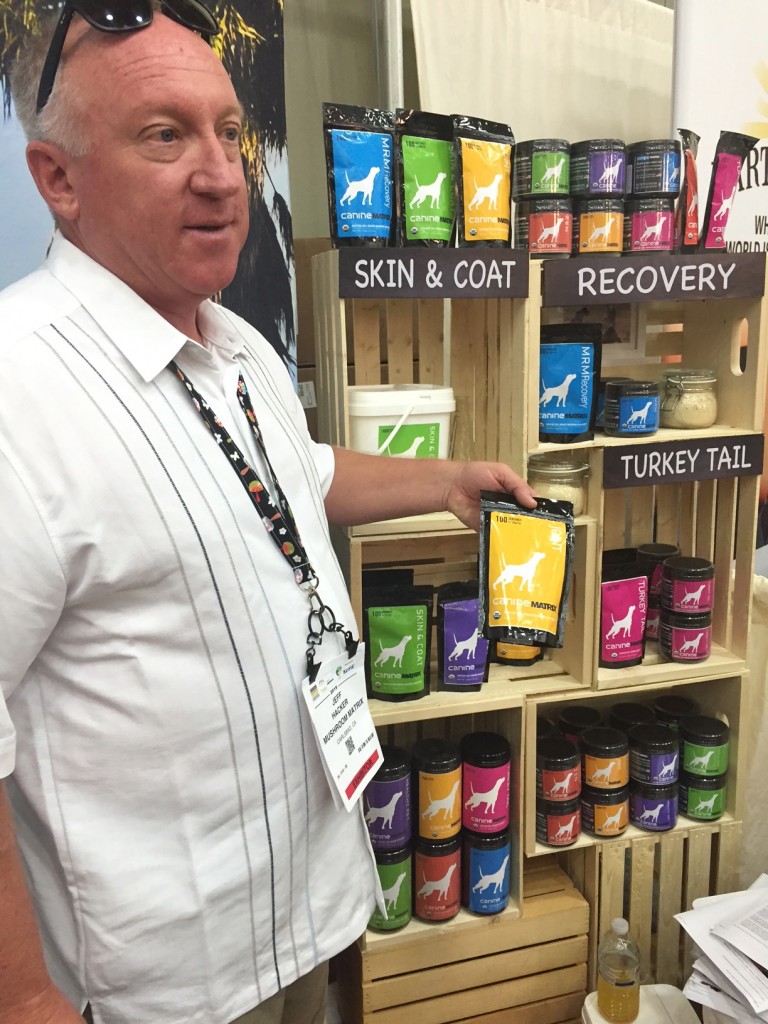 Mushroom Matrix/Canine Matrix was a company that we were especially intrigued by. They create mushroom powder products for both humans and pets (sprinkle on food for pets, mix with a smoothie for humans) to use as a healthy alternative in promoting health, wellness and longevity. Mushrooms have been revered in Eastern Cultures for thousands of years for their ability to optimize immune health, and to this day are used to treat a wide variety of health conditions. There's even been research to back this up. All Mushroom Matrix mushrooms are Certified 100% Organic and include: Canine MRM Matrix to keep your pet healthy and happy; Healthy Pet Matrix to optimize your pet's health; Joint Matrix Pet for joints in need; Skin & Coat Matrix to give your dog the comfort of healthy, itch-free skin and a full lustrous coat; Turkey Tail to support immune function; and Zen Matrix to help your pet have more balanced behavior and less anxiety, which is great for training puppies, anxious animals or the canine athlete who needs more focus.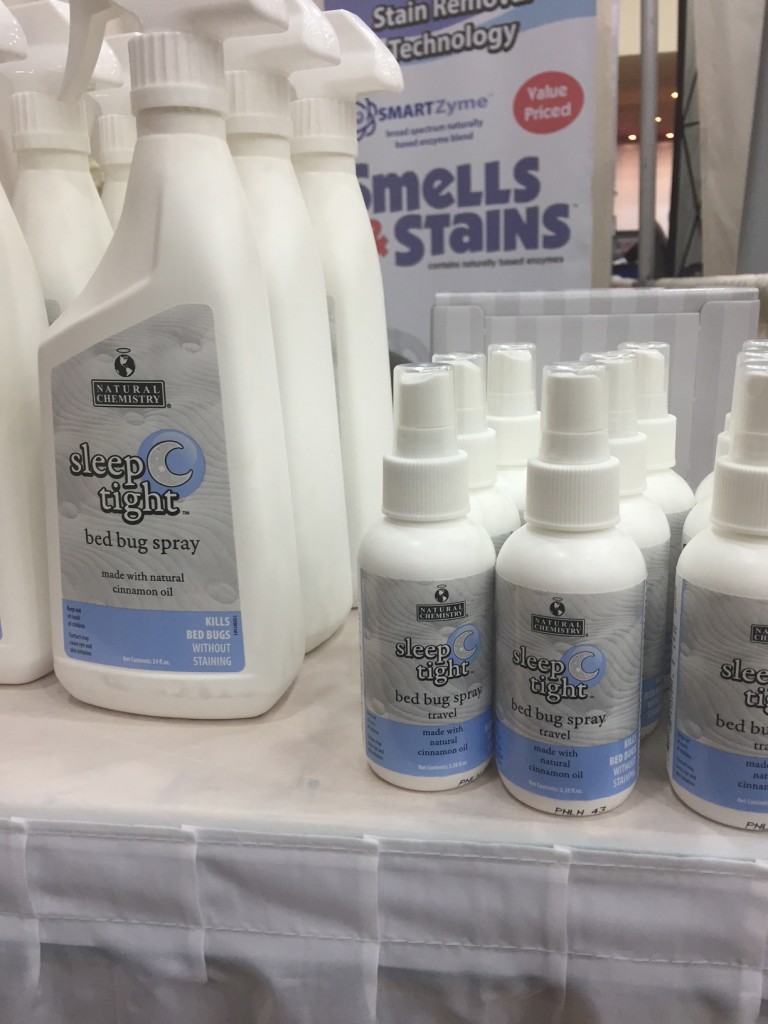 Natural Chemistry was another intriguing pet company on display with a line of products containing naturally-based ingredients for your pet's personal care, including dog shampoo, conditioner, detangler and scented spray in oatmeal & chamomile and lavender scents. The newest product the company was promoting is its Sleep TightTM Bed Bug Spray in Travel Size. It's made with natural cinnamon oil and can be used indoors or outdoors. It kills bed bugs as well as cockroaches, silverfish and scorpions. A must have to throw in your travel bag before heading out of town!
Serious snackers that we all are, we were really looking forward to sampling the great food selections on offer and we were not disappointed.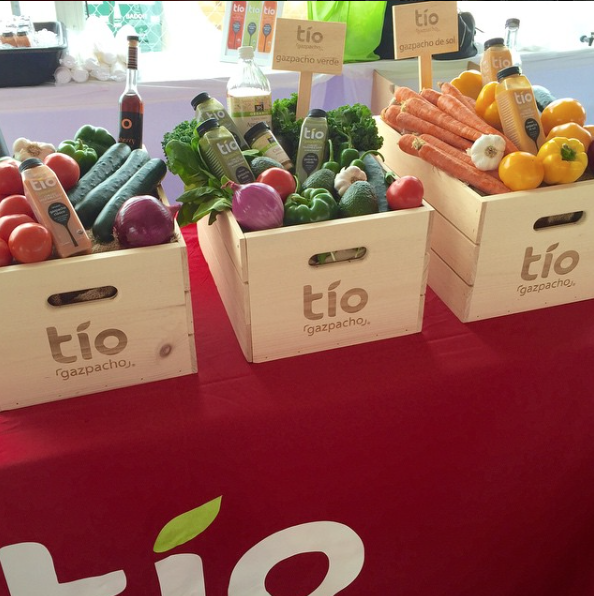 If you've ever been to our office, you know that we have a bunch of foodies among us so it's amazing when we find new delicious snacks, and Tio Gazpacho fits the bill.  Each portable container of gazpacho comes in an individual drinkable serving size so you can have your chilled soup and take it with you!  We got to taste all three flavors and they're all delicious.  Plus, they range from 100 to 140 calories per bottle and are vegan and made with USDA organic ingredients.  The best part?  They've partnered with Development in Gardening to help ensure that people all over the world have access to quality food.  A winner of the Best of East Press Award (we voted for it) Tio Gazpacho was a winner in our book too!
Chosen Foods – Avocado Oil Mayonnaise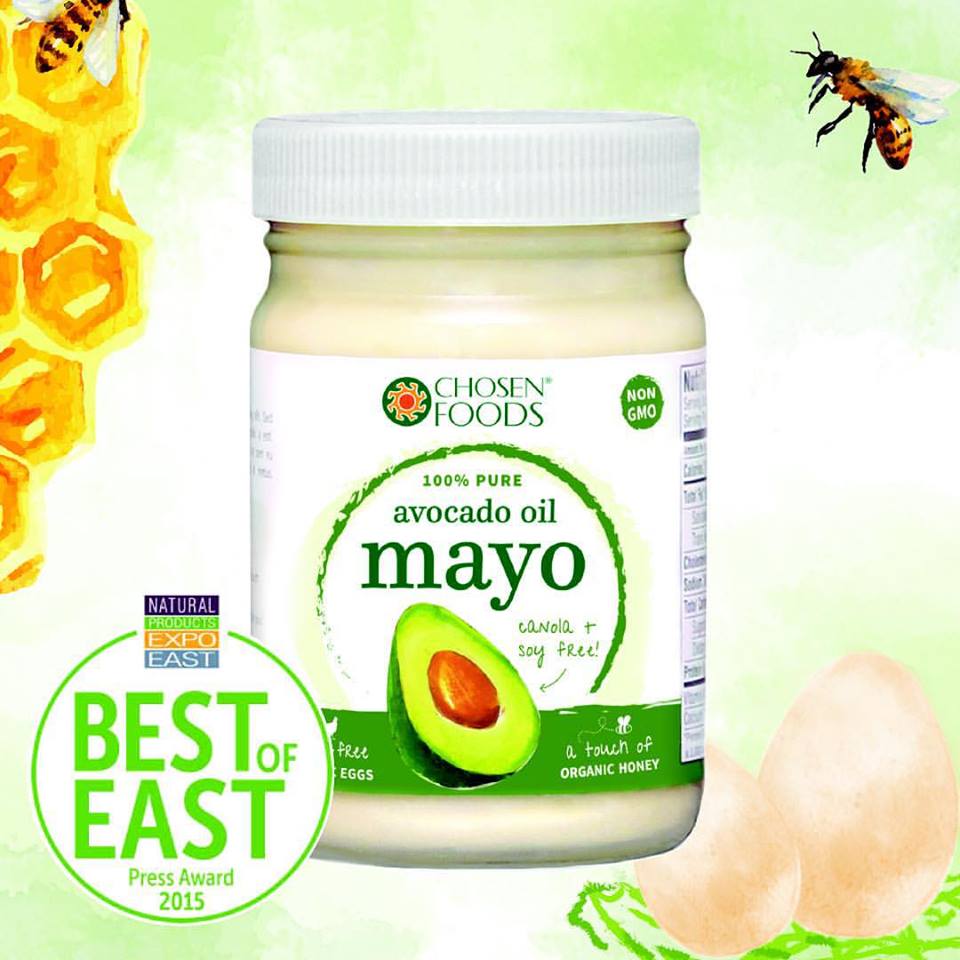 Either you love Mayonnaise or you can't stand it.  We here at Eco18 fall into the former category so we were thrilled to come across mayonnaise made with pure avocado oil.  Chosen Food's blend of avocado mayo is made without canola oil or soy and will be available for purchase later this week.  When we first heard about this avocado mayo we wanted to try it but our interest really peaked when the team won the Best of East Press Award.  We made a beeline to their booth and loved what we tasted!  They even sent us each home with a jar and we've been using it ever since.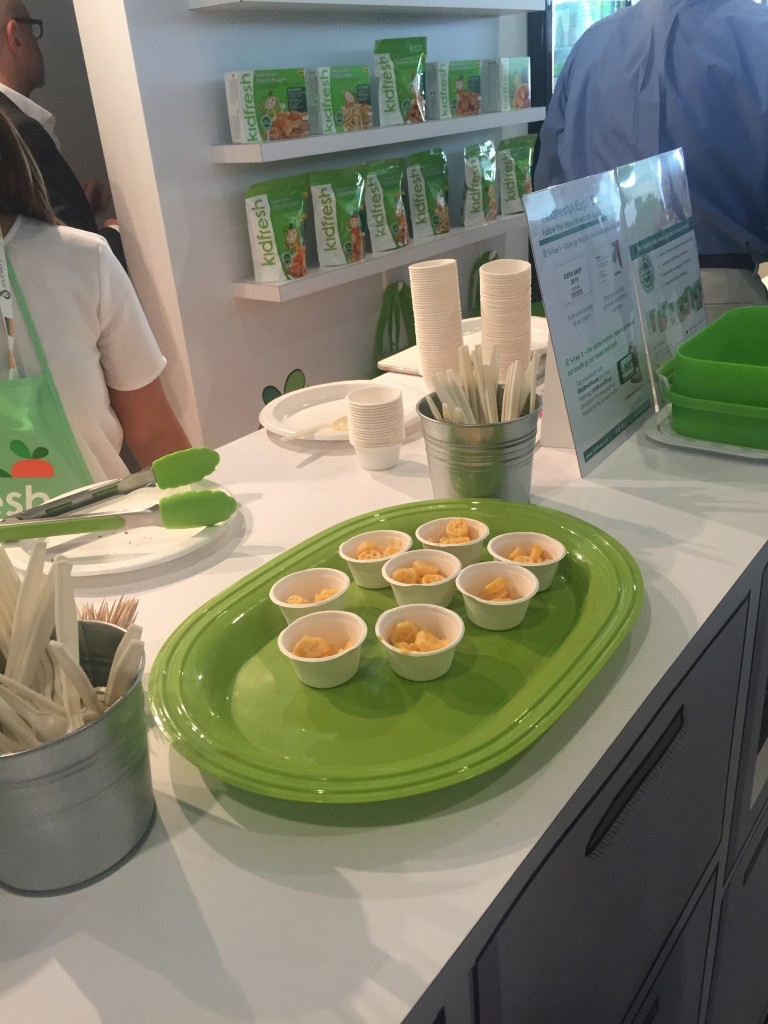 Sometimes getting kids to eat their vegetables is hard work so Kidfresh set out on a mission to change that with their frozen meals.  Each frozen entree made with 100% natural ingredients has a hidden vegetable mixed into kid friendly foods like mac and cheese and tater tots.  We got to sample a few of their meals and while we like to eat our veggies, we too could be fooled into adding extra greens to our diets!  They have over ten varieties of single serve and multi serve meals certain to please even the pickiest eater. We have to say, we would have a hard time leaving these for the kids!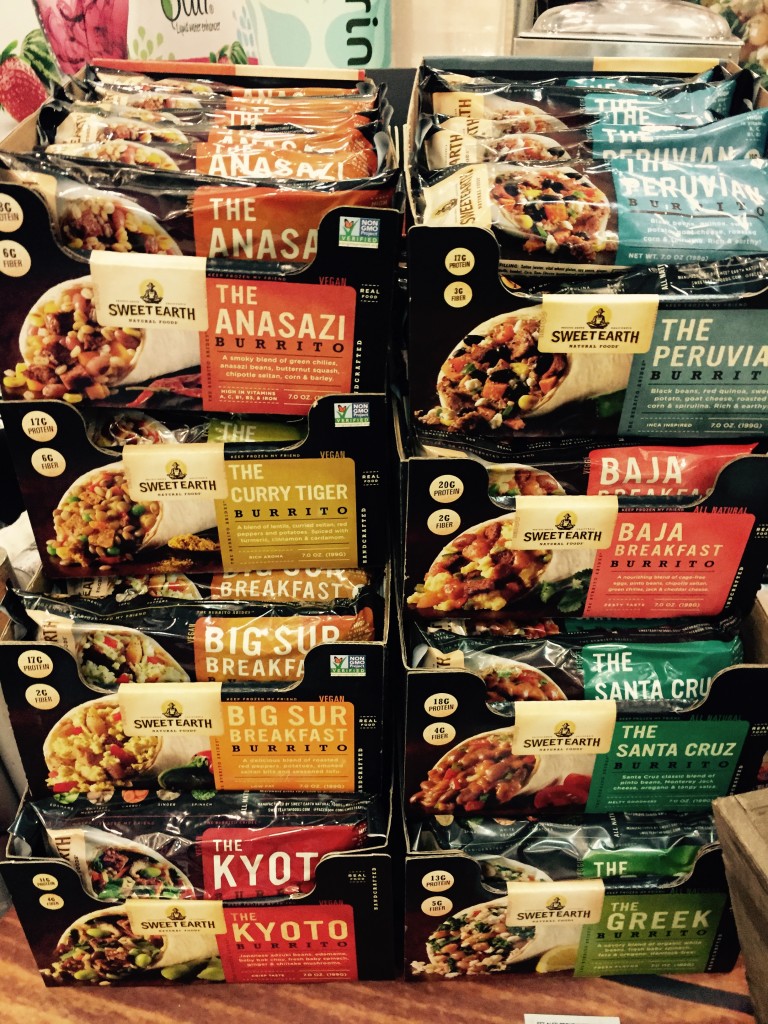 The Sweet Earth booth was filled with fun flavor combinations that we were pleasantly surprised to find out are all-natural, handcrafted, vegan/vegetarian and plant based!  Their frozen burgers, burritos and tacos were one of the best we tasted at the show and have since been added to our shopping list post expo.  Frozen vegan/vegetarian meals are surely nothing new but the flavor explosion of Sweet Earth's products was!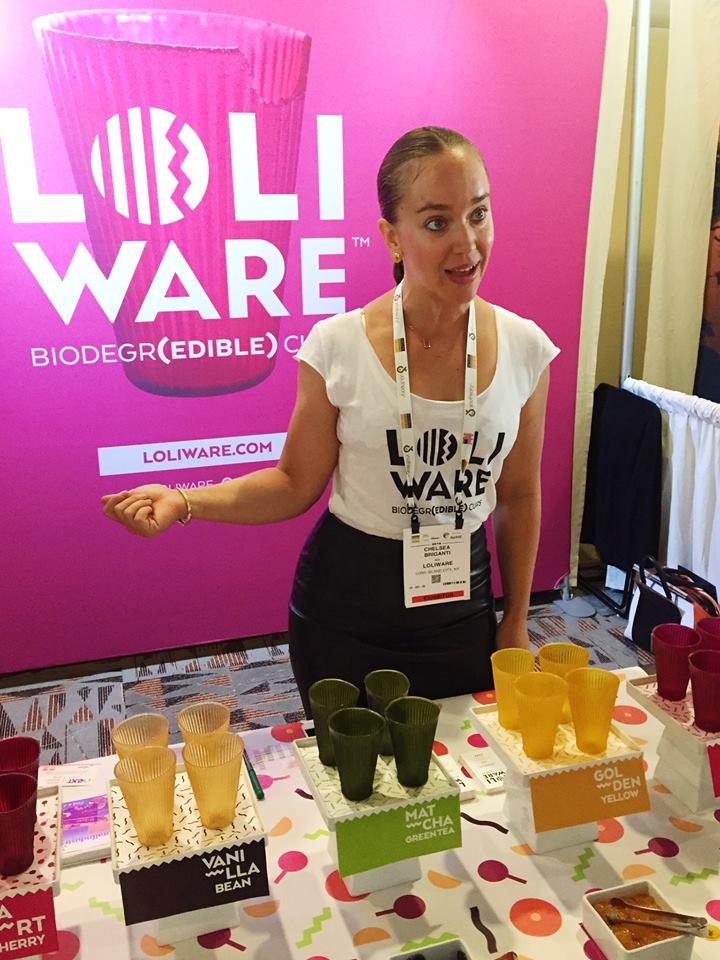 It took us awhile to get to Loliware's booth because they were so well loved among the Expo East guests and when we finally were able to sample them we absolutely understood why they were getting so much attention. Loliware cups are biodegradable edible cups made in a variety of flavors to compliment different beverages and foods.  They're not only delicious, but edible leaving zero carbon footprint – what's not to like?  Our favorite flavors were Citrus and Madagascar Vanilla but the flavor combinations are endless!
After we finished our whirlwind "food tour", we found something for the little ones…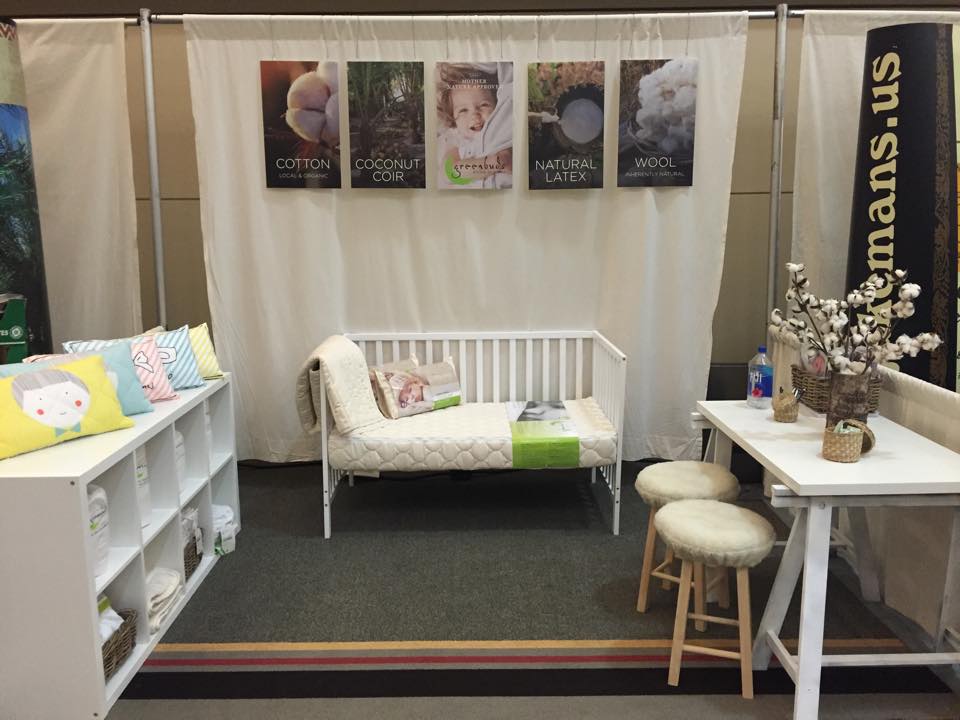 Sam and Miriam Mendel were looking forward to the birth of their son when they realized there were no organic cost-effective mattress options so they created Greenbuds –  a collection of mix and match mattresses, covers, protectors and sheets for every home.  Their mattresses are chemical free and biodegradable so you can start your baby off on the right foot!  After speaking with them we realized just how important it is to protect newborns from the chemicals present in traditional mattresses.  Babies sleep an average of 16 hours a day so it's so important to nurture their growing bodies and make sure they're not inhaling chemicals during this critical time.
So there you have it for another year. Hope you find some new brands to try from our top picks.