This coming Sunday for many in the world is Easter Sunday! Easter has a long history, both as a religious day and as an ancient seasonal holiday. Many Christians celebrate Easter as the day that Jesus resurrected from the dead; Catholics end their fasting period of Lent; Jewish people are celebrating Passover, one of the most sacred holidays in the faith; and many faiths and religions intertwine on this special day.
For others, Easter is a day of rebirth and light when the days begin to get longer, and the weather gets warmer with the coming of spring. It is a day to celebrate the joys of childhood, decorate eggs, and receive a visit from the Easter bunny, with many traditions highlighting the holiday's connections to medieval times. And for the majority, it is probably a mix-and-match of a little bit of everything.
In the U.S., the holiday is generally accompanied with large meals, hunting for eggs filled with treats and toys, dressing up in their nicest spring colors, celebrating with family and friends, and maybe attending an Easter service or spring celebration somewhere. This year, however, there will be some obvious differences. Many of us are quarantined and apart from loved ones. Medical staff and essential personnel are working long hours and staying away from their families to keep them safe. Religious services will be held online, restaurants and grocery stores will be delivering food to people's homes and going outside to hunt for eggs will come with its own health risks attached.
But there are many ways to celebrate Easter together even while we're physically apart!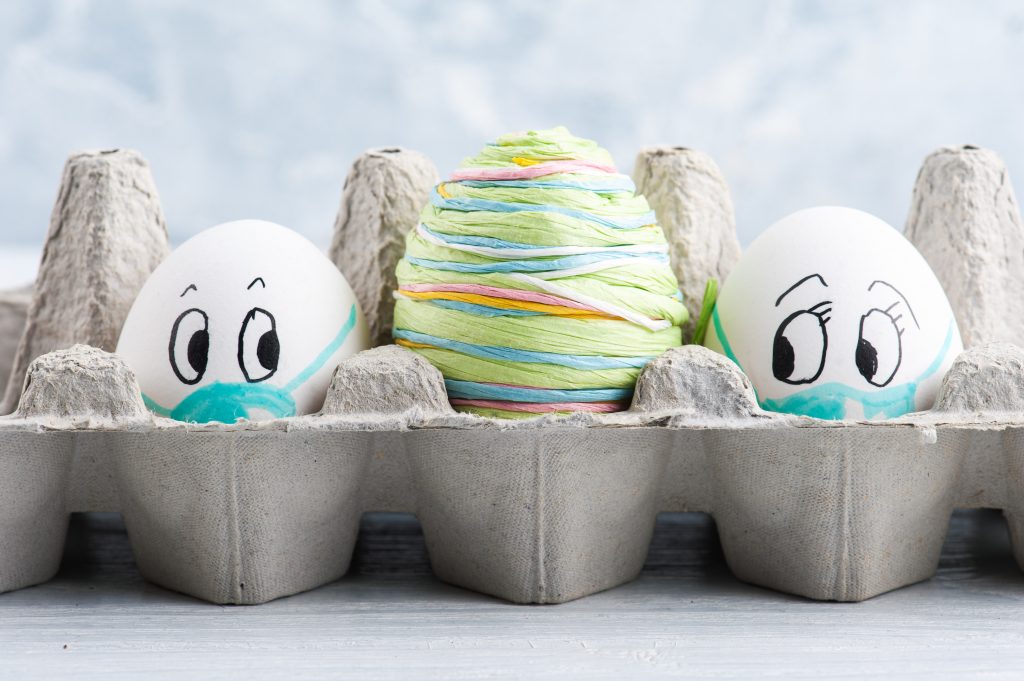 1. Bring the Easter cheer to people's doorsteps
During this time, older people and folks with pre-existing medical conditions are more prone to get sick, but you can still celebrate with them while keeping them safe. One way is to bring them an Easter basket of goodies or a card sharing the love and leave it on their doorstep. Don't forget to wear your gloves or a mask! You can tape posters with drawings and messages of happiness to their windows or your own for your neighbors, send them a video of their grandkids blowing kisses, or leave some flowers outside their door.
2. The Easter bunny still wants to say hi
Many companies are celebrating the season by sending personalized messages from the Easter bunny, like the ones mentioned in this article from USA Today. And the virtual celebration does not have to end there. Many religious and spiritual organizations are holding services virtually! You can also use video services like WhatsApp, FaceTime, Zoom, or others to plan a dinner with the whole group! Set the table really nice, dress up if you want, put some flowers on the table, and enjoy each other's company (don't forget, you might need a virtual talking stick if your family tends to be of the chaotic sort).
3. The house is your oyster
That's right, you can celebrate without ever leaving the house. Do you have an old basket or box? Do you have some yarn, fabric, shredded paper, or a favorite scarf? Is there a movie hidden in the back of a shelf that you used to love but haven't watched in ages? Is there a book your parents used to read to you when you were little? These are all the perfect ingredients to make a homemade (eco-friendly!) Easter basket. There are always ways to make something new again out of the stuff we already have. This year gives us an opportunity to make some new eco-friendly traditions. Give everyone a piece of old fabric, clothing, or construction paper, and some paint or colored pencils, and see what happens. Write a book of your own to read after dinner. Make a flower headband for your mom and dad and a pillow fort your kids just to do something special. For the risk-takers, let your kids decorate the house however they want (as long as no Sharpies are involved). Creativity is a powerful thing.  
4. Share the love
These are really tough times. With layoffs, isolation, people working around the clock to volunteer and keep us safe, not everyone will be able to celebrate. But we can show our appreciation for the people in our lives and in our communities with something as simple as video or e-card to let them know we are thinking about them. Post a video saying thank you and tag your local hospital. Sing a song and send it to your local nursing home for those who won't be able to receive visits this year. Send a message saying thank you to all the teachers and daycare staff out there! Consider donating to local businesses forced to close down or local organizations providing support during these difficult times.
5. Remember to say thank you
Easter is about rebirth, salvation, and gratitude. This message resonates now more than ever. When everything is going wrong, remember we always have something to be grateful for. Maybe all we are grateful for today is the flowers finally beginning to bloom, the last container of cookie dough in the fridge, or your neighbor's cat sitting in their window, but don't forget to take a moment and feel the gratitude. Today, I am thankful for you. Happy Easter!
"Enjoy the little things, for one day you may look back and realize they were the big things."

Robert Brault