The eco18 team is now in their fourth week of "social distancing," "self-quarantine" and waiting for the curve to flatten. All east coast based, in and around New York and New Jersey, we are basically at the epicenter of the coronavirus in the US. The numbers are staggering, and according to our Governor, Andrew Cuomo, things could get worse. We are hunkering down these next two weeks in the hope that the curve will flatten. And, like the rest of the US and the world, we are glued to the daily briefings, updates and constant flow of information. Normally on World Health Day, we would share different health topics trending around the world, but today, like every other day since this worldwide pandemic hit, coronavirus is headline news everywhere. Here are three things that have got our attention in the last few days:
A recent article about men being more susceptible to coronavirus than women
The coronavirus crisis is a "moment of truth" for purpose-led corporate partnerships
We all need to wear face masks
So, why are men more susceptible to coronavirus?
Apparently, it's in their genes. According to emergency physicians on the front line, in general, they have seen more male patients than female. Additionally, when men come in, they are at a sicker state — a phenomenon they don't recall happening with other diseases such as the flu. In most states, while slightly more women are getting infected than men, more than 3,600 deaths in 13 states and New York City that report fatalities by gender, are reporting that the majority of the victims are men. The disproportionate toll of the virus appears to have deep biological roots. An emerging body of research has revealed that women's bodies are better at fighting off infection, thanks to the hormones in their systems and the genes on their two X chromosomes. Scientists say these differences may partly explain why men have been hit hardest by the COVID-19 pandemic. And they may provide a vital clue in the search for a cure.
Pandemic 'a moment of truth' for purpose-led corporate partnerships
The coronavirus crisis is a "moment of truth" for purpose-led corporate partnerships, and according to experts, some companies were stepping up to support charities during the crisis, but others were failing to live up to their professed values. C&E Advisory compiles an annual survey of the corporate partnerships in the charity sector, the C&E Corporate-NGO Partnerships Barometer, which examines what organizations expect from such partnerships. Last week, the company held two virtual meetings with representatives from a wide range of major charities and companies, asking how their partnerships had fared since the lockdown to prevent the spread of coronavirus. It seems there were mixed reviews.
For many years, companies have increasingly been talking about how they want to be more like charities and NGOs and have a clear mission for serving society, but there's been a lot of fear of 'woke-washing' or 'greenwashing'. Yet there were others that were doing remarkable things, reinforcing their values and beliefs and confirming that they will maintain the partnerships that they're in. It seems that philanthropy hasn't gone away, it's coming more into the frame at this moment. Only time will tell when companies that have been struggling to keep their heads above water in these challenging times re-assess their core values.
We all need to wear face masks
Mixed messages from the CDC about masks have now come down to that we all need to wear them. Apparently, it's about risk. At current infection rates, you still only have a one in 100 or one in 1,000 chance that anyone you're speaking with is carrying the virus. If you're wearing some kind of face covering and you reduce your risk further by 70%, that would make a huge difference to the spread of the epidemic. If everyone took measures to cut their risk by 50%-70%, then the epidemic can die out twice as fast.
Ashley Lawrence, a 21-year-old senior at Eastern Kentucky University is making masks for the deaf and hard-of-hearing population, replacing the cloth area over the mouth with transparent plastic. For anyone who uses speech reading, lip-reading, or American Sign Language as their primary mode of communication, facial expressions are a major part of their grammar.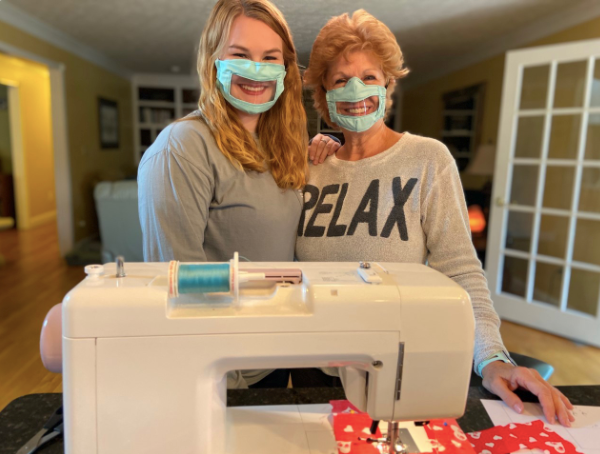 Naturepedic, an organic mattress and bedding manufacturer who we recently featured for our eco mavens section, is now making organic cotton face masks. With the shortage of masks, this innovative company turned part of their Chagrin Falls, Ohio manufacturing facility to making durable and machine washable face masks. Although they are not N95 particulate filtering masks used by medical personnel in hospitals, they are the kind of face masks that are recommended by CDC for everyone.  However, they are better than most typical face masks in that you're not putting any synthetic materials and chemicals up against your face.  Further, typical face masks are commonly cleaned with chemical sprays and cleaners, which then are also placed directly against your face.  Naturepedic face masks do not contain these materials and chemicals.  Instead, Naturepedic face masks are made with two layers of 100% organic cotton material, certified to the GOTS organic standard, and have two latex-free adjustable elastic straps that will help keep the mask secure. An upside of this mask is that the organic cotton is soft to the touch and makes breathing easy.  As well, the Naturepedic organic cotton face masks can be washed and reused indefinitely and don't require constant repeat ordering. The Naturepedic face masks are produced and sold at cost and not for profit.  To buy a face mask, click here.