Devansh Ashar knows chocolate. He knows how the flavor profile of Indian cocoa can taste different than that of Brazilian cacao. He knows how many microns each particle of chocolate should be to yield a silky smooth texture. He knows how to balance sweet flavors like blueberry and passionfruit with the natural bitterness of the cacao bean. Devansh also knows the ins and outs of chocolate entrepreneurship, having built India's first USDA Organic and Fairtrade-compliant bean-to-bar chocolate brand: Pascati.
Devansh is motivated not only by the desire to give Indian consumers quality chocolates, but also by his mission to safeguard the interests of the hardworking cacao farmers who make up the base of his supply chain. In this month's 18 Questions, we learn more about his journey, from knowing very little about chocolate to becoming a leading expert in what is still a nascent stage of the craft chocolate industry in India.
What piqued your interest in starting your bean-to-bar chocolate brand?
One summer night in 2014, my nephew consumed a popular Indian brand of chocolate. I hadn't had it for a long time, so I asked him for a bite. When I bit into the bar, I had to chew it. And I wondered why foreign brands like Lindt and Godiva melt on my palette, unlike the bars with which I grew up. After some research, I found that one is made with pure chocolate while the other is made with hydrogenated vegetable fat. One thing led to another, and I stumbled upon a YouTube video of a guy making chocolate from his garage in San Francisco. I decided I wanted to do something very similar in India.
How did you teach yourself the chocolate-making process, and which resources did you find most helpful?
I learned a lot about the chocolate-making process from YouTube videos produced by chocolate makers in the U.S. When I started, I was only the second or third person making chocolate from bean to bar in India. The resources were very, very limited. Later, I took a three-month course from a Canadian institute called Ecole Chocolat, which is where I got my formal education. However, a lot of the bean-to-bar process is very specific and scientific, and I learned it over a period of time.
How has your previous career experience assisted you in founding and managing Pascati?
Previously, I was a hotelier and a restaurant manager at Taj Falaknuma Palace in Hyderabad. Hoteliers and restaurant managers, in general, are very hands-on. They are problem solvers and on-the-spot thinkers, skills shared by successful entrepreneurs. That experience helped me address some of the challenges I faced when I started Pascati.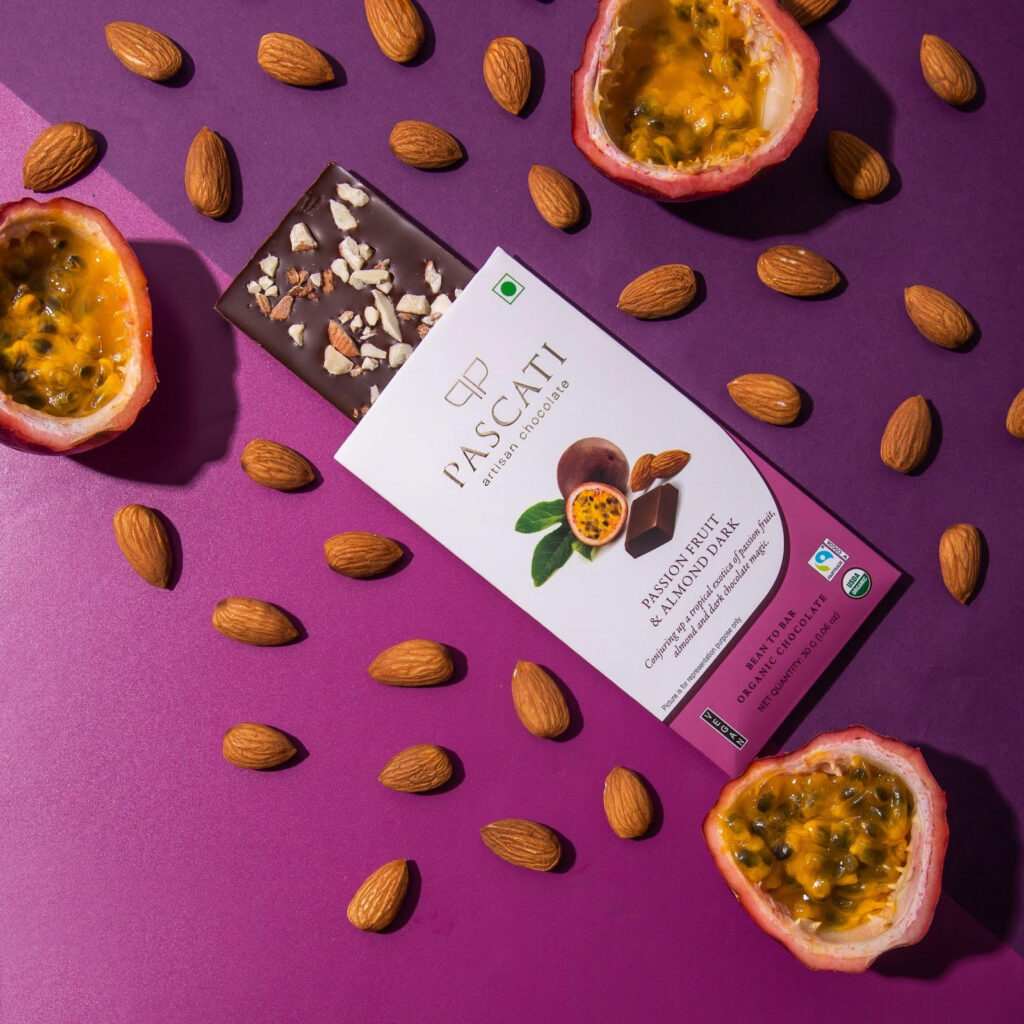 You grew up in an industrial environment, given your father's line of work. How has your familiarity with equipment informed the building of Pascati's factory?
I was not really familiar with the equipment required for a chocolate factory. But whenever I had a question regarding equipment, I would run it by my father, who would guide me on whether a machine was available in India. He would also help advise me on quick fixes or solutions when machinery was not readily available. My father's experience was very helpful, but my journey with equipment was still learning by doing.
What does "bean to bar" mean?
Our chocolate begins with farmers in Kerala, from whom we source organic-certified cocoa beans. Once the beans enter Pascati's factory, we process them to make the final packaged chocolate product. Roasting, cracking, winnowing, refining, conching, tempering, molding, and packing are all done under one roof.
Describe the art and science of fermentation of cocoa beans.
Farmers ferment and dry cocoa beans in wooden tanks before we pick them up. This process can take 5-7 days. We have worked with a farming group called FTAK to instruct farmers on how to ferment cocoa beans properly, and we cut open beans once they arrive at our factory to ensure they are in good condition. Fermentation helps develop the flavor of cocoa beans.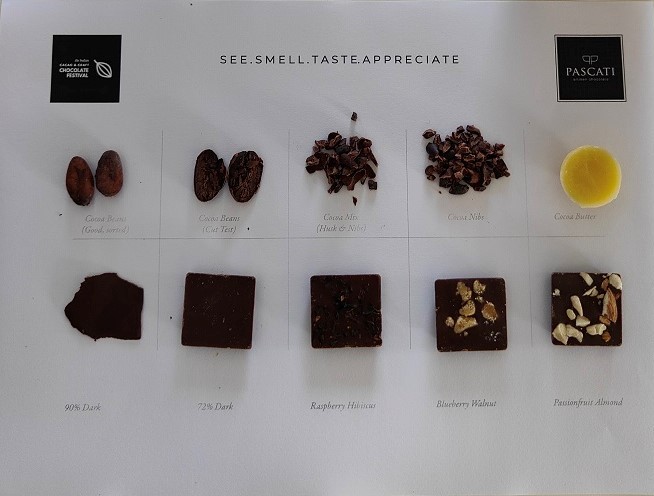 What else distinguishes Pascati from other artisan chocolate brands in India?
One of the first things that set us apart is that we are the first company to be certified organic. We are both USDA-certified Organic and part of the Fairtrade system, where we pay a premium for the cocoa beans we buy. In most parts of the world, cocoa farmers are squeezed in the supply chain, with profits disproportionately going to the giant conglomerates that process the cocoa beans into chocolate.
Additionally, Pascati's chocolate is a little more evenly refined compared to other chocolate brands. This is thanks in part to the factory's ball mill, which gives the chocolate an evenly distributed particle size. The smooth and velvety texture most people associate with chocolate is often found with Pascati, but not other chocolate makers in India.
How have other chocolate manufacturers inspired your craft?
I have immense respect for the founders of Dandelion Chocolate, probably one of the first bean-to-bar chocolate makers in the modern era, who started making chocolate from their garage in San Francisco. They write several blogs and share key insights on what they have learned. I also have deep respect for Mānoa Chocolate, based out of Hawaii. They have a YouTube channel called CCTV (Craft Chocolate TV), where Dylan, the founder of the company, imparts knowledge on his experience and what he thinks the craft chocolate space will look like in the future. Neither of these chocolate makers uses emulsifiers, which inspired me to do the same with Pascati.
What does the process of experimentation and product development look like at your factory?
Whenever we are experimenting, two things are kept in mind. First, we try to find the right balance between the chocolate's sweetness and the cacao's bitterness. Second, we keep an eye on the complexity of flavors; we don't want too much happening, and we want the proper balance to be struck between flavors and textures. Product development is usually done in very small batches in a 1-2 kilogram idli grinder. We process, fine tune, and revise the product before working on the packaging and getting the final product out the door.
How do consumer preferences in India differ from those elsewhere?
A lot of consumers in India want international flavors. For example, a simple raspberry, blueberry, or orange chocolate is often preferable. Indian flavors like paan, lemon ginger, and saffron pistachio are not necessarily what Indian consumers prefer. In terms of bitterness, Indians tend to have a sweeter tooth; even 63% dark chocolate may be too dark for many Indian consumers.
Do you see Indian tastes changing in any way when it comes to chocolate?
Yes, absolutely; I can see it happening. More people are open to accepting bitter chocolate. I have been at a farmers market where children have walked up to us, tried 81% dark or 90% dark chocolate, and loved it. I think the more Indians travel and explore their palettes, the better it will be for craft chocolate, at least in India. The same can be said for other food markets as well.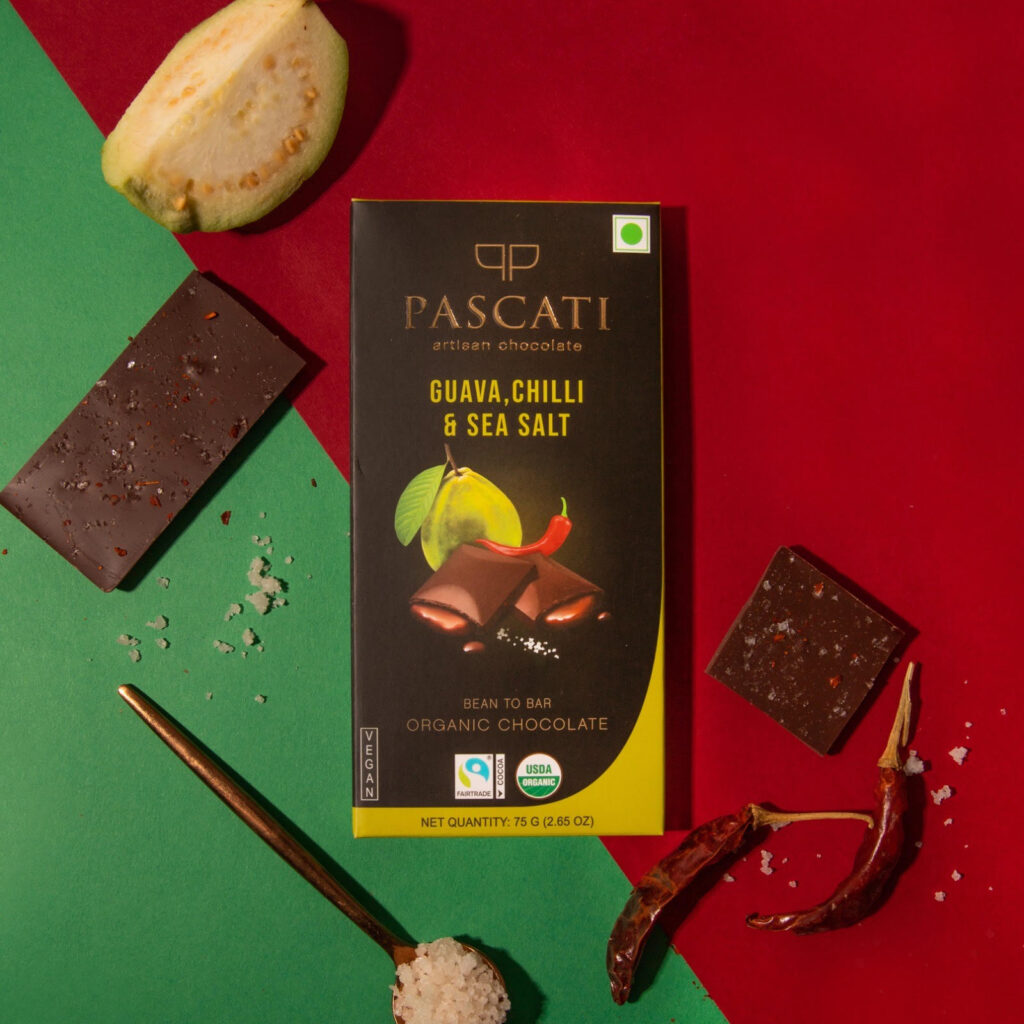 Describe your partnership with Elements.
We were introduced to Elements by Fair Trade India. Elements is the founder promoter and trading partner of Fair Trade Alliance Kerala (FTAK), an umbrella organization for 5000 organic farmers in the Western Ghats. It hurt my heart when we heard their story and learned that the farmers had cacao but did not know how to process it. So I reached out to them and sat down alongside another expert to see if we could figure out a way where they could collect cacao in one place and then dry and ferment the beans. Ultimately, Elements initiated the project, and we taught the farmers how to cut the pods, how to take care of the trees, what to look for when opening up a pod, and how exactly to dry and ferment the beans. It was a long and tedious process, but we got the quality parameters right after two seasons of back-and-forth.
Tell us more about how you communicated with the farmers during this long process.
We interacted with the farmers from FTAK, in addition to farmers from Idukki, in 2014 and 2015 when we first started. During the second season of our project with FTAK, I was on a WhatsApp call almost every day, contributing insight into the fermentation and drying process. We kept in touch through pictures and video calls with the production manager at the Elements factory, and we would run cut tests with the cocoa beans to ensure we were headed in the right direction.
The "USDA Organic" certification is often difficult and expensive to obtain; describe your experience in becoming a certified organic brand.
Acquiring the USDA Organic certification took almost nine months of research and approaching certification bodies in India. Many people initially refused us because chocolate is a multi-ingredient product; until 2015, only single-ingredient products were certified organic in India. After five or six people had denied us certification, we stumbled upon a certification body that was kind enough and brave enough to certify us. They asked us many questions that we had to prepare before the audit. We had our first audit in 2015 and have been certified organic ever since. The USDA Organic certification is a costly process and very difficult to obtain. Oftentimes, it limits our supply chain. For example, mango chocolate was one of our most popular bars from 2016-2018. We used freeze-dried mango, which was certified organic. In 2019, the certification from our supplier was no longer available, so we, unfortunately, had to pull the plug and discontinue that particular flavor, which had been very fast-moving and profitable for us.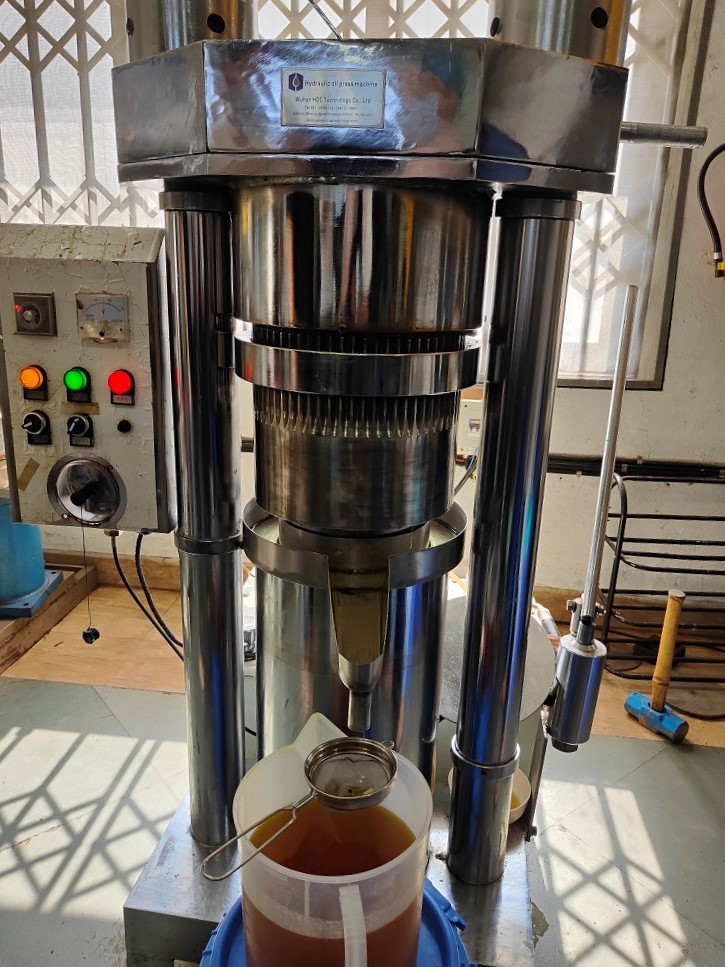 What made you transition Pascati's lineup into an entirely vegan array of chocolates?
Most of our chocolate bars were vegan by default because dark chocolate typically forgoes milk. Many people asked us if we were a vegan brand when we did exhibitions at farmers' markets. However, we were making one non-vegan product: Strawberry & Honey. In this product, actual honey was used as a center filling inside the chocolate. Now, a lot of awareness is being created around plant-based food, and we intend to keep our brand and chocolates plant-based in the future.
Are there any steps you would like to take in the future to make Pascati even more eco-friendly?
We are the only bean-to-bar craft chocolate maker powered by a solar unit at the moment. More than two-thirds of our energy consumption is taken care of by the sun. However, we would like to be more sustainable in our packaging and shipping. Unfortunately, we have to ship our chocolate in insulated boxes with ice packs to maintain the integrity of the chocolate. This is true whether we are shipping to customers who have ordered online or we are fulfilling our B2B orders.
You are a sommelier and coffee aficionado – how do these interests intersect with your career in chocolate?
Like coffee and wine, chocolate and cacao have terroir. The area's rainfall, the farm's biodiversity, how much shadow the plant receives, the soil, and other factors influence the cacao flavor profile. Like wine, there are different tasting notes. Chocolate from Idukki, Malabar, Tamil Nadu, Karnataka, Belize, Colombia, Venezuela, and Ghana will all taste different.
What is your favorite Pascati flavor?
As the founder of Pascati, all of my flavors are my favorites. But if I had to pick one, it would be Raspberry & Hibiscus.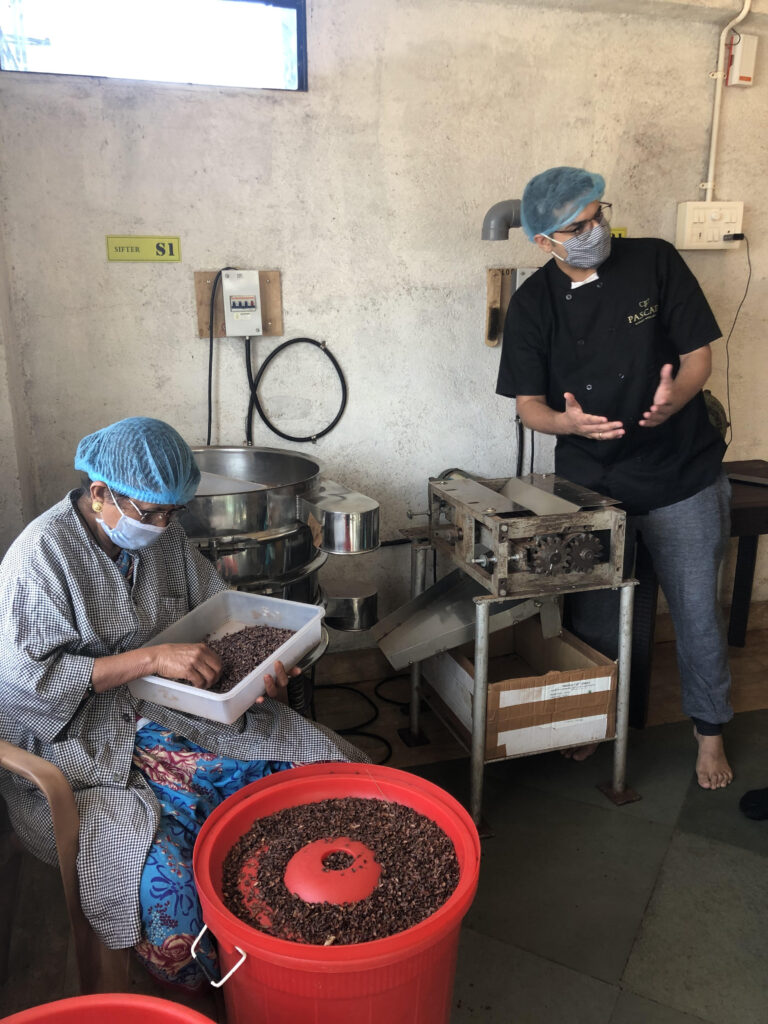 To learn more about Devansh and Pascati, visit their website here.