These days, women's equality is often focused around equal pay, but those of us who remember the "bad old days", pay was the least of the problem. I recently came across this Facebook site and love that there's a place to see all these stories about amazing women who took on big industries and broke barriers so the rest of us would have a more equal playing field. That's not to say that pay equality is not an important and on-going social issue, along with sexual harassment in the workplace, but this National Women's Equality Day we would like to celebrate how far we have come, salute these awesome role models and make a commitment to be as brave and persistent as they were to bring about change.
Here is one badass woman in modern history you might never have heard about and how she changed the Airline Industry.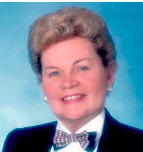 Barbara "Dusty" Roads was one of the women who decided that the airline industry needed to change the way it treated their female employees. Shortly after she was born in 1928 in Cleveland, Ohio, Charles Lindbergh landed his airplane in her parent's backyard. The event would shape the family's lifelong passion for aviation. Dusty and her brother were Cleveland Air Races fans and both grew up wanting to become pilots. However, women could not become pilots after World War II. Instead, Dusty went to college and earned a B.A. in English Literature from the Flora Stone Mather College for Women (now Case Western Reserve University). She still wanted to fly, though, so after she graduated in 1950, she got a job as a stewardess for American Airlines. She had no idea that decision would eventually lead her to make history.
In 1953, her employer insisted on a contract clause that all stewardesses hired after Dec 1, 1950, would be fired at age 32. The rule soon became an industry-wide standard. Dusty called out the rule as gender discrimination and urged her union, ALSSA (Airline Stewards and Stewardesses Association) to fight against it. After serving as a contract negotiator and Chair of the Los Angeles base of ALSSA, Dusty was appointed ALSSA's national Washington D.C. lobbyist in 1958. As a lobbyist, she testified at hearings about airline safety, training, certification, and unfair age regulations. She befriended Rep. Martha W. Griffiths and Sen. Margaret Chase Smith, who both supported her cause. In 1963, Dusty's efforts led to an early attempt at writing a bill to repeal the age rule. Dubbed "The Old Broads Bill" by Congressmen, it failed. In her next move, Dusty and other stewardesses held a press conference to protest the age policy. It captured national media attention and a debate on the airlines' intentions ensued.
In 1965 Dusty entered the Equal Employment Opportunity Commission (EEOC) agency the day it opened and, filed the first anti-discrimination complaint in the United States on behalf of her colleague, Jean Montague. After a three-year EEOC fight, the age regulation was finally overturned under threat of a union strike in 1968. In 1977 Dusty helped form a new independent union, the Association of Professional Flight Attendants (APFA), which remains the largest independent union in the country. She retired at age 66. Now in her late eighties, Dusty continues to promote the need to protect hard fought employee rights that are in jeopardy today.
But just think where women would be if Dusty has not been such a badass.
The stewardess field was competitive, with very few openings. Most airlines wanted applicants to have some college education, and interviewers screened out women who didn't fit the corporate standards of beauty. There were compulsory finishing schools where the basic requirements of passenger safety and comfort were taught alongside classes on posture, cosmetics, and physical fitness. Once on the job, stewardesses suffered pre-flight weigh-ins and could be forced to wear girdles or other form-contorting underwear. And no matter how perfectly coiffed and catwalk ready a stewardess was, no matter how professional and dedicated to her job, she could not be married. A stewardess could not be pregnant, and as Dusty found out, a stewardess could not grow older than her early thirties.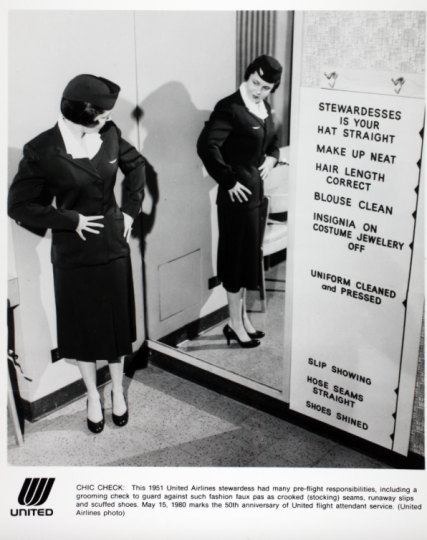 In the fifties, flying was a rarefied form of travel for a well-heeled clientele, women in matronly uniforms served dinner on trays and poured cocktails. As businessmen came to dominate commuter flights, particularly in the smaller regional markets, the uniforms became less austere. "Does your wife know you're flying with us?" asked ads for Braniff Airways. Pacific Southwest Airlines led the race to the bottom by dressing its stewardesses in colorful miniskirts and go-go boots through the late sixties, before delving into hot pants in the early seventies.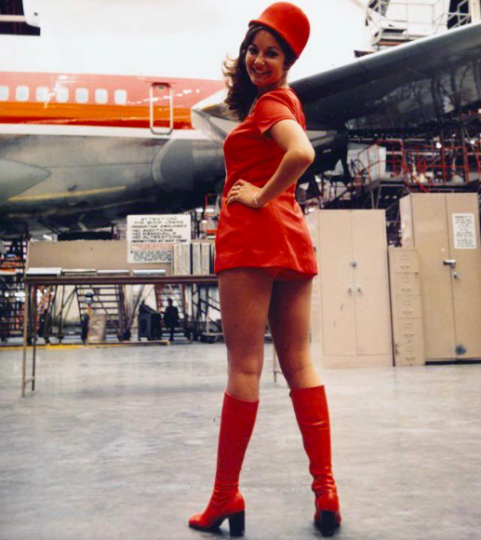 PSA dressed its employees in mini-skirts and go-go boots. (SDASM Archives)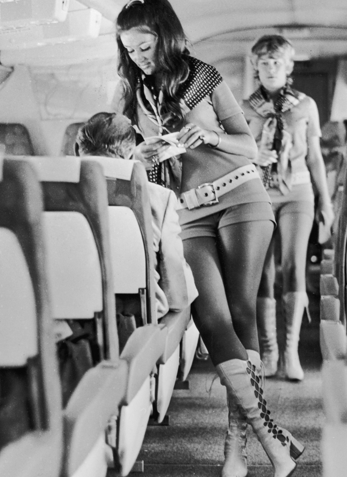 Stewardesses working for Southwest Airlines of Texas wear hot pants and leather boots n 1972. The airline's motto was "sex sells seats," and drinks served onboard flights had suggestive names like "Passion Punch" and "Love Potion."
Women like Dusty were fighting for changes inside the airline industry. Throughout the sixties, stewardesses filed discrimination suits with the Equal Employment Opportunity Commission, citing Title VII of the 1964 Civil Rights Act as grounds to end the policy of firing women who married, became pregnant, or grew older. The years of proceedings and setbacks began to pay off in the early seventies, laying a foundation of legal precedence that changed labor relations in the airline industry. They also paved the way for men to become stewards, leading to the adoption of the term "flight attendant." The death knell for hot pants and go-go boots came in 1978 when President Carter deregulated the industry, allowing the regional airlines to wage war with one another over cheap fares instead of cheap miniskirts.
Dusty, was and still is a force to be reckoned with. She retired at age 66. Now in her late eighties, Dusty continues to promote the need to protect hard fought employee rights that are in jeopardy today.
https://www.facebook.com/MAKERSboldanduntold/