In 1948, the United Nations General Assembly adopted the Universal Declaration of Human Rights (UDHR) declaring "the inalienable rights which everyone is inherently entitled to as a human being regardless of race, colour, religion, sex, language, political or other opinion, national or social origin, property, birth of other states" (find out more at the un.org). It is the most translated document in the world, according to the UN, with translations into 500 different languages including audio recordings and sign language videos.
This year's theme, aptly chosen, is celebrating the youth in the endeavour of standing up for human rights. And what a year it has been! Greta Thunberg has become the voice of a generation, starting school strikes for climate change awareness and providing the spark for one of the biggest youth movements for climate change ever seen before. Hundreds of countries and millions of people of all ages have been inspired to follow the lead of her message to speak up about climate change.
The youth are the leaders of change. Here are some of the leading organizations from recent months and youth movements you can support in the coming year!
---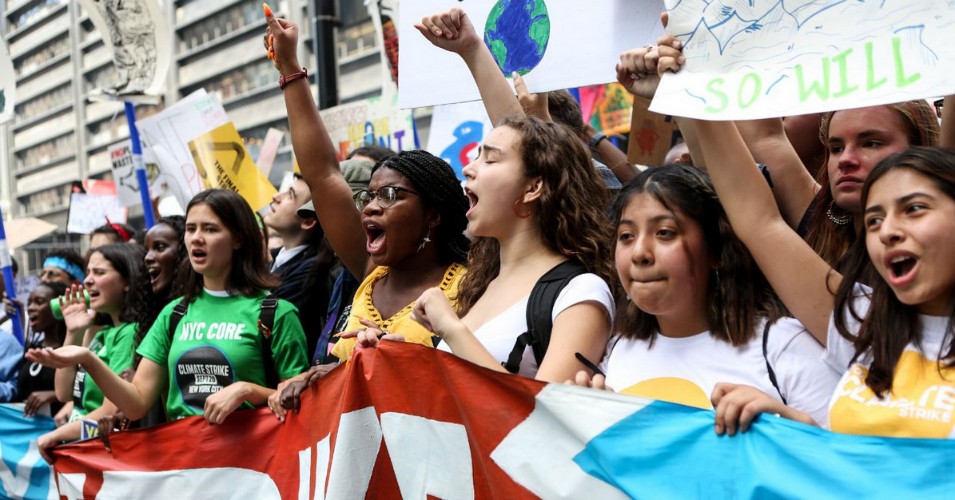 "We had no power in creating the systems that are destroying our world and futures — and yet we are and will be paying the biggest price for the older generations' recklessness."

Jamie Saraí Margolin for Assembly
In 2017, Jamie Margolin (age 16 at the time) founded — with the help of Nadia Nazar, Madeliane Tew, and Zanagee Artis – the Zero Hour Movement, which creates a space for the youth from all walks of life to get together and discuss climate change. Jamie is a mixed-raced, queer activist who feels passionately about the intersectionality between social justice and climate change. This past summer Zero Hour held This is Zero Hour: The Youth Climate Summit in Miami, Florida and to celebrate Human Rights Day today, they are participating in Amnesty USA's Write for Rights to support climate survivors of Hurricane Yolanda in the Philippines! They are also currently working on Project #GetToTheRoots to research the systems of oppression that have enabled climate change to occur and to further divides of inequality. They have also teamed up with the Sierra Club, 350.org, Indigenous Environmental Network, Alliance for Climate Education, and many more! Check out what they are doing here and follow them on Instagram @thisiszerohour!
---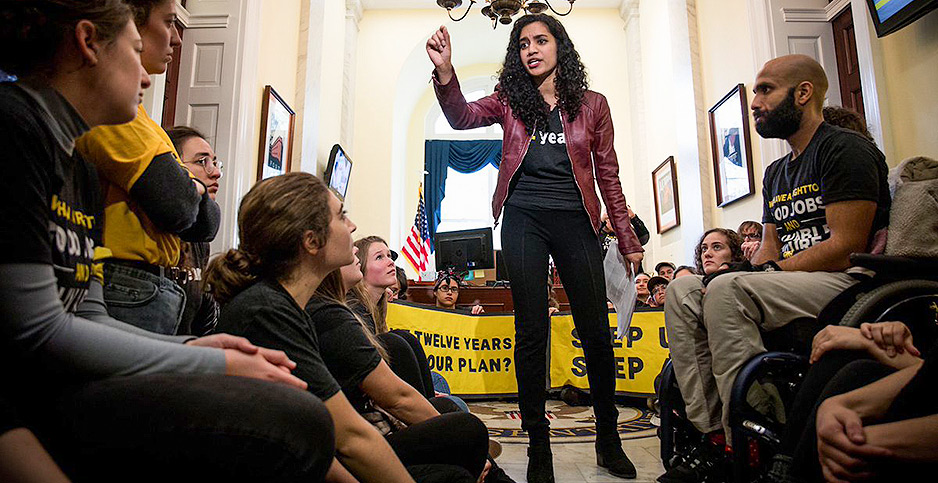 "We've known about the climate crisis for twice as long as I've been alive in this planet and we have yet to do something that scales our action and economic activity to combat the crisis. [Fighting climate change] is about survival and existence. Are we going to take action over the next 10 years to ensure our generation has a livable future, or are we going to continue to kick the can down the road and resign ourselves to live a life filled with chaos, violence, and uncertainty?"

Varshini Prakash via EverBlue
The Sunrise Movement, headquartered in Washington, D.C., has taken the world by storm and has famously protested in Nancy Pelosi's office with Representative Alexandria Ocasio-Cortez. Started by Varshini Prakash and Sara Blazevic, the movement now has dozens of chapters across the United States and has legitimately taken Twitter by storm in the past few years. Fighting for divestment in the fossil fuel industry and getting involved in the presidential election for 2020, they have really helped bring climate change to the forefront of the political discussion in person and online. Check out their website here and follow them on Instagram!
---
The International Indigenous Youth Council (IIYC)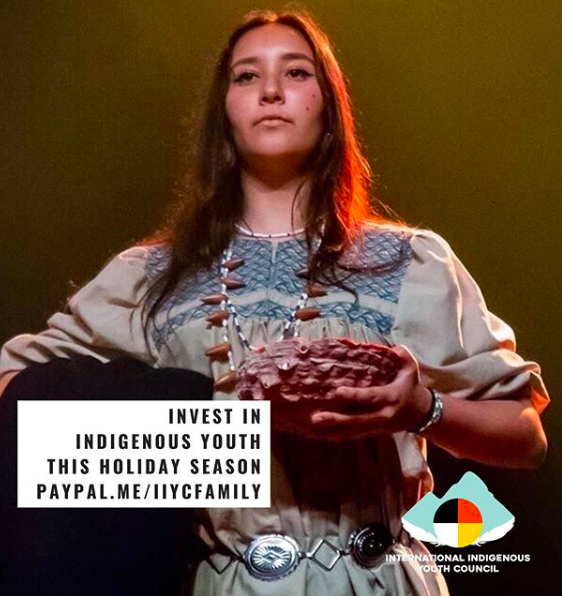 "Each of us is put here in this time and this place to personally decide the future of humankind. Did you think the Creator would create unnecessary people in a time of such terrible danger? Know that you yourself are essential to this world. Understand both the blessing and the burden of that. You yourself are desperately needed to save the soul of this world. Did you think you were put here for something less? In a Sacred Hoop of Life, there is no beginning and no ending."

Chief Arvol Looking Horse of the Lakota, Dakota, and Nakota Nations via The International Indigenous Youth Council website
The International Indigenous Youth Council was born out of the youth protests against the construction of the Dakota Access Pipeline in Standing Rock in 2016 but has grown to include seven chapters across the United States. They have initiated programs like Mi Vida Su Vida, Voice Through Media, and others to engage and give voice to the youth of indigenous communities, in collaboration with Sisters of Color United for Education and the Awake Media Fund. In 2018, they received the Robert F. Kennedy Human Rights Award for their work with environmental conservation and water preservation. Stay up to date by following them on Instagram and checking out their website!
The work these groups have accomplished and hundreds of other kids, teenagers, and young adults across the world is incredibly inspiring and impressive. But we must always remember that the responsibility to create a better future is on all of us, no matter your age. The youth of today are sacrificing their time and energy to make the future better for everyone and they will not be ignored. Each and every one of us can be inspired to live an eco-friendlier life and pursue justice to protect the human rights of our fellow human beings.
Are there kids in your community hoping to get involved with learning about climate change? Are there youth programs for climate education and activism that you want to show appreciation for? Post a photo on Instagram and tag us at @eco18dotcom to let us know what your community is up to!
Here are some resources for teaching children about climate change and what we can do to help from National Geographic: Climate 101, 13 Ways to Save the Earth from Climate Change, and games!