The concept of a circular economy is getting more attention these days, mostly because of the unequivocal scientific evidence of climate change, which is supported by events such as the rise in temperatures worldwide, predominantly in the last 35 years, the warming of the oceans, the shrinking of the ice sheets, a decrease in snow cover, earlier melting of snow, a rise in the levels of the sea, and other extreme events, to mention a few examples.
But what is a circular economy? It's an industrial system with a regenerative approach that focuses on eliminating waste and increasing productivity by reusing, sharing, repairing, refurbishing, remanufacturing and recycling resources. Its objective is to extend the life of products, equipment, and infrastructure to minimize the consumption of resources faster than it can be replenished, as well as the creation of waste, pollution and carbon emissions. Image: The circular economy—an industrial system that is restorative by design/World Economic Forum.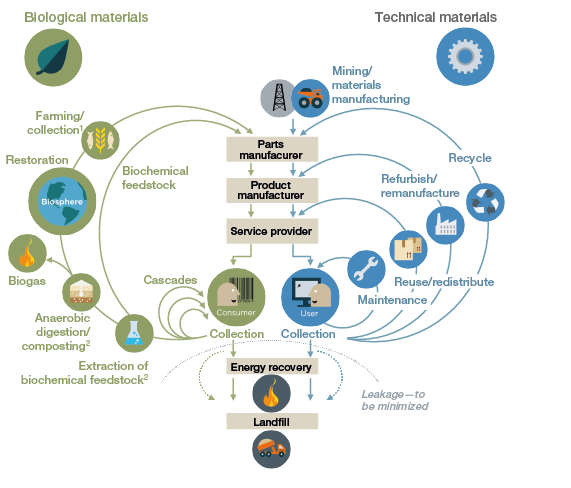 According to a 2015 joint study conducted by McKinsey and the Ellen MacArthur Foundation, the impact of transitioning to a circular economy "could add $1.8 trillion in value by 2030 -for EU alone-, decrease primary material consumption by 53% by 2050, and lower carbon dioxide emissions by 83% by 2050."
With a world population of 7.7 billion, and a projection for this to reach 9.8 billion by 2050, the consumption of resources per capita will also increase along with the environmental cost, which also explains the reason why a circular economy may come handy.
The shift from an economy based on extraction and consumption to a system with a regenerative and restorative focus also presents important challenges. In order to make this work, we all – companies, investors, governments and the civil society – need to have a full grasp of what this means, and work in partnership to reach the benefits of changing our mentality and patterns of use and consumption.
A recent survey conducted by the banking and financial services firm ING, found that 62% of American companies from four sectors—automotive, consumer electronics/telecoms, food/agriculture, and healthcare— are planning to transition to a circular economy, while 16% have already incorporated some of its principles to their activities. The same study also indicated that taking a bigger step towards a full-circular economy and benefiting from its potential requires working with supply chain partners, customers, financing partners, and even competitors.
In the U.S. the value of a circular economy still remains vague. Anne van Riel, Head of Sustainable Finance, covering the Americas region at ING, explains, "companies mainly embrace it for defensive reasons like cost savings, rather than seeing it as an opportunity to find new markets, new products, and new customers."
While the idea of a circular economy system continues to gain traction in the U.S., there is still a long way to go so that its immense benefits for the planet, the people, and the world's economy can be truly understood.
Photo: Holland Circular Hotspot