Today we're going to be taking a look at our favorite family tasty treats! It can be so hard searching for the perfect products to feed your kids, what with the added worries of artificial colors or flavors, added preservatives, or any nasty chemicals in general that all to often lurk in the ingredient section of our favorite snacks.
In an ideal world our favorite treats would not only taste delicious, but be great for you too. The only thing is, who wants to stand around the grocery store reading every ingredient and analyzing every last detail? No one—that's why we did it for you.
So, let's take you step by step through our favorite snack foods to keep around the house or in your bag for some quick munching that your kids will absolutely love…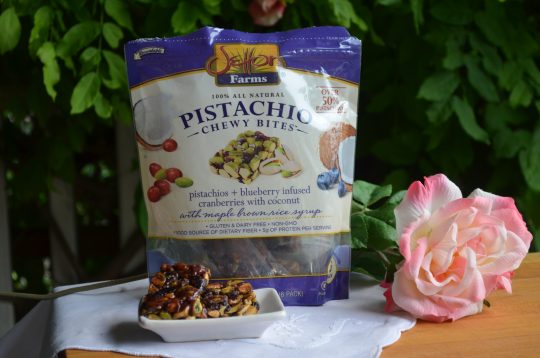 Our first food favorite is the Setton Farms 100% All Natural Pistachio Blueberry Infused Cranberry and Coconut Chewy Bites! These are a brand new snack offered by Setton Farms that are perfect for long days when you feel that dreaded ~hangry~ sensation on the rise. These are perfect bite sized chunks that are packed with some serious flavor. Not only are they delicious, they are also heart healthy, 100% natural, gluten and dairy free, low in sodium, GMO free, Vegan, and made in the USA. Now that's a long list of awesomeness! Setton Farms is based in California and the plant runs 100% on solar energy and the water used to process the pistachios is recycled to water the crops, and the pistachio hulls are used as cattle feed for local farmers. Their Pistachio + Blueberry Cranberry Chewy Bites are made in California which means less energy used to get the product to consumers. Made from over 50% pistachios, this bite-sized bar will give you a healthy dose of protein, potassium, antioxidants, and fiber. So whether you're packing your child's lunch, headed out for a road trip, or just need something to throw in your purse, these are some of eco18's favorite options and are a total staple in the office.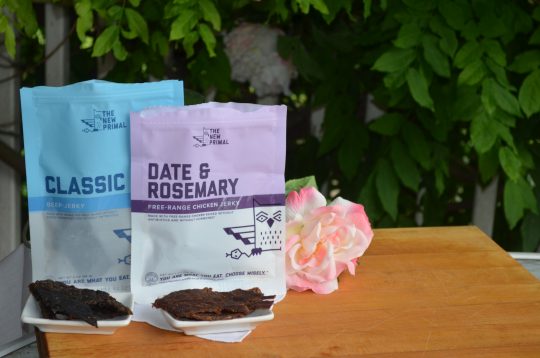 If you and your kids are craving something a little more hearty and savory, there's no better place to look than The New Primal Jerky. Our favorite flavors are the Classic Beef Jerky—which is made with grass-fed beef raised without added hormones or antibiotics—and the Date & Rosemary Jerky—which is made with free-range chicken, also without any added hormones or antibiotics. The New Primal prides itself on using only the highest quality meat and infusing it with delicious and delectable herbs and spices. These are certified paleo and gluten free, naturally sweetened, top 8 allergen free and hormone and antibiotic free. With only 90 calories and 12 grams of protein per serving, this is definitely one snack you won't feel guilty about feeding your family.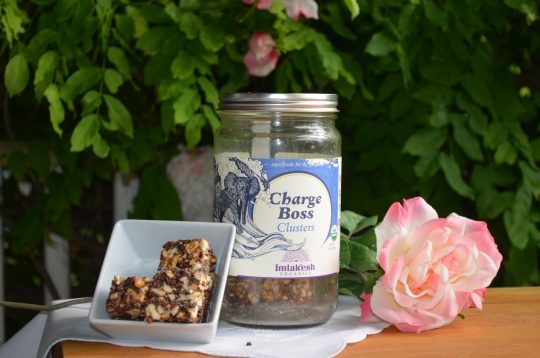 Last up on our healthy snack list comes from the awesome superfood brand – Imlak'esh Organics. Imlak'esh Organics is a sustainable, intentional company that specializes in the import and distribution of superfoods ethically sourced from small-scale organic farmers around the world. All superfoods are sustainably grown and harvested, and are grown with sustainable practices. For example, the Sacha Inchi is all rainwater fed, and all products are packaged in glass jars that can be reused and are degradable, and the Imlak'esh Family has earth-friendly offices and composts all food scraps, which are taken to the local farms. And that's only the start of why we love them so much! Each year, Imlak'esh donates 5% of net profits to eco-social projects- this past year donating the funds to the Standing Rock protest of the Dakota Access Pipeline. While their morals and ethics are what we truly support them for, their products are what sealed the deal. We keep a jar of the Imlak'esh Organics Charge Boss Clusters at the eco18 headquarters, and by the end of the day there are only crumbs left! With just four ingredients of Cashews, Cacao Nibs, Coconut Nectar and Maca, these bite-sized snacks are the perfect fuel to charge you for the day ahead. Filled with healthy fats, protein and fiber, these clusters are almost granola bar like in texture and consistency, but without any harmful ingredients. Vegan and gluten free, Imlak'esh Charge Boss Clusters are truly the way to our hearts. We also love using their Maca Powder and Golden Berries for Superfood Smoothie Bowls, and like to add an extra crunch to our salads with the Macambo Beans and Sacha Inchi. All in all, not only is this an incredible brand that deserves your attention; it provides ingredients and health benefits that are genuinely worthy of fueling your family.
There you have it! The snacks that we and our families have been devouring recently—all without the guilt of added sugars, preservatives and all of that other gunk you find in most tasty treats. So the next time you're stuck on what snacks to pack for your child's lunchbox, these all have eco18's seal of approval.