This article was updated on April 21st, 2021. 
There is no better time to talk about tea than on National Tea Day! According to the legends, sometime around 2732 BC, the Chinese Emperor Shen Nung first learned about tea by luck when he spotted a green leaf blown into a bowl of boiling water, coloring the water and creating what is known as tea. Throughout time, the aromatic beverage has gain popularity for its therapeutic and medicinal properties. More recently, studies have indicated that various types of teas may boost the immune system, fight off inflammation, and even help kill cancer.
Tea is not only a beverage with health qualities such as no sodium, fat, carbonation, or sugar, but it also supports sustainability from the ecological, social and economic perspective. The tea plant is naturally resistant to most insects; oxidation of the tea leaf is a natural process, and many tea packers use recycled paper for packaging.
In the United States, over 159 million Americans drink tea on any given day. Interestingly enough, about 75 – 80% of the tea consumed in America is iced, according to the Tea Association. From the many varieties of teas, green tea is our favorite at Eco18!
Green tea is loaded with powerful antioxidants like polyphenol, which fights free radicals and is the key to green tea's numerous health benefits. Epigallocatechin-3-gallate (EGCG) is the most prevalent polyphenol in green tea and is shown to most effectively eliminate free radicals. These good-for-you nutrients found in green tea can help improve skin and protect against aging, boost immunity, increase weight loss, balance blood sugar levels, lower bad cholesterol, and increase good cholesterol.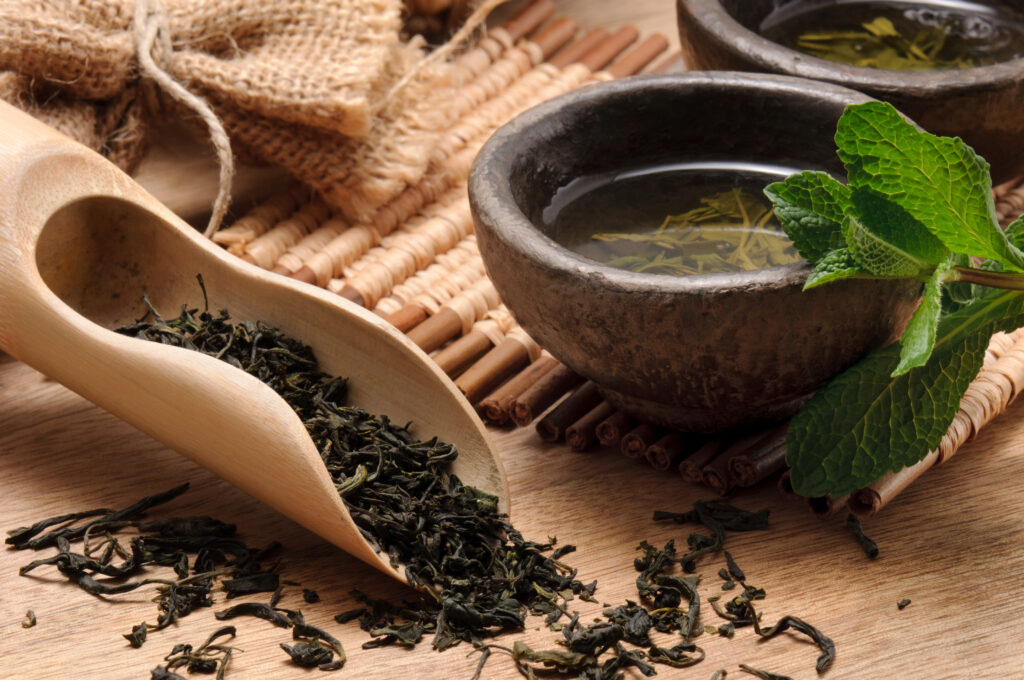 Just one of the above health benefits is reason enough to get on the green tea bandwagon. Luckily, there is no shortage of green tea to choose from. A few that we love are:
Good Earth uses no artificial flavors, colors or preservatives, is Kosher and gluten-free, and features 100% recycled and recyclable cartons. Choose from various tasty green teas like Citrus Kiss, Matcha Maker, Organic Tropical Rush, and Pomegranate Burst.
Serengeti Teas & Spices not only creates a wide variety of teas, but they also offer coffees from many different regions of Africa. Some of their most popular teas include: Ginger Turmeric Rooibos, Ginger Turmeric Body Booster, Holistic Bliss Healing Tea, Chai Teas, such as the Vanilla Rose Chai and the Nairobi Street Chai, are very popular. Destress Teas such as Moringa and Botanicals.
Pukka Teas – Pukka Herbs offers a wide range of award-winning teas based on the ancient wisdom of Ayurveda – 'the art of living wisely.' All teas are Fairtrade and FairWild, and a portion of every pack sold helps WWF's Living Himalayas project. Choose from Supreme Matcha Green, Clean Green, Serene Jasmine Green, and Cool Mint green.
Not a fan of the green tea flavor? No fears, you can make your own healthy green tea concoctions at home to suit your taste. We've found a few recipes on Pinterest that sound delicious, like a Green Tea Mango Smoothie, Green Tea Lemonade, or Green Tea Ice Pops!
Happy National Tea Day!