Eco18 recently attended the third Regenerative Earth Summit: SOIL + WATER + CLIMATE, joining global leaders in Boulder, Colorado to learn how they are tackling climate change and the health of the planet through the power of commerce and collaboration. Produced by At the Epicenter, the event was an international convening of the food, fashion and beauty industry, producers, and community influencers to reimagine supply to build healthy soils that enhance carbon drawdown.
Everyone gathered at the University of Colorado's Sustainability, Energy and Environment Complex, until a sudden heavy snowstorm abruptly caused a change in venue as all state buildings were closed. It was not lost on anyone that such severe weather was abnormal in Boulder this early in the season! But, no one missed a beat as farmers, ranchers, environmental leaders, supply managers, investors, and brands took to the stage and led discussions over the course of the two-day event. The Summit provided inspiring insights into the serious problems we are facing, and how committed leaders across the regenerative movement are initiating action and moving the needle of change.
We heard from brands Dr. Bronner's, Eileen Fisher, Lush North America, MegaFood and Nori as they discussed Supply Communities in a regenerative world, and from Danone North America, Alter Eco and River Network about how they are tackling the challenge of packaging, bio-plastics and microfiber impacts to water.
There were so many great speakers and so much innovation that it made us feel encouraged and hopeful for our planet.
Here are some of our key takeaways from two amazing days.
---
30,000 Feet: The Carbon Underground
Tom Newmark and Larry Kopald enthralled the audience with their "What's Your Hail Mary Analogy".
They had spent many weeks on their presentation only to have to redo the whole thing in a couple of days because of a groundbreaking announcement. They likened it to looking for "A Hail Mary Pass," which they certainly achieved!
The duo had been working with the Minister of Agriculture in Thailand who had reached out and asked for their help. A little historical context—December 5th, World Soil Day, is also the birthday of King Rama IX, the ninth monarch of Thailand. King Rama was a very enlightened king who walked from village to village for years with seeds to give to his people, as he taught them about the importance of soil, food, and self-sufficiency. Under his stewardship, farming flourished. Fast forward, the soil in Thailand is now dead because of the many years of chemical farming. A unique opportunity existed in Thailand for several reasons:
There were 3.5 million farms
Halting the burning of fields would be impactful
The Buddhist nation revered life
They realized industrial methods had failed them
They wanted to support their farmers
Larry and his team were traveling back and forth to Thailand to assist with the reintroduction of regenerative agriculture and to help bring buyers for the crops. On October 8, 2019, the Thailand government announced the ban on chemicals that will take effect as of December 2019. Regenerative agriculture has been written into the Ministry of Thailand. 200,000 acres have been set aside to support this project with plans to scale to 400 million. Thailand is set to prove to the world that this is a scalable model for reducing its estimated 21.58 billion tons of CO2.
The Carbon Underground was founded on two simple realities:
There is no solution to climate change that does not include drawing carbon back down from our atmosphere.
There is no mechanism with the scale, ability, and immediacy to draw adequate amounts of carbon back down to mitigate climate change other than the restoration of soil.
---
Healing Our Oceans
A panel consisting of Andrew Hebard, from Nature's Crops International, Vicki Goldstein, from Inland Ocean Coalition, Nova Ovington, from Goddess Garden, and moderator Nicole Silk, from River Network, talked about how our ocean resources are being depleted and what is being done to reverse this trend. Something most of us don't even think about is that of the 90 million tons of fish for human consumption, 16 million tons are processed for Omega 3 oils. With 75% of the Western world deficient in Omegas, these nutritional oils are essential for human health, so what can be done about it? One solution according to Andrew Hebard is by growing Ahiflower. Ahiflower oil contains healthier Omegas than any other natural plant or seed oil, delivering the health benefits associated with fish oil, evening primrose oil, olive and flaxseed oils. Currently, Ahiflower is saving 320,000 anchovies annually which are food for other fish and birds. By growing more Ahiflower, the biodiversity of the oceans will improve.
Vicki Goldstein from the Inland Ocean Coalition reminded us that inland states should have a voice in ocean protection, since what we do inland has a direct impact on the sea—think about what we eat, the energy we use, and how we take care of our streams and creeks, which all lead downstream to the ocean. Advocates work with the Inland Ocean Coalition on issues of local and national importance through their own inland ocean chapters. In Illinois, Arizona, Utah, Colorado, Michigan, Buffalo, NY and Manitoba, Canada, affiliates are engaging inland communities and strengthening the Coalition to encourage activism around ocean and watershed conservation.
---
Keynote: Charles Eisenstein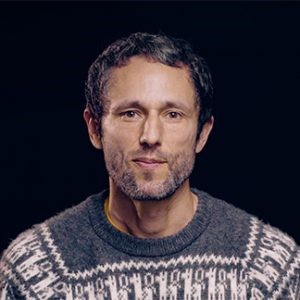 Charles Eisenstein is not like any other speaker. You only have to look at his unconventional bio to realize that. He puts it all out there, mistakes, flaws, and vulnerability. See for yourself…
This is the part of a bio where one implies that one has arrived at some exalted state of success, all mistakes safely in the past. Well, I'm not the guy who has got it all figured out. I know that my books and other work comes from a deep, inspired source, but that source is not me! It is more like I'm connecting to a field of knowledge, or to a story that wants to be told. This knowledge is as much my teacher as it is anyone else's. I'm kind of ordinary, compared to some of the amazing people I keep meeting. I'm just as much in the learning as anyone else, wandering as best I can toward "the more beautiful world my heart knows is possible," encumbered by the programming and the wounds of our civilization.
In his keynote, Charles wove his life story together with the thinking from his previous books, along with the narrative from his latest book Climate: A New Story. Full disclosure, we are still reading the book, but it takes a very interesting and controversial look at climate change and how we need to break with our patterns and "warlike" thinking if we are to realize our interconnectedness with all life on earth. It is not a book that can be read lightly. Just like his speaking, there needs to be pauses to take a breath and let the words come into their full meaning. But his reasoning is very compelling – that we need to flip the script on climate change and reimagine the framing, tactics, and goals we employ in our journey to heal from ecological destruction.
It felt like he is a reluctant speaker, it felt raw, emotional and deeply moving. It touched everyone in the room.
---
Farmers Leading Farmers-Ranchers Leading Ranchers
What is it about farmers and ranchers that make them so interesting and authentic? This dynamic group was no exception, plus they all had a great sense of humor.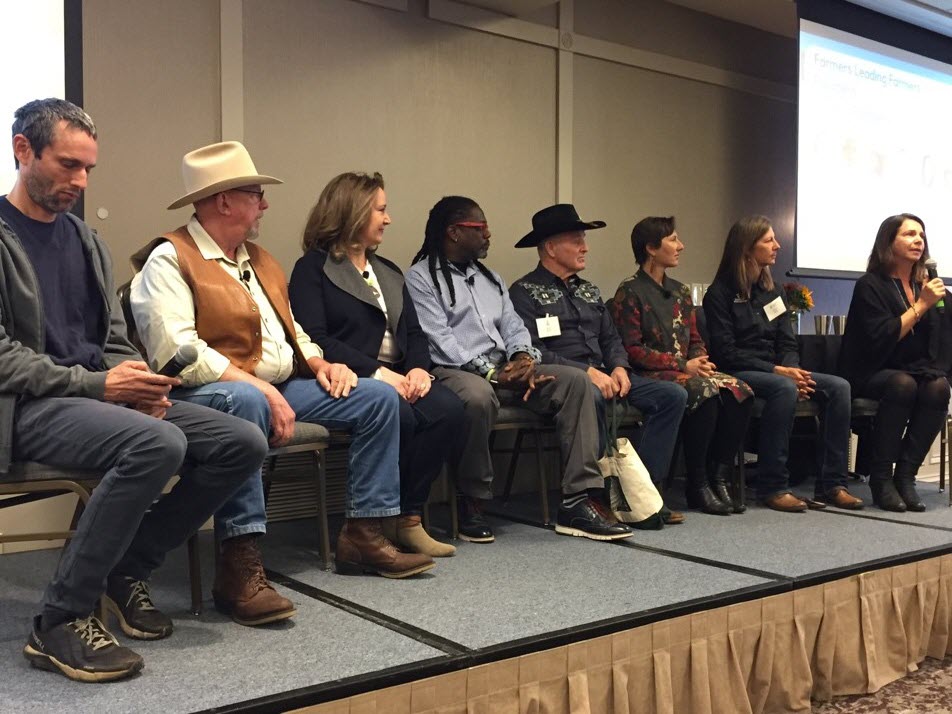 What came across loud and clear is that farmers are in the front line, they work with the effects of climate change every day. They don't have the time to debate it, they have to deal with it! There is so much outside of their control, but they can control how they run their farms and the farming methods they use. To a man (and woman) they practice organic and regenerative agriculture, which in the early days subjected them to ridicule. Thea O'Corroll recalled that her neighbors thought she was crazy, but as time went by and they were struggling to make money farming with chemicals, they began to ask her questions and her answers made sense.
Will Harris runs an impressive operation—White Oak Pastures is a six-generation, 152-year-old family farm in Bluffton, Georgia (one of the poorest areas in the nation), with farming practices that focus on regenerative land management, humane animal husbandry, and revitalizing their rural community. He talked about their zero-waste production system that utilizes each part of the animals that are pasture-raised and hand-butchered on their farm.
Matthew Railford, of Gillard Farms, Georgia is not only an organic farmer, he's also a chef and speaker. The family farm now spans eight generations and according to Matthew, the secret of their success is sustainable farming. Family, community and protecting the environment, ecosystem and people around them is at the core of the family values that drove him to open up the farm to tours, cooking demonstrations and educating people on the "value" of good, fresh, organic food.
Bob Quinn, organic farmer, founder of Kamut Int., and author, recalled his journey from getting his Ph.D. in plant biology at UC Davis to becoming disillusioned with the scientific community and moving his young family back to the family farm in Big Sandy, MT. After proving to his father that organic was a more viable way to farm, they converted to a fully organic operation. Bob says his farm is his laboratory and he is as passionate about research as he is organic farming. He believes you can't have regenerative farming without being organic and you can't have organic farming without regenerative. His book Grain by Grain: A Quest to Revive Ancient Wheat, Rural Jobs, and Healthy Food, is a culmination of his life's work and is inspiring a new generation of organic farmers.
Abbey Smith, of The Jefferson Center for Holistic Management, loves being part of a community. She is ever grateful to live in a place with more elk and cattle than people in the county, yet talk with people from Argentina and Guam (and many more places) on a regular basis as part of her work as an accredited Professional Educator with the Savory Institute. As Abbey explained, each Savory Hub must have a demonstration site (learning site) managed by the hub leaders that is continually under Holistic Management. Their learning site is the Smith family's certified organic ranch Springs Ranch, owned and operated by Steve and Pati Smith, near Fort Bidwell, California.
Wendy Millet, as Ranch Director of the 1,800-acre grass-fed cattle ranch, TomKat Ranch, works with a team of ranchers, scientists, and advocates who look to nature to guide their landscape management in support of their values. We learned that the TomKat Ranch has three priority initiatives that leverage their land-based learning laboratory, unique partner ecosystem, and convening capabilities to inspire the transition of one million acres of California rangeland to regenerative management over the next five years. The TomKat team focuses on holistic solutions that improve soil health, climate stability, water quality and availability, animal welfare, human health, economic prosperity, and biodiversity.
This amazing panel got a rousing, well deserved round of applause !!!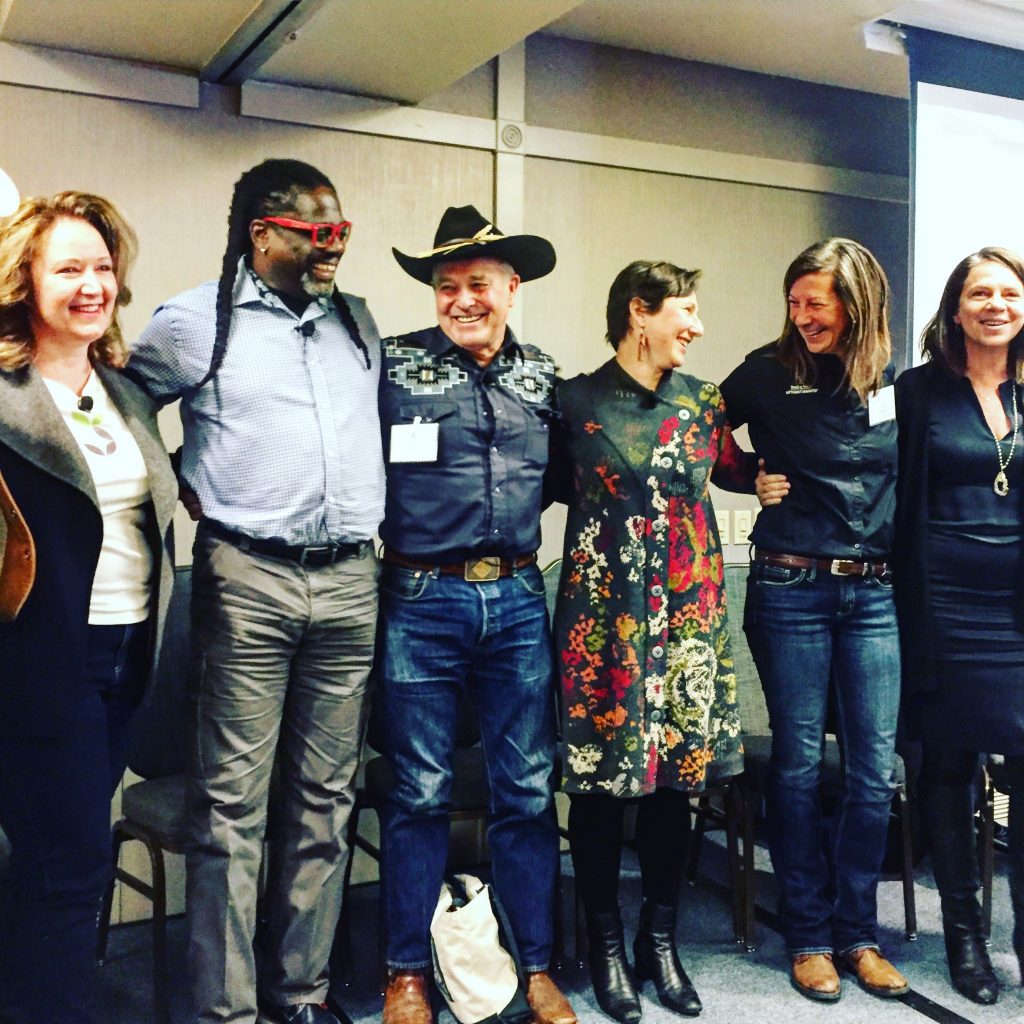 And as Danielle Ibarra Howell so eloquently put it, "farmers are the voices of the land," so we need to listen to the words they have to say.
---
Our thanks to Seleyn DeYarus, Co-Founder and Executive Director of At The Epicenter, and her great team for such an inspiring two days. We learned a lot, met a ton of awesome people, made new friends and returned to New York City with renewed energy and passion for all the work that has yet to be done. Count us in!
And in her own words, "The environmental problems our communities face are too great for any one company to take on. Yet, through collaboration to address ecosystem challenges and climate disruption by bringing attention to soil health in supply webs, we can attain far reaching positive impacts for brands, producers, people and the planet. The imperativeness to act is something many of us sense. Collaboration in this process is essential for positive and effective outcomes and the Regenerative Earth Summit has proven to be an excellent forum to help drive engagement and collaboration."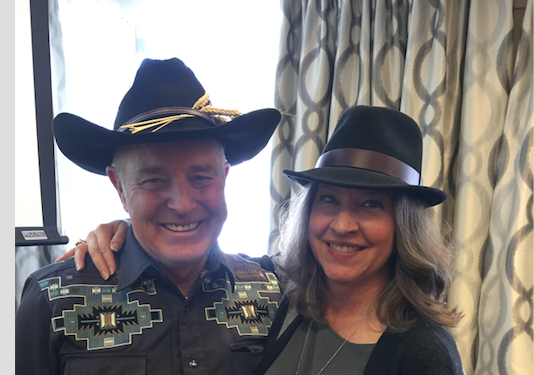 At the Epicenter is committed to support the momentum of business to collaborate across sectors in order to address pressing challenges facing humanity. By convening influencers, innovators and producers from agriculture, fashion, beauty, investment and the civic and NGO community, we set up the conditions for transformational exchange of ideas and practices. Through thought provoking content and interactive design, our efforts elevate opportunities for collaboration and transparency in service to accelerating the adoption of principles that can lead to more informed and holistic problem solving to address planetary regeneration through stakeholder-centric business action.