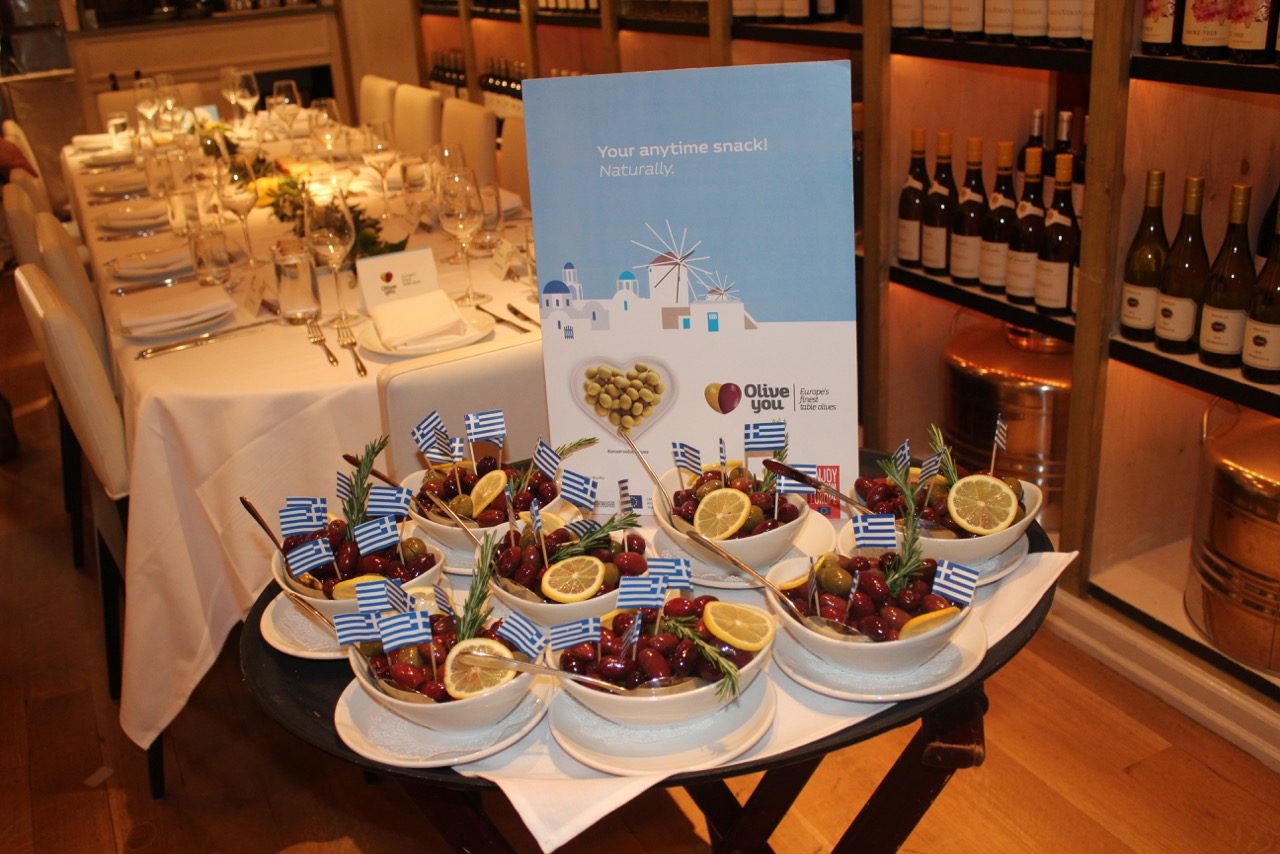 I recently attended an event held by the Panhellenic Association of Table Olives Processors, Packers and Exporters (PEMETE) at Fig & Olive restaurant in New York City's Meatpacking District. The aesthetics of the tables were so charming with fresh lemons and greenery providing Mediterranean vibes. Our host for this intimate luncheon was Yanna Darilis, TV Host of PBS Series "Mediterranean Blu," who was so knowledgeable about the quality, nutrition and health benefits of Mediterranean table olives. We then heard from the corporate executive chef Timothy Hughes of Fig & Olive about how their restaurants incorporate Mediterranean table olives throughout their menus year-round. There is a lot more variety in table olives for snacking then I ever knew!
The three-course lunch paired with the olives was so delicious, it got me thinking about the Mediterranean diet favored by people around the world, and not only for the rich flavors and textures associated with the cuisine. There are a wide range of health benefits ascribed to the Mediterranean pattern of eating, including protection against heart disease, depression, cancer, high cholesterol and dementia. A traditional Mediterranean-style diet also calls for eating about 8-10 olives each day, which as a true olive lover sounds fine by me!
For fellow olive lovers, I thought I'd share a classic marinated olive recipe that gives you a daily dose of Mediterranean table olives.
Prep Time
15 Mins
Total Time
2 Hours 15 Mins
Yield
Serves 32 (serving size: 2 Tbsp.)
Ingredients
1 orange
1 lemon
1/4 cup extra-virgin olive oil
2 teaspoons red wine vinegar
5 bay leaves
4 garlic cloves
2 thyme sprigs
1 rosemary sprig
1 teaspoon fennel seeds
4 cups mixed black and green olives, pitted
How to Make It
Step 1
Cut 3 (1/4-inch-thick) slices from the orange; set aside. Squeeze the juice from the remaining orange to equal 3 tablespoons. Cut 3 (1/4-inch-thick) slices from the lemon; set aside. Squeeze the juice from the remaining lemon to equal 1 1/2 tablespoons.
Step 2
Stir together the olive oil, vinegar, bay leaves, garlic, lemon juice, and orange juice in a small saucepan; cook over medium-low until just warmed, about 10 minutes. Remove from heat. Add the reserved lemon and orange slices, thyme, rosemary and fennel seeds. Let stand 20 minutes.
Step 3
Place the olives in a wide-mouthed 1-quart jar. Pour the citrus and herb mixture over the olives. Cover with a tight-fitting lid, and chill 2 hours. Shake the jar to redistribute seasonings before serving. Store in the refrigerator up to 2 weeks.