As I just broke down ancient grains in another article, I wanted to share one of my recent favorite recipes!
Serves 4:
1 c Kamut berries
1/4 c almond oil
1 medium shallot, minced
1 tbsp minced fresh ginger
2 garlic cloves
6 c cauliflower florets broken down small
4 oz pitted green olives sliced (around 1 cup)
3/4 c golden raisins
1/2 tsp ground cinnamon
1/2 tsp salt
1/2 tsp ground black pepper
1/2 c dry white wine or dry vermouth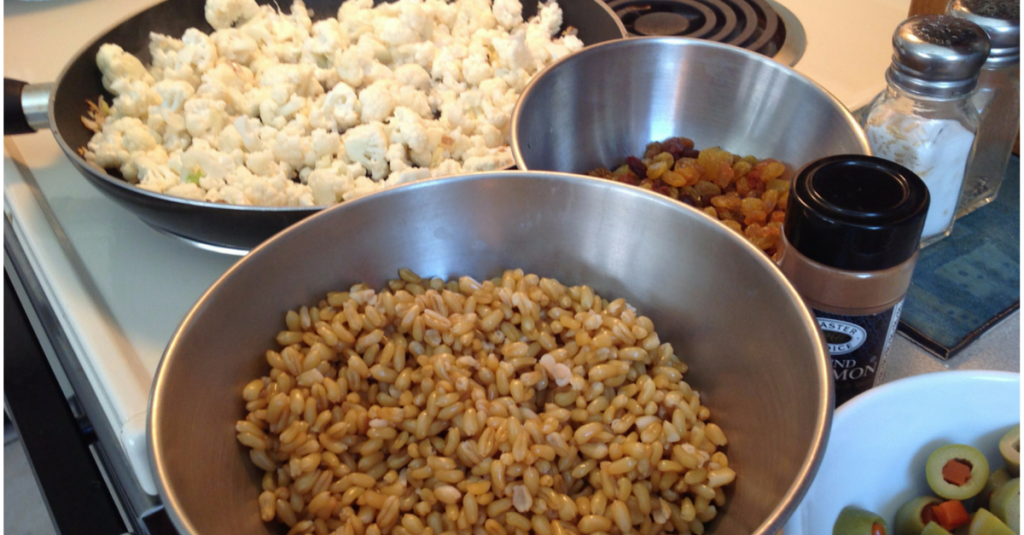 Soak the Kamut in a big bowl of cool water for at least 8 and up to 16 hours. Drain in a fine-mesh sieve or a small-holed colander set in the sink. Pour the grains into a large saucepan, cover with several inches of water and bring to the boil over high heat. Reduce the heat to low and simmer until tender, about one hour, Drain again in the sieve or colander, then run under cool water until the grains are at room temperature. Drain thoroughly.
Heat a large pot or Dutch oven over medium heat. Add the oil, then the shallots, ginger and garlic. Cook, stirring almost constantly, until the shallot softens, about one minute.
Dump in the cauliflower florets. Continue cooking, stirring frequently, until they begin to soften and even lightly brown at the edges, about five minutes.
Stir in the olives, raisins, cinnamon, salt and pepper. Stir over the heat until very fragrant, a minute or so. Then pour in the wine or vermouth and bring to a full simmer. Bubble for two minutes to steam the vegetables a bit and to reduce the wine or vermouth until it's the consistency of a dressing. Scrape the entire contents of the pot into a large bowl. Stir in the cooked Kamut.