This simplified gluten-free Irish soda bread can easily be made dairy-free, too. This light, classic bread using Bob's Red Mill Gluten Free 1-to-1 Baking Flour, has a wonderful texture and flavor. Add to your St Patrick's Day feast or enjoy whenever you please!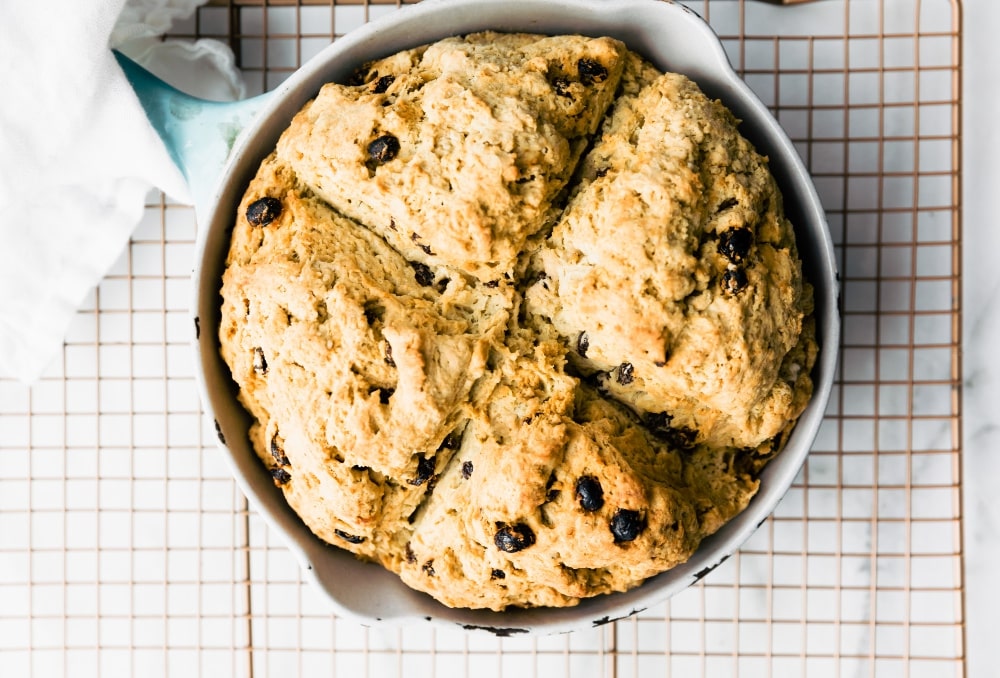 Makes 10 servings
Ingredients
4 cups Gluten Free 1-to-1 Baking Flour
3 Tbs sugar
2 tsp baking powder
1 ½ tsp baking soda
1 tsp Kosher salt
⅓ cup unsalted butter or dairy-free alternative, cut into ½-inch cubes and chilled
1cup currants or raisins, soaked in apple juice or water
2⅓ cups buttermilk or dairy-free buttermilk, cold**
1 egg or prepared egg replacer equivalent to 1 egg
2½ Tbs unsalted butter or dairy-free alternative, melted
**To make dairy-free buttermilk, combine 2 ½ Tbsp apple cider vinegar with 2 ⅓ cup dairy-free milk alternative; stir well. Allow sitting 5 minutes.
Set a rack in the middle of the oven and preheat to 400°F.
In a large mixing bowl add the dry ingredients: flour, sugar, baking powder, baking soda, and salt. Whisk to combine. Add the cubed butter to the flour mixture and use a pastry cutter or fork to work the butter until it becomes the size of small peas. Add the soaked (and drained) currants or raisins and use a spatula to stir and combine.
Add the buttermilk and egg to a small mixing bowl and whisk to combine. Then, pour the wet ingredients into the flour mixture and use a spatula to work the dough until it starts to come together.
Turn the dough onto a lightly floured work surface. Form the dough into a 7-inch round and place in the cast iron skillet. Using a sharp knife, score a cross from end-to-end into the center of the loaf that's 1 inch deep. Place the skillet into the oven and bake the bread for 50-60 minutes, or until the loaf has browned, it is dry to the touch and a knife inserted into the center comes out clean.
Remove from the oven and place on a baking rack. Brush the loaf with melted butter if desired.