Weekends are a great time for me to try out new recipes, put a twist on some old favorites, or make it up as I go along. This past weekend I was up at our mountain house in the Catskills and the weather was perfect for eating outdoors – every meal! Such a pleasure and such a relaxing way to prepare food. These were two meatless dishes that I just loved. Hope you do too!
Avocado and Poached Eggs, with Heirloom Tomatoes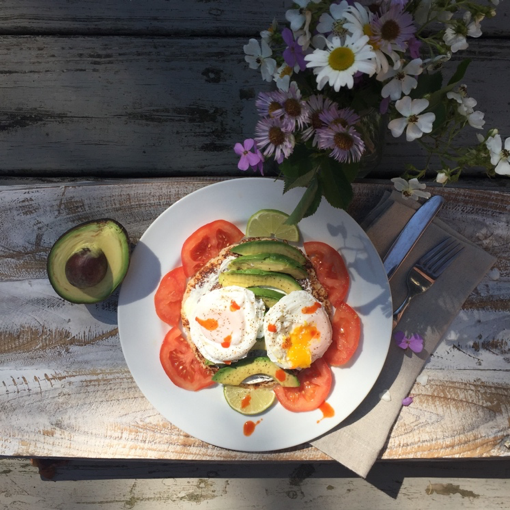 This can be for breakfast, brunch, lunch or even a light supper – poached eggs are wonderful when the whites are perfectly cooked and the yolks are runny and golden yellow!
Serves 1
2 slices whole grain bread, toasted
½ avocado sliced
2 eggs
1tsp vinegar for poaching eggs
1 large heirloom tomato sliced
1 slice of lime, cut in half
Salt and pepper to taste
Butter or cream cheese for the toast
Hot sauce, optional
Vinegar for poaching eggs
Place a small sauté pan of water about (two inches) with a teaspoon of vinegar over high heat and bring to a boil. Reduce to medium and gently place eggs into the water and allow to simmer for 3-4 minutes depending on how you like your eggs. Toast bread and spread with butter or cream cheese. Assemble avocado and tomato slices, top with the poached eggs. Salt, pepper and hot sauce as desired. Enjoy!
KAMUT® Wheat Berry, Tangerine and Arugula Salad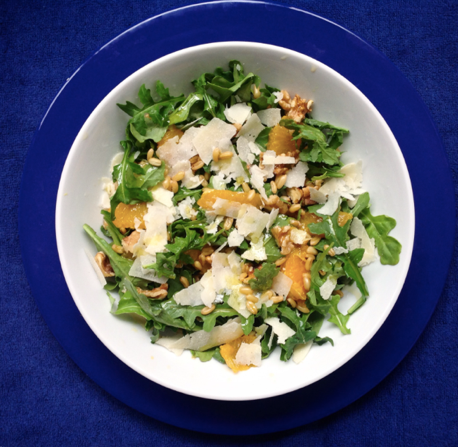 Super easy and really deliciously fresh and tangy! Great for light lunch or to accompany grilled fish or chicken.
Makes 2 servings
1 cup cooked Kamut® wheat berries
½ lemon
1 bunch arugula (2 loosely packed cups)
2 tangerines (medium, peeled, sliced cross-wise & segments separated)
1 Tbs extra virgin olive oil
1 Tbs rice wine vinegar
½ cup walnuts (shelled, walnuts, roughly chopped)
½ cup pecorino Romano cheese (ribbons, optional)
Salt and pepper to taste
In a serving bowl combine Kamut® berries, arugula, tangerine pieces, walnuts and olive oil. Mix well and squeeze with lemon juice and drizzle with rice wine vinegar. Top with Pecorino Romano ribbons, before serving. Keeps in a tightly sealed container in the refrigerator for several days.