I love the holidays. There's nothing more satisfying than getting a group of family members and friends together, cooking some favorite foods and enjoying the moment! I even love the prep work. I can get totally engrossed in the planning, cleaning, chopping, cooking and decorating. For me how the table looks is just as important as how the food tastes! Given the fact that I never have a lot of time, I don't obsess about it, but I do try to be organized so I can actually enjoy the time with my guests.
Over the years I have collected bits and pieces that come in handy for adding a creative touch to the holiday table. Sit down or buffet—it's so nice to begin with a visually appealing table. Linen napkins are my one indulgence. Over 20 years ago I invested in twelve really high quality white linen napkins. Yes, they take some maintenance, but they look great and feel very special when you sit down to eat. I get the convenience of paper napkins, but when I bring out the linen, crisply starched and ironed, I always remember the fabulous dinners associated with them. If the meal is going to be a bit more casual I often use colored napkins, but always cloth ones.
For this Thanksgiving, I've been playing around with some different color schemes and ideas. I collect wine glasses that appeal to me, so it's rare that more than two wine glasses on the table are alike. I pick out the glasses that I think each guest would like—no stressing about everything matching. Same with plates and chargers, if I don't have enough of one thing, I just alternate the settings, people never notice, it's all about the overall effect.
I always save some pumpkins from Halloween, I like to use "edible " décor and combine it all with some dried flowers and beeswax, soy or palm oil candles. All very eco-friendly, recyclable and lovely to look at as well as easy to do.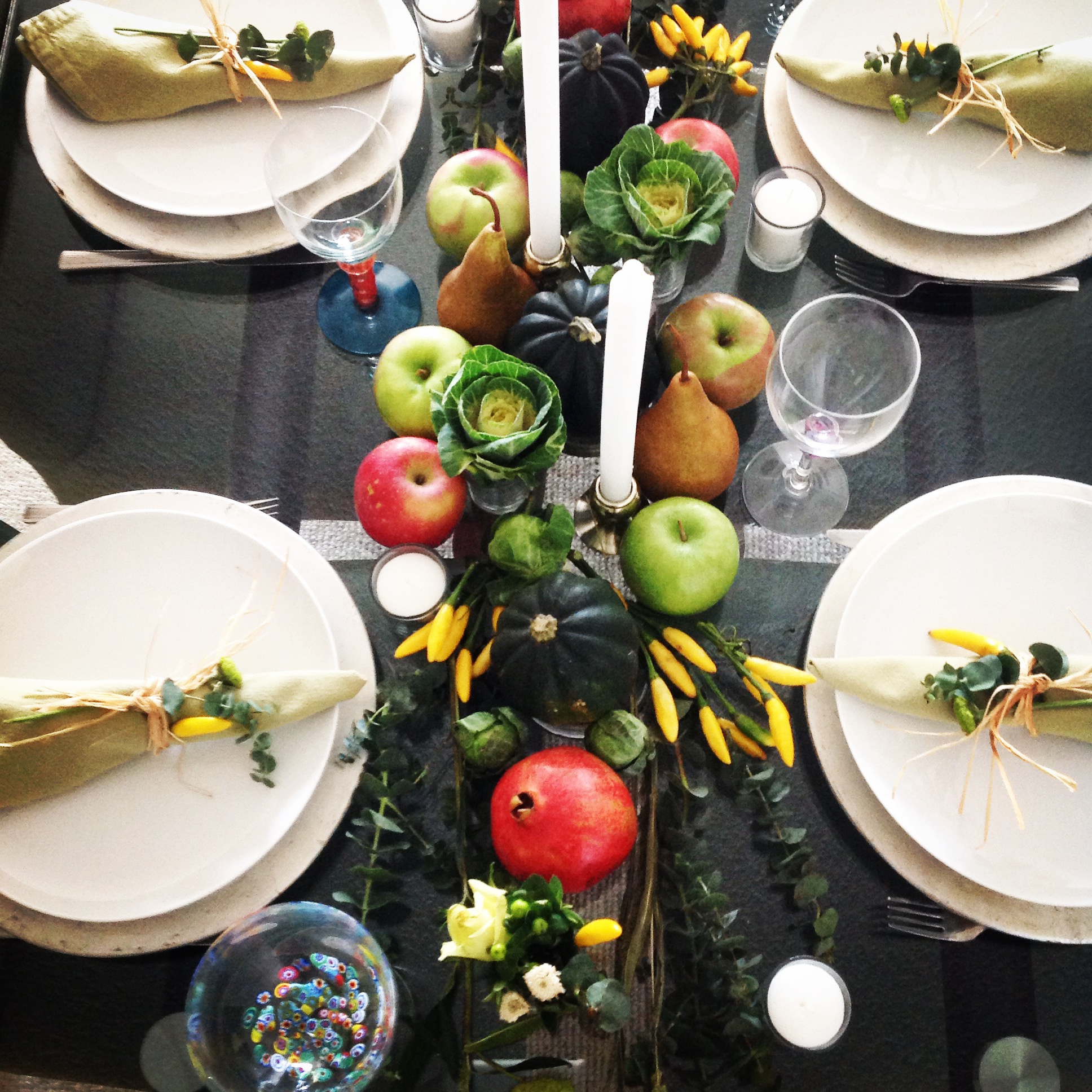 Working from a "green theme", the dark green acorn squash, green baby cabbage and green apples work well with the pop of color from the pomegranates, pears, red apples and yellow peppers. Votives with baby yellow roses and peppers, green dried grasses and aromatic eucalyptus add the finishing touch.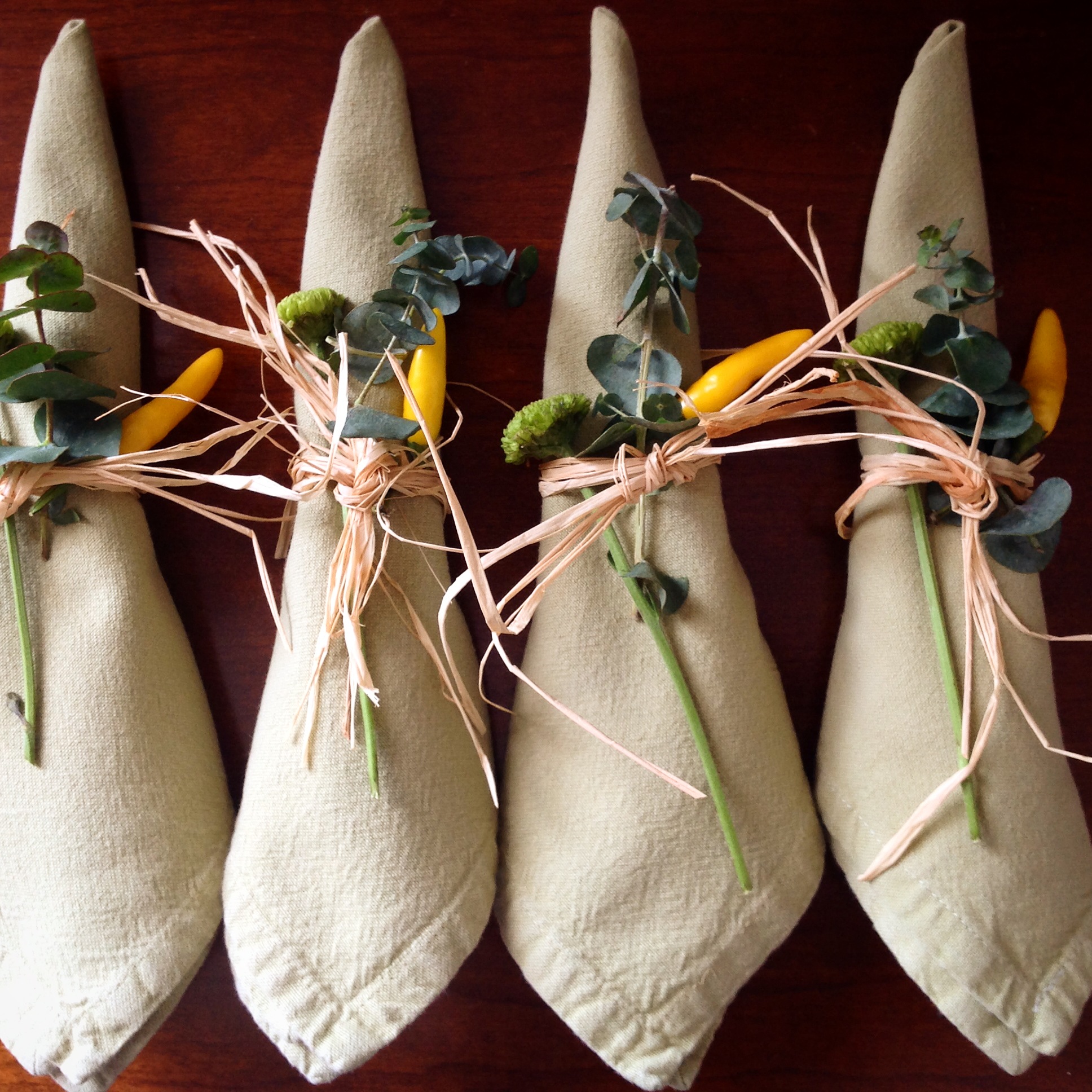 On each plate, a pale green linen napkin tied with raffia, finished with a dried green flower, yellow pepper and eucalyptus.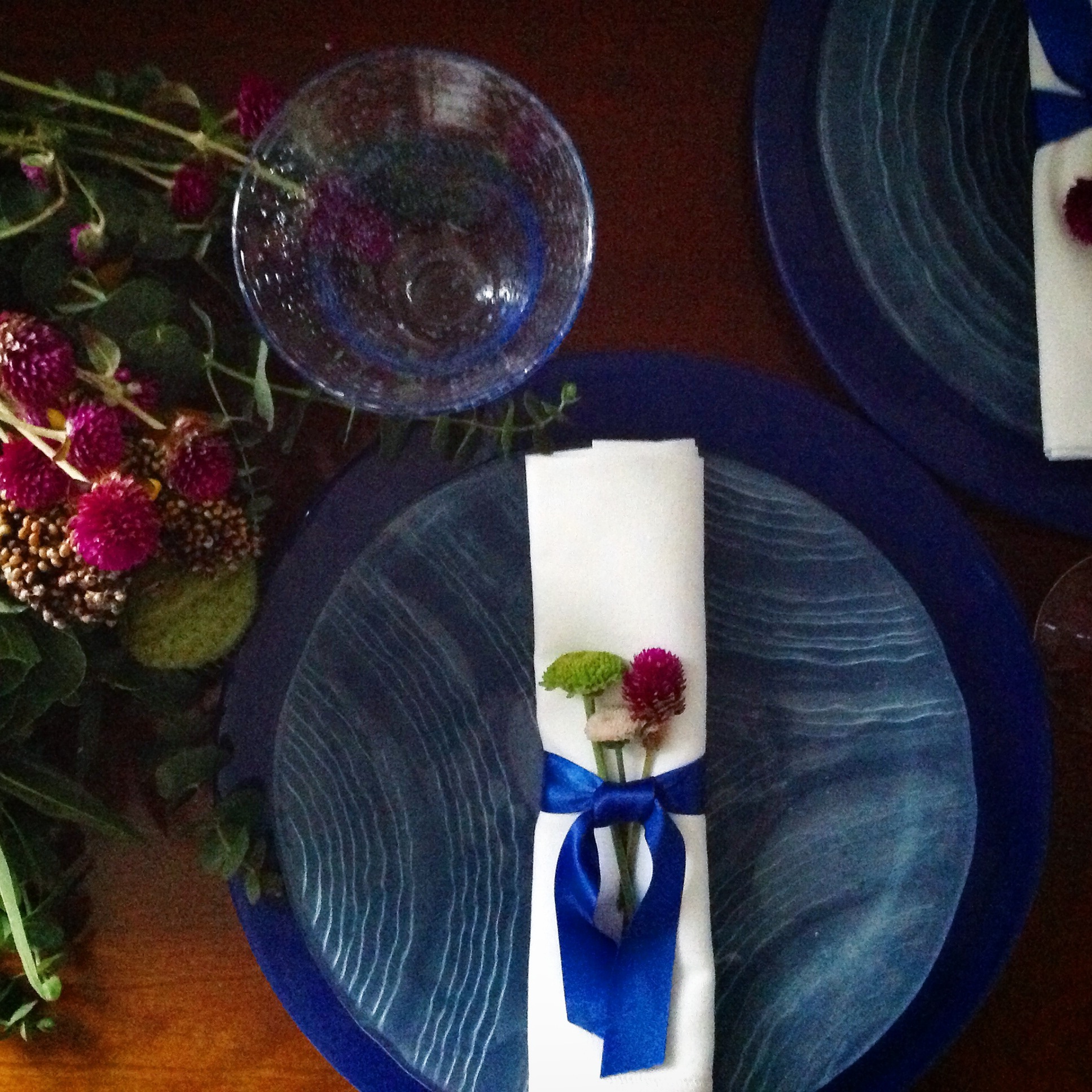 The crisp white linen napkins contrast really well on the "blue on blue" theme of the glass plate and cobalt blue charger. Paired with blue glasses, this is a simple and striking place setting.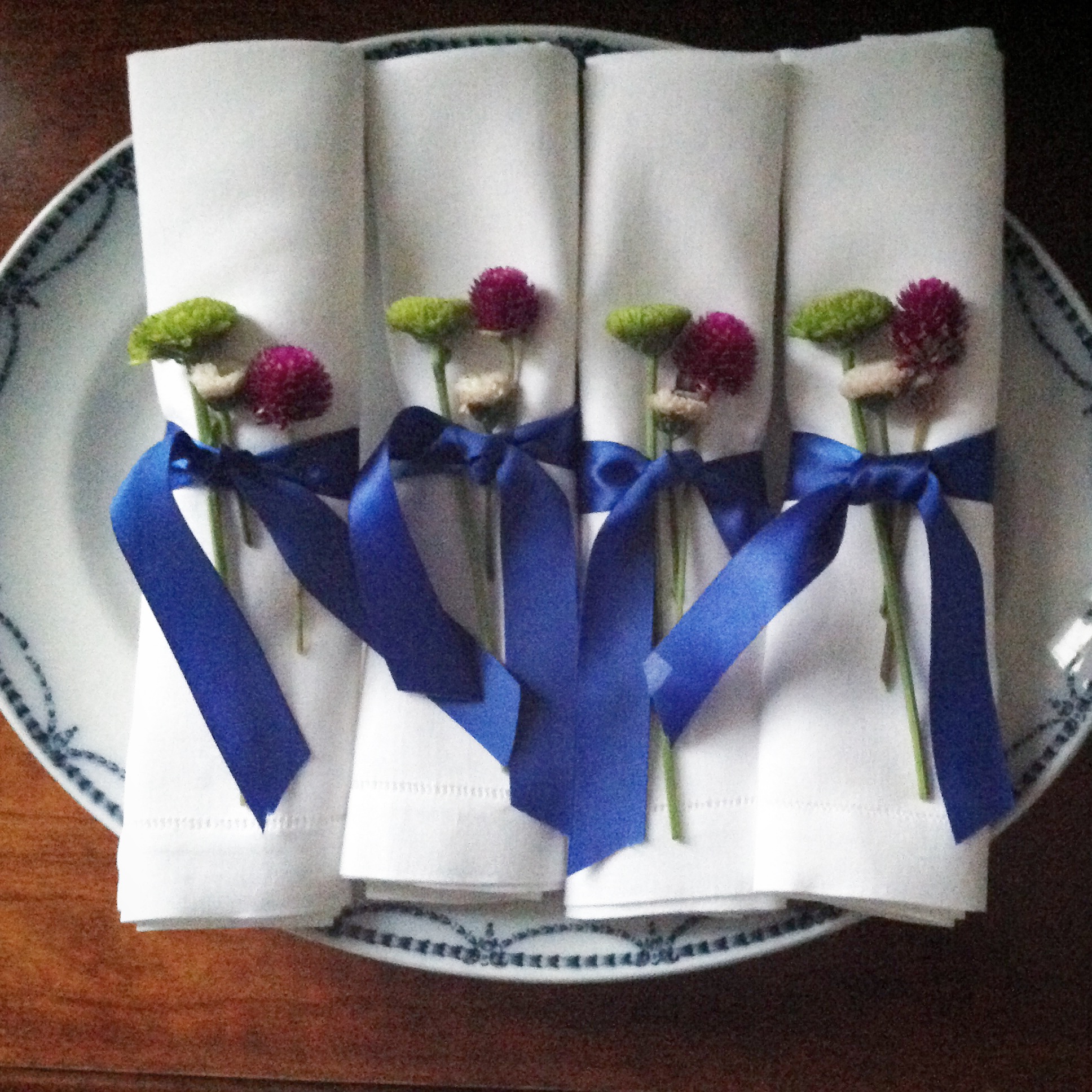 For a buffet, "serve up" the napkins on an oval serving platter. Tied with blue ribbon, the contrasting dried flowers make for a pretty presentation.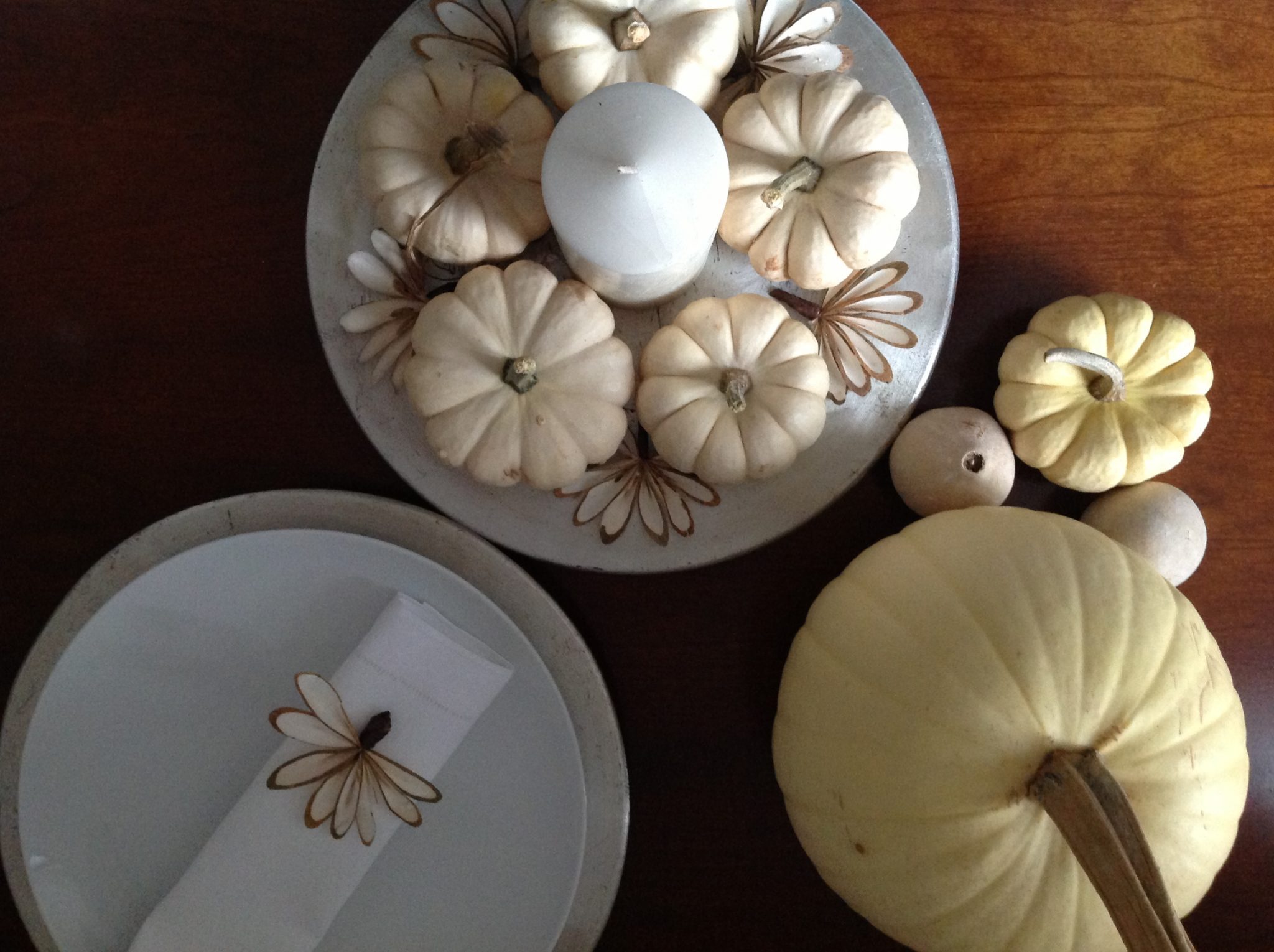 Breaking away from fall colors this "white on white" theme is very minimalist and elegant. White pumpkins, candles, plates and napkins with a dried flower. Simple.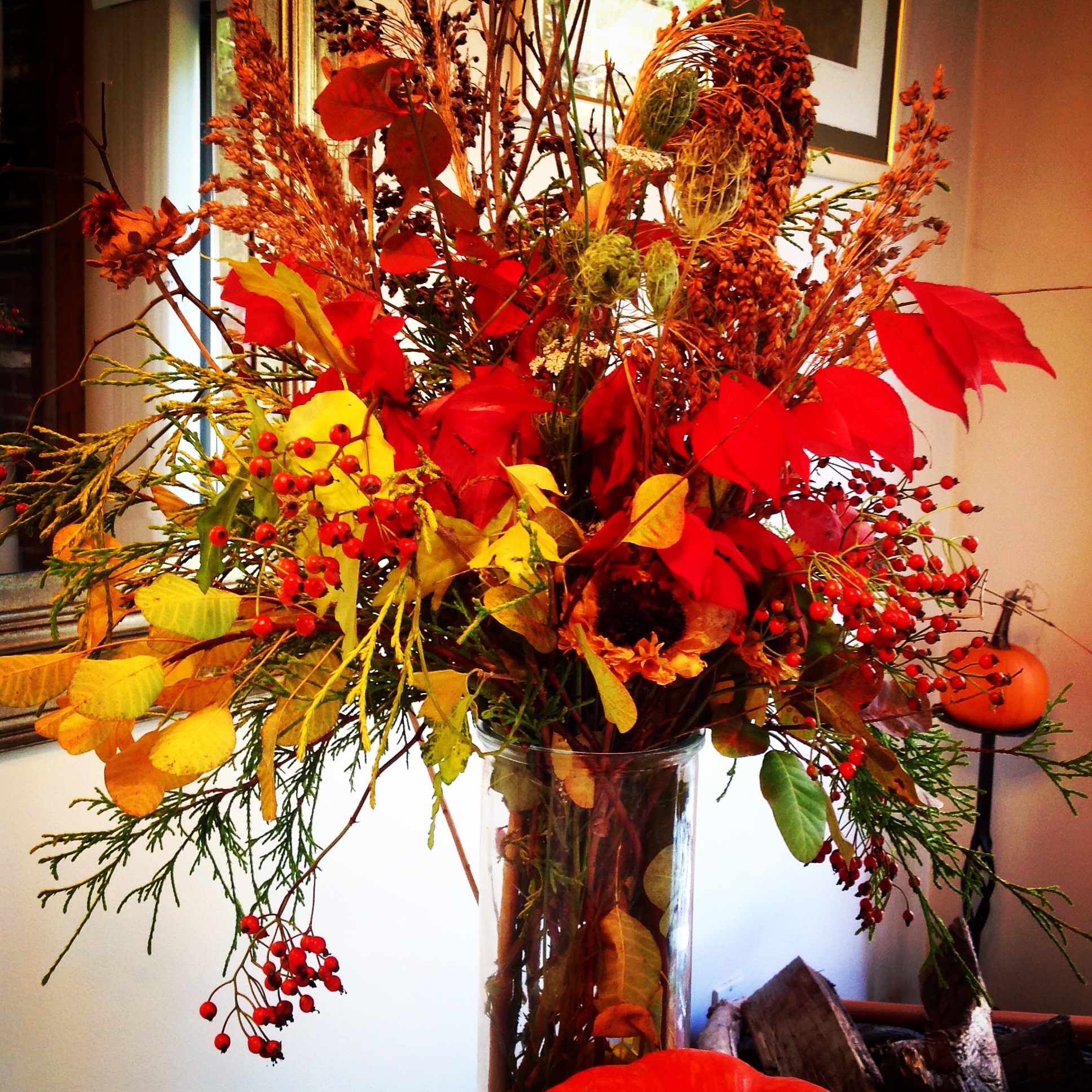 All the leaves, sprigs and berries were gathered from the hillsides around our upstate house, a few evergreen branches and some dried flowers made for a stunning display. Perfect for a buffet or hallway table.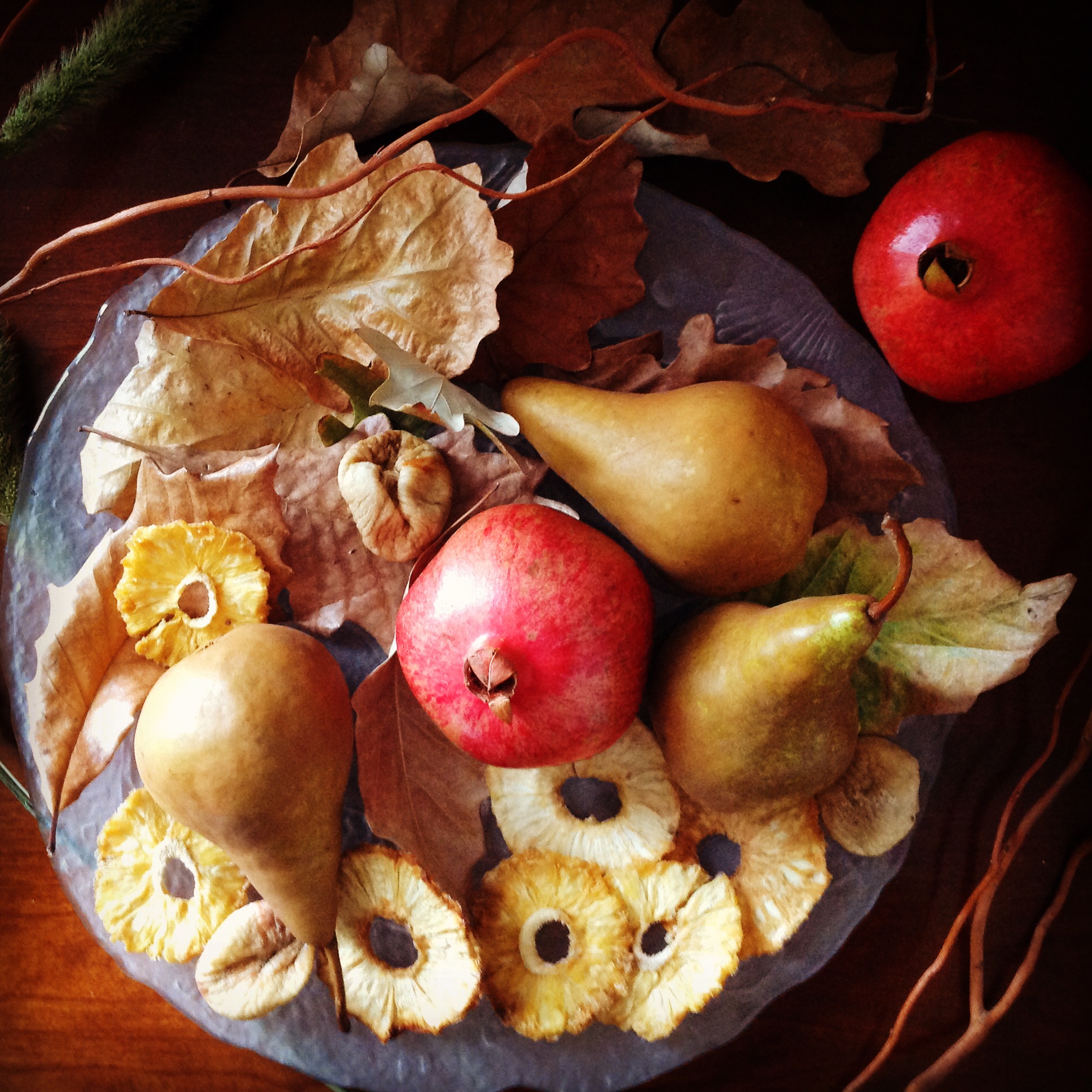 For a sideboard or table, this takes two minutes. I gathered the fallen leaves in downtown NYC, mixed with pears and pomegranates for color, added dried pineapple and figs for texture.
Have fun creating your own unique Thanksgiving theme!