Although our civilization has been using wind energy for thousands of years, wind as a renewable energy source in the wake of climate change concerns has drawn significant attention due to its benefits at generating fewer damaging effects on the environment. This World Wind Day is an excellent time to learn more about where are we standing with wind energy!
The Global Association Platform Hub (GWEC) indicated in their 16th annual report that despite the effects of COVID-19, the year 2020 was the best year in history for the global wind industry, with a 53 percent year-on-year increase of new capacity installed, propelled by the world's largest wind power markets: China and the United States. However, the record year is not enough to fulfill the required criteria to reach the levels of carbon neutrality and meet the goals to avoid the impact of climate change.
"The world needs to be installing an average of 180 GW of new wind energy every year to limit global warming to well below 2°C above pre-industrial levels and will need to install up to 280 GW annually from 2030 onwards to maintain a pathway compliant with meeting net zero by 2050," says the GWEC in their website.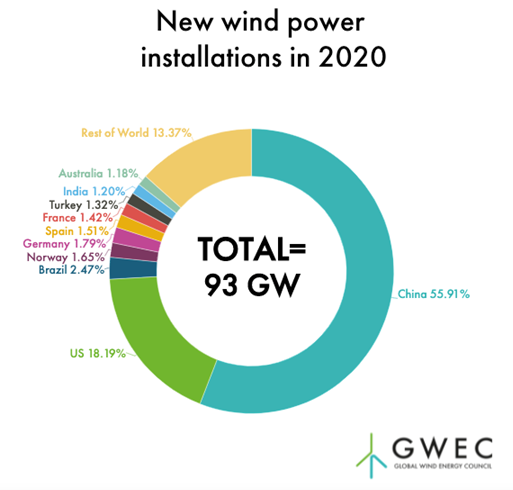 Meanwhile, the U.S. Department of Energy (DOE) sees the wind industry as a critical part of their energy strategy to cut carbon pollution and diversify the country's energy economy. With this in mind, an elite group of researchers and wind experts from key sectors was assigned to revisit the department's Wind Vision report and build on a new vision through 2050.
Key Findings of the Wind Vision Report
The Wind Vision Report shows that wind can be a viable source of renewable electricity in all 50 states by 2050.
Wind energy supports a robust domestic supply chain. It can support over 600,000 jobs in manufacturing, installation, maintenance, and supporting services by 2050.
Wind energy is affordable. As wind generation agreements typically provide 20-year fixed pricing, the electric utility sector is anticipated to be less sensitive to volatility in natural gas and coal fuel prices with more wind. By reducing national vulnerability to price spikes and supply disruptions with long-term pricing, wind is anticipated to save consumers $280 billion by 2050.
Wind energy reduces air pollution emissions. Operating wind energy capacity avoided the emission of over 250,000 metric tons of air pollutants, which include sulfur dioxide, nitric oxide, nitrogen dioxide, and particulate matter, in 2013. By 2050, wind energy could avoid the emission of 12.3 gigatonnes of greenhouse gases.
Wind energy preserves water resources. By 2050, wind energy can save 260 billion gallons of water—the equivalent to roughly 400,000 Olympic-size swimming pools—that would have been used by the electric power sector.
Wind energy deployment increases community revenues. Local communities will be able to collect additional tax revenue from land lease payments and property taxes, reaching $3.2 billion annually by 2050.
During the Leaders Summit on Climate that President Biden held in mid-April 2021, he announced a new target for the United States to achieve a 50-52 percent reduction from 2005 levels in economy-wide net greenhouse gas pollution in 2030. Among other things, President Biden stated that the U.S. would invest in innovation to improve the solutions required to provide affordable, reliable, and resilient clean technologies and infrastructure. For details, click here.
But wind turbines are known for having some adverse effects on the environment. From affecting landscapes view due to the large structure to other issues such as liking -in some cases- lubricating fluids and contributing to the decline of some birds and bats populations. Actions such as painting the blades of the wind turbines to make them more visible for birds are a requirement for developers. However, identifying other measurements are necessary to minimize some of the practical problems that come with developing these technologies.
Take time today to learn more about World Wind Day. Click here for some everyday activities that can help you lower your use of energy.