Today is National Farmer's Day! With our recent trip to various sustainable farms, including a rooftop farm in Brooklyn, we're continuously researching and trying to learn more about modern day, sustainable farming and agriculture.
Here are a few of our recent favorites in the realm of sustainable farming.
The Brooklyn Grange
When we visited The Brooklyn Grange for the Sustainable Farming Program, we didn't want to leave. In those two days we learned more about our environment, farming, local produce, the importance, and the ability, to be sustainable no matter where you're located. The Brooklyn Grange, ran by an incredible team of farmer's, is taking urban agriculture to an entirely new level. The farms, collectively adding up to around 2.5 acres, operates on rooftops throughout New York. With the focus on sustainable living, farming and building green spaces, The folks at the Brooklyn Grange are promoting and educating New York's community on the importance of safe, sustainable farming and learning where our food comes from.
The Salatin Polyface Farm
The Salatin Polyface farm was founded by Virginian author and farmer, Joel Salatin. Salatin focuses on honoring the animals, and the land in which he farms on. In one of his many publications, "Folks, This Ain't Normal," Salatin touches base on "sustainable joy," and the importance of connection to land and animals that comes along with farming. Salatin's Polyface Farm is "grass based" and free range, allowing an open conversation about respecting animals and nature, where we harvest our food. The Polyface farm is transitioning farming to be transparent, and encouraging everyone to learn more about food, animals, and the land we live on.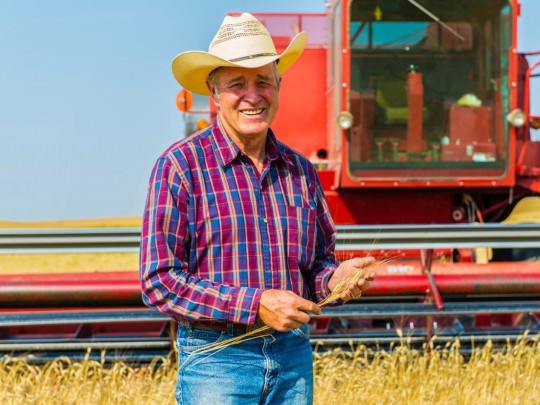 Earlier this year we were fortunate to visit Bob Quinn's family farm in Big Sandy, Montana. An organic farmer, Bob is a progressive leader in promoting organic and sustainable agriculture throughout the state of Montana and the rest of the world. A winner of many awards for his work, he is passionate about promoting locally produced food and fuel as well as the idea that food should be our medicine and medicine should be our food. Bob is a firm believer that food production systems based on producing high nutrition and quality rather than high yields is the future for farming in America. For Bob Quinn, experimenting with crops is the most enjoyable part of farming. He earned a PhD from the University of California in 1976 and studied to be a plant scientist. Academically, his first love is growing plants and his whole farm is his laboratory. His love of the land continues to fuel his desire to change the agricultural landscape of America—one grain at a time.
Take a minute to thank your local farmers today!