Photo Credit: Michael Kravit
The eco18 team recently returned from the world's largest natural product event, the 36th Annual Natural Products Expo West trade show in Anaheim, CA.
There were over 3,000 exhibitors and some 77,000 attendees—quite an experience! Natural Products Expo West is the preeminent show for spotting trends in the food and CPG industry. The content and research team at New Hope Network tracked the following macro forces and consumer trends this year: Ancient Wisdom, Transcendent Transparency, Snackification, Feed Me, The Rehabilitation of Science and The Value(s) Shopper.
On the exhibit floors we noticed a lot of coconut waters, as well as coconut sugar, different types of "milks," cold brew coffees, tons of great pizza with interesting crusts from cauliflower to naan, jerky (more brands than ever before) and many innovative food companies from Brooklyn, NY. Quinoa was still hot, as were ancient grains in general. But overwhelmingly food and beverages dominated while dietary supplements and beauty products were less prominent this year.
We walked and talked for three days to bring you our top 18 picks and some others we just had to mention:
FOOD: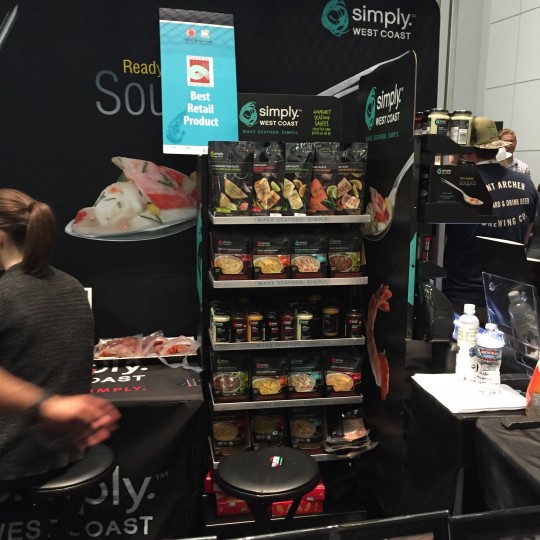 Simply West Coast 
Yummm…. really. It was difficult to walk away from this sustainable seafood booth. We tried an amazing savory seafood bisque, as well as smoked salmon and wild Sockeye salmon fillet. Everything was simply delicious—good and healthy, using only the finest natural ingredients. All products are gluten-free and they never use ingredients containing GMO's, nitrates, BHT or BHA. Their parent company, Coldfish Seafood Co, Inc., is certified by the Marine Stewardship Council, and their wild caught seafood is certified Ocean Wise™ to ensure fish stocks are sustainably sourced and preserved for future generations.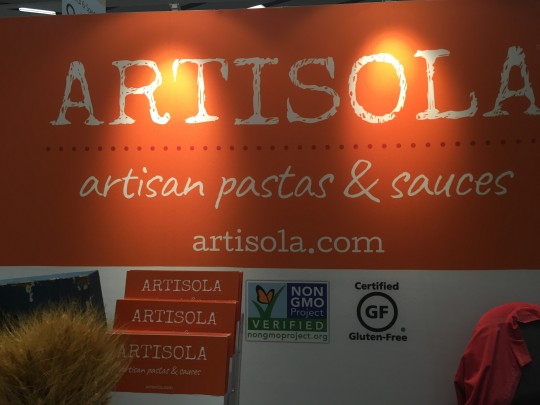 Artisola 
There were some great pastas to be sampled, and we felt Artisola artisan pastas and sauces had it all! Firstly the pasta, gluten-free, nonGMO and organic these amazingly good pastas are produced in small batches, expertly crafted with wholesome ingredients like aged gourmet cheeses, wild mushrooms and red beets. And the pasta sauces, we tried an amazing organic creamy butternut sauce that was to die for. Not only is the brand dedicated to making the finest products, but they are very mindful of our planet. Employing sustainable practices, all products are made in facilities that are powered by 100% renewable electricity and the packaging utilizes recycled and renewable materials whenever possible.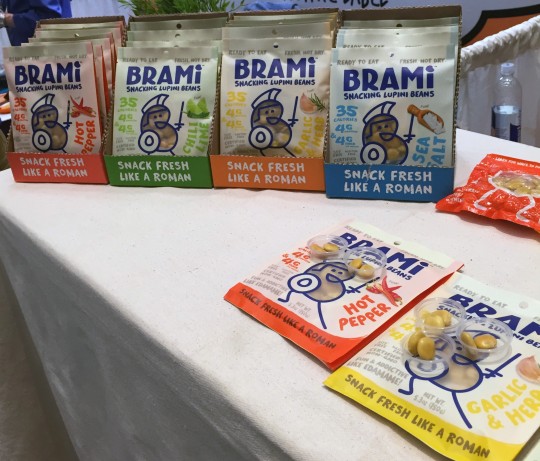 It's not often that you encounter a single-ingredient focused snack line that achieves something completely fresh for the category. Enter Brami Beans, of Brooklyn, NY. These ambitious Romanophiles set out to re-define on-the-go healthy snacking, by taking the widely under-appreciated Lupini Bean, and turning it into a line of mouth-watering savory snacks. They say "snack fresh like a Roman," we say thanks for the healthy fresh-tasting options like Hot Pepper, Chili lime, Garlic & Herb, and Sea Salt. Carpe Diem!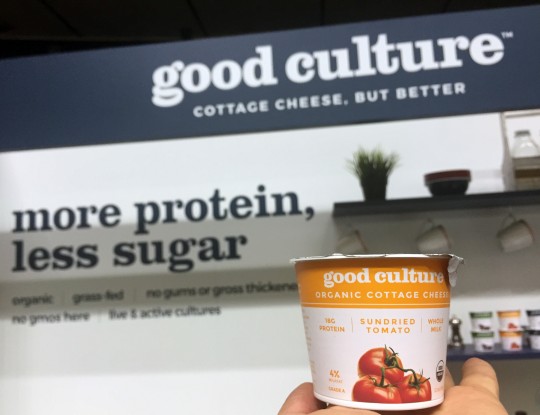 They say if you do one thing, do it really well. In this case, Good Culture knows cottage cheese. We tried the savory options, Classic, Sundried Tomato and Kalamata Olive. The texture is thick and creamy and the taste has just the right amount of tartness. Overall, their simple, straightforward approach and clever name make for a calm and fulfilling overall experience. Also check out Strawberry Chia, also Blueberry Açaí Chia made with real fruit.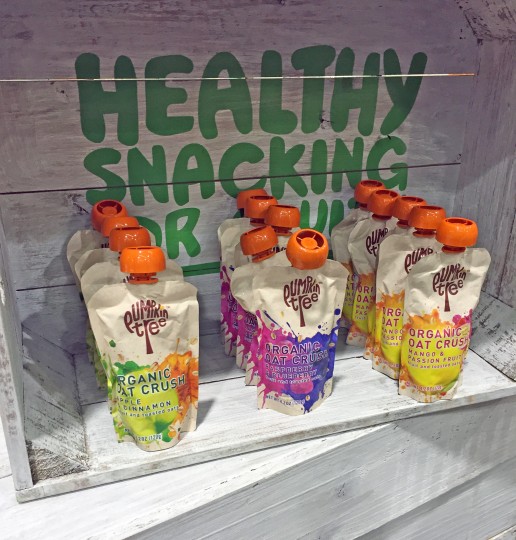 Hats off to Pumpkin Tree Snacks for giving adults a new opportunity to snack on the go! With all the traffic in LA surrounding Expo West, having a breakfast snack in a pouch handy the car was a life-saver. We tried their Organic Oat Crush line, which is made with crushed fruit and toasted oats. The squeeze-pouch experience was new but we liked it. Pumpkin Tree is #crushingit with varieties like Mango & Passion Fruit, Apple & Cinnamon, and Raspberry & Blueberry.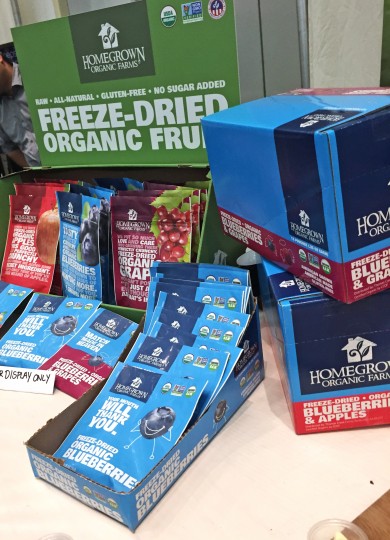 We are huge fans of products that are made from only one single ingredient, in this case it's organic fruit. Homegrown Organic Farms is grower-owned, and they were there showcasing their Blueberry-based line of organic freeze-dried fruit snacks. The dried fruit pieces are great for a low-calorie everyday snack, but are also ideal for baking, because when you bake with it the natural batter seep into the fruit pieces for a mouth-watering effect. Keeping a bag of these around could save you a trip to the store. The freeze-dried organic Blueberries variety was our favorite due to the low-calorie antioxidant-rich benefits and tart, lightly crunchy taste. Also try out their Blueberries & Apples, and Blueberries & Grapes.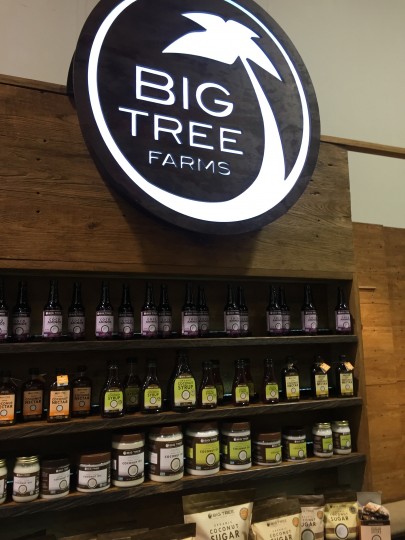 Maybe we're behind the curve but we had no idea that Coconut Sugar existed let alone how delicious it is! This low glycemic USDA Organic and Certified Fair Trade sweetener is the perfect all natural sugar substitute.  It's made from pure flower blossom nectar of the coconut tree, is unrefined, high in nutrients and can be used in place of regular sugar or sweetener in anything.  Coconut sugar is also highly sustainable producing 50-75% more sugar per acre than sugar cane!  The brand also has a few different styles and flavors to choose from including large sugar bags, individual serving packets and coconut nectar.  We loved the individual serving packets and plan to always have them on hand to sweeten our coffee or tea!
BEVERAGE: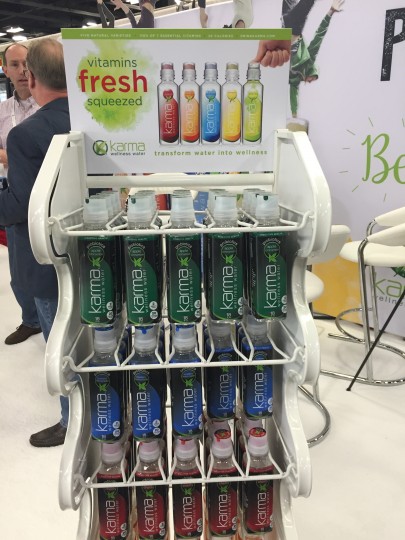 Karma 
Karma uses a patented KarmaCap that dispenses functional ingredients into each beverage. Not only is it easy to use, but it holds two to four times the volume of most dispensing caps, so each beverage really delivers on its functional promise. We tried two different Wellness Waters. Every variety begins with pristine spring water and natural ingredients. Sweetened with stevia and a pinch of cane sugar, they taste really good at only 20 calories per 18 oz. bottle.
Our particular favorite was the Digestive Health line with patented Ganeden BC30 probiotics. With 2 billion cfu's per bottle it's a great way to get much needed probiotics into your diet and rehydrate at the same time.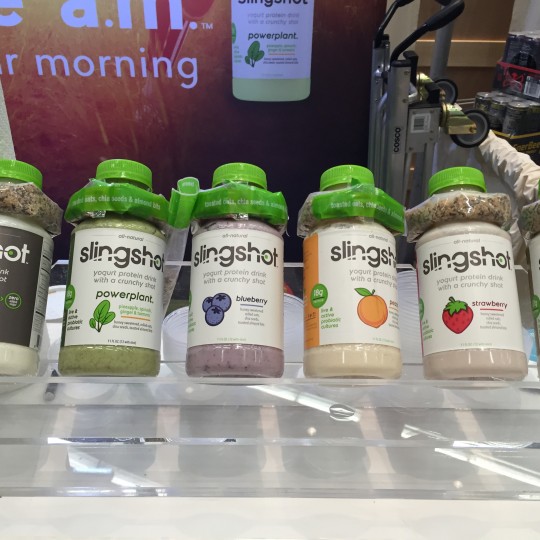 Slingshot
It is a beverage or is a food? It's food that you drink, so you decide. Protein, probiotic yogurt drinks with a crunchy shot of toasted oats, chia seeds and almond bites. You mix the shot when you are ready to drink, so nothing gets mushy…and some great flavors… Vanilla Bean, Blueberry, Powerplant, Peach, Simply Plain and Strawberry. It's positioned as a breakfast drink, but we like it all day long!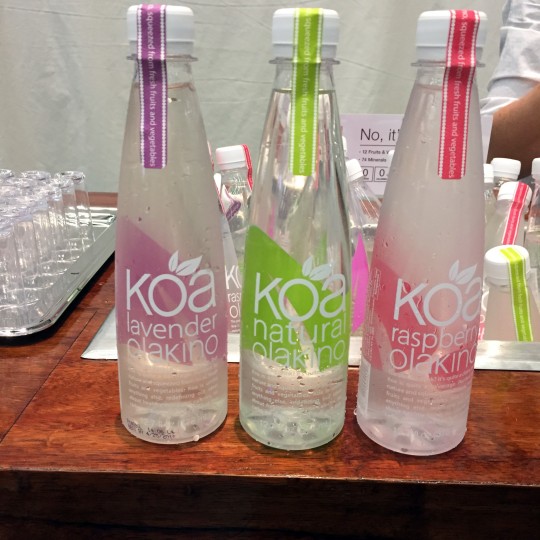 The Hawaiian-obsessed folks at Koa seem to have unearthed the holy-grail of beverages, sugar-free juice? Let's take a look. It's made from real fruit, tastes great and refreshing, we particularly enjoyed the sparkling option. So how can one drink have all of these attributes? They say it's in the "Olakino" which, they explain, is the liquidly part of raw juice that separates on top. They offer three varieties, Original, Raspberry, and Lavender.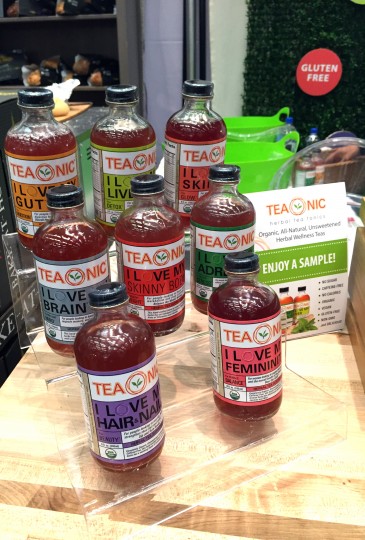 In the sea of functional beverages, it's rare to find a product that stays so true to the natural health benefits of tea. Teaonic relies solely on wholesome herbs, roots, leaves, barks, fruits, flowers, and spices to form their unique varieties—all of which are unsweetened and taste delicious. The brainchild of former toy-exec, Fleur Chesler and her daughter, Desiree, is a family-run business with a huge promise, in our opinion, due to it's straight-forward approach to health and wellbeing, and cheeky yet effective flavor names like, I Love My Brain, I Love My Skinny Body, and I Love my Adrenals.
BEAUTY: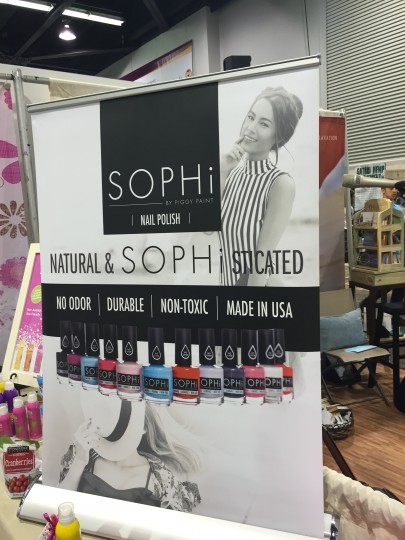 SOPHi started out as Piggy Paint, a non-toxic nail polish company for kids. We loved the idea of that and so did their fans because they created an adult line complete with gorgeous non-toxic colors. Their adult formulation is perfect for a worry-free manicure. It's odorless, hypoallergenic and it lasts!  They have a revolutionary PRIME + SHINE + SEAL system to make sure your manicure is durable.  Their formula is water-based so your nails stay healthy and don't become yellow or brittle.  Check out their website to find your perfect spring shade.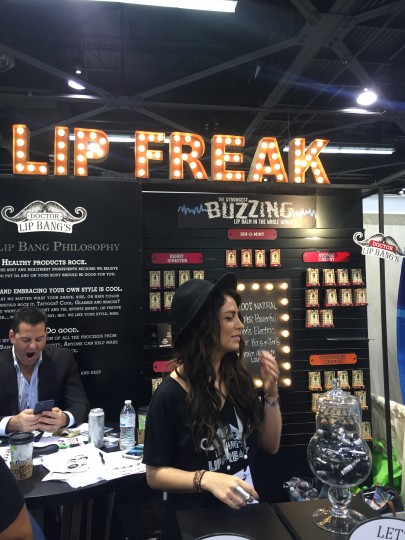 With fun retro packaging we had to check out Dr. Lip Bang's Lip Freak and we are so glad we did! The instant you put the delicious tasting and all natural lip balm on you feel a strong powerful buzzing on your lips. We're not just talking about a little tingle, either.  We're talking about an insane vibrating buzz like you've never felt before.  It's the strongest buzzing lip balm in the world and is 100% natural made with essential oils.  It also comes in four fun flavors including Atomic Cherry, Berry Sinister, Bubble Trouble and Clockwerk Orange.  We definitely recommend trying this product if you have a chance!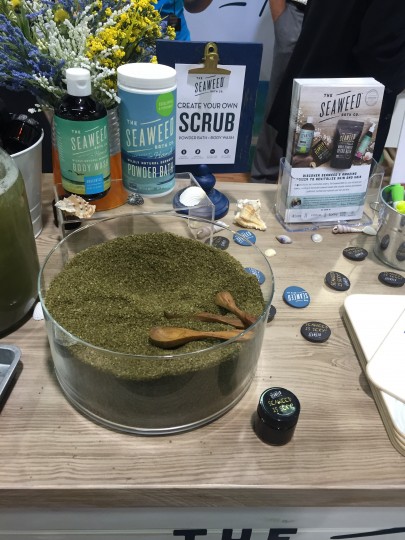 We loved the packaging and mission of Seaweed Bath Co, plus their products went on like a dream and smelled amazing!  The folks at Seaweed Bath Co know that basking in the ocean does more than soothes the spirit, it soothes the skin and they used that knowledge to create their nutrient rich formulas.  The cornerstone of their ingredients is the natural wonder bladderwrack seaweed from the coast of Maine.  It's steeped in the ocean's nutrient-rich waters and is a natural inflammation fighter.  We highly recommend you give their Body Cream and Detox Bath a try.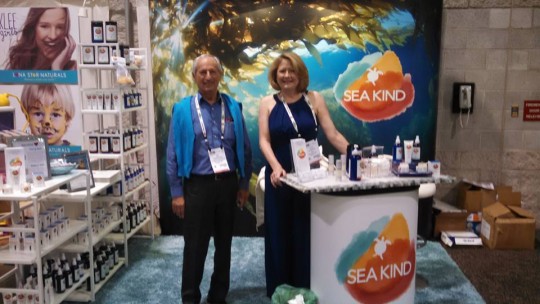 Clearly the sea was a big theme this year for us! Sea Kind is a lovely group of environmentally sustainable cosmetics. Their creams go on well without any greasy reside and are packed with beneficial active ingredients which are marine derived. The best part is they are mindful of the sea when making all of their products and even donate a portion of their proceeds to helping save marine life.  Our favorite product was the Alive Reef Safe Sunscreen which delivers double protection with broad Spectrum UVA/UVB.
HOME: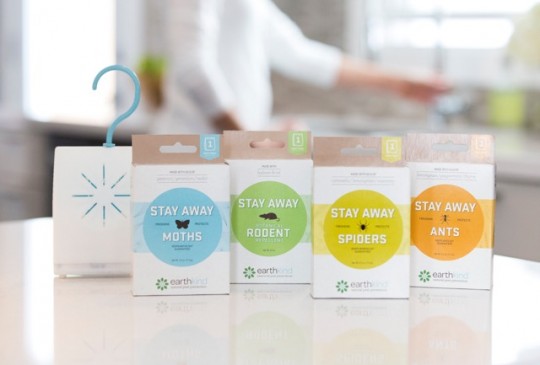 Earthkind 
We loved their Stay Away® line of all-natural repellants and the Earthkind mission "preserve the good, prevent the rest." Stay Away® PREVENTS pests like rodents, spiders, moths and ants from entering the home as well as controlling foul odors. It PRESERVES health by guaranteeing safe pest control for adults, children and pets while it PROTECTS spaces and households. Grown on family farms, Stay Away® is made of essential oils and plant fiber ingredients, it ensures that unwanted pests literally "stay away." Packed in individual pouches, each Stay Away® product uses natural scents that are repellant to the respective pest. Stay Away Rodent is made with Balsam Fir Oil, Stay Away Spiders with Citronella, Lemongrass and Rosemary, Stay Away Moths with Geraniol, Geranium and Cedar, and Stay Away Ants with Lemongrass, Peppermint and Thyme.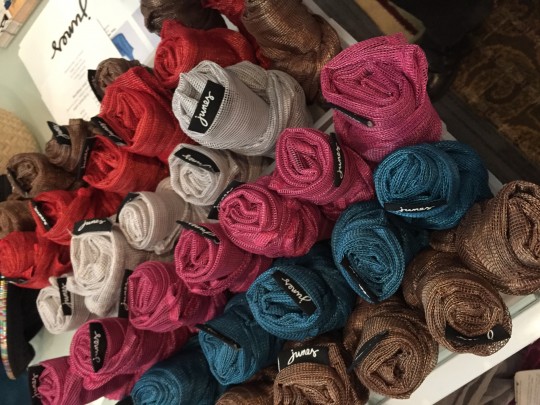 These lightweight, washable and reusable bags are perfect to always keep on hand for carting home groceries, to bring home your gym clothes in or even to take to the beach. Each bag is made of breathable fabric and rolls up super small so you'll never be caught without a reusable bag again.  The bags also come in five vibrant colors and each bag can hold an impressive 25 pounds.  That's some serious power for such a small bag!  The company was founded by June Janean Mann who traveled across the border from El Paso, TX to Juarez, Mexico to source fabrics for her bags.  While there she was struck by all of the flyers of missing women that lined the streets and decided to use the product as way to draw attention to and to help stop Femicide.  1% of every dollar is donated to the Global Fund for Women which supports this cause.
SUPPLEMENTS: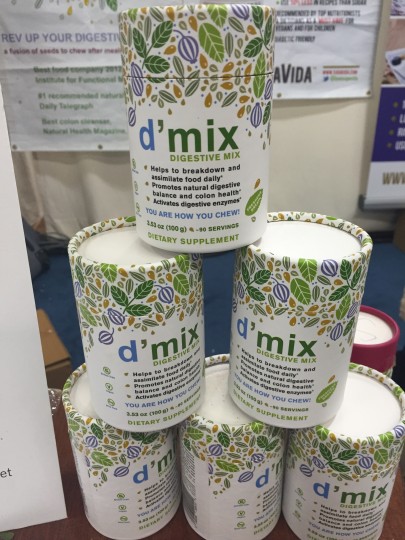 D'Mix Digestive 
This digestive health herbal blend caught our eye. Firstly we loved the pretty packaging, secondly be really liked the concept of incorporating the action of chewing into a digestive treatment, helping to active your digestive enzymes. It seemed totally intuitive. With sweet fennel, flax seeds, coriander seeds, wild mint, licorice and other natural botanicals, you really did need to chew it the prescribed 40 times. Meant as a two-moth course to re-boot and repair your digestive system, we were convinced that it's a much better way to go than OTC medications.
There were just too many great brands, so as well as our top picks we just want to give a shoot out to a few more that we tried and really liked: Kevita and their Master Brew Kombucha, The Fillo Factory with their amazing appetizers and organic fillo dough, Foodies Vegan Food and Beverages..the artichoke burger was awesome! Lawless Jerkey, what a great story and great jerky, Modern Table for the best mushroom pasta ever, Wild Things Skinny Dipped Almonds we are addicted, Inka Corn snacks from Inkacrops were totally delicious and Eat Real had the best Quinoa cheese puffs we have ever tasted…. We could go on and on…
But there you have it for another year. Hope you find some new brands to try and enjoy.