Growing up, nothing would make me more excited than the scent of freshly applied Coppertone sunscreen wafting through the air. A staple in my household, this distinctive aroma would instantly signify that summer was finally here. Strangely enough, the slightest smell of Coppertone still triggers countless memories of playing on the beach and getting ready for a big swim meet. Waking up to its remnants early in the morning only meant one thing – my dad was already on his way to play golf.
But of course, as a kid, it didn't occur to me that this sunscreen, with all the joy that came with it, could actually cause harm to the environment and marine life, and could contain hazardous chemicals like oxybenzone and octinoxate, considered probable endocrine disruptors. Needless to say, my family was less than pleased when I made the executive decision that our favorite scent of the season could no longer fill its designated spot on our mudroom shelf.
While this actually caused more outrage than what should ever come from a discussion about sunscreen (we're running out of things to argue about in quarantine), once they understood that there's evidence and research revealing that chemicals contained in some of the most popular sunscreens are toxic to coral reefs and sea life, they came around.
The research concluded that "sunscreens potentially play an important role in coral bleaching in areas prone to high levels of recreational use by humans," which can have "negative impacts on biodiversity and functioning of reef ecosystems and their production of goods and services." According to a study from the Archives of Environmental Contamination and Toxicology, up to 14,000 tons of sunscreen "enter and poison the coral reefs every year," the majority of which contained popular sunscreen ingredient oxybenzone. As mentioned in Reuters, concentrations of oxybenzone in seawater were 12 times higher in Hawaii and the Caribbean.
Hawaii, rich with coral reefs, was the first US state to ban chemicals oxybenzone and octinoxate, effective in 2021, with Key West, Florida following suit. But as it's important to hold our states responsible, what standards of sunscreen should we hold ourselves responsible to?
When deciding on sunscreens, avoiding ones with oxybenzone, octinoxate, Vitamin A, and parabens is a great start. Instead, consider opting for sunscreens that are labeled as biodegradable, reef-safe, and mineral-based, made with either zinc oxide or titanium dioxide as active ingredients, which are safe for humans and marine life. The Skin Cancer Foundation also advises on choosing a sunscreen with at the least SPF 15 and at the most SPF 50, to look for broad-spectrum protection to shield your skin from both UVA and UVB rays, and to opt for lotions rather than sprays to receive the most even coverage.
Here are a few of our favorite eco-friendly sunscreens to kick off summer with while being conscious, proactive, and protective of not only our health but the health of our ecosystem and coral reefs, too: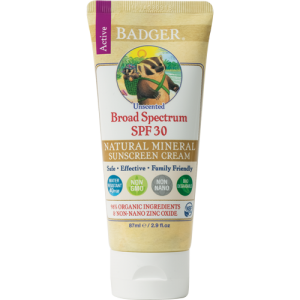 This biodegradable natural mineral sunscreen uses zinc oxide with organic ingredients to provides broad-spectrum SPF 30 protection. With only five ingredients used, this simple, reef-safe sunscreen is a great option for the entire family and is top-rated for safety and efficacy by the Environmental Working Group's (EWG) sunscreen guide.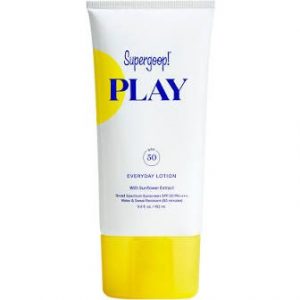 This new reef-safe formula is octinoxate-free and provides high-performance, broad spectrum protection from UVA, UVB and IRA rays, and is both sweat and water-resistant. It's hydrating and fast-absorbing formula is also made with sunflower extract and is great for all skin types. Supergoop! never formulates with oxybenzone and while they have many octinoxate-free formulas already, they are pledging to be completely octinoxate-free by 2021.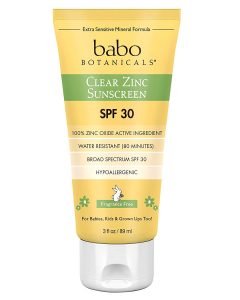 This fragrance-free, vegan formula is water-resistant and made with 100% non-nano zinc, formulated for very sensitive skin. This is a great eco-friendly choice as its fast-absorbing formula is reef-safe, oxybenzone and octinoxate free, and is rated #1 in safety by EWG. An added perk? This zinc-based option is non-whitening, going on the skin completely clear.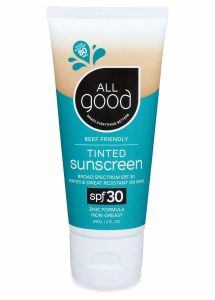 Looking for a bit of tint? This award-winning tinted mineral sunscreen is not only effective in providing broad-spectrum, 80-minute water-resistant protection from the sun, but it's also great for repairing damaged skin with its lightweight, non-greasy formula made with organic green tea, rose hips and buriti oil. And, to top it off, it's oxybenzone-free, non-nano, biodegradable, and coral reef friendly.
While these eco-friendly options may not encapsulate my summer memories quite like Coppertone did, they will definitely positively contribute to a future of healthier skin, healthier environments, and healthier coral reefs. It looks like it may just be time for a new sunscreen on my mudroom shelf.