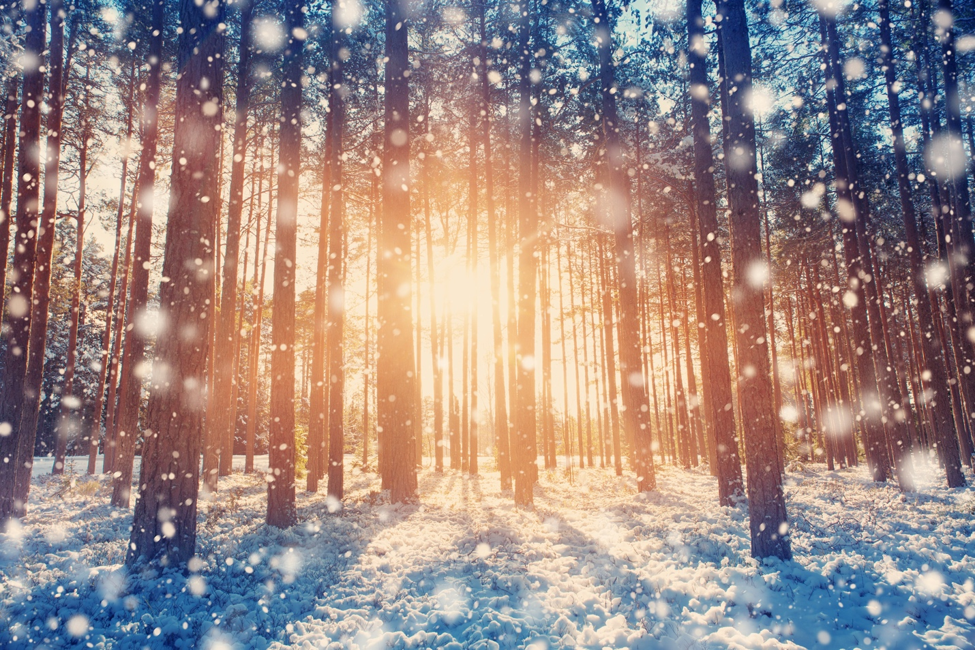 Not only are we in a new year, we are in a new decade and 20 years into the 21st Century. How did that happen? I feel I blinked and the last twenty years just went by in a flash. We are now talking about the Alpha Generation, the children of millennials, the ones who are inheriting the mess we made of our home planet because we thought there would be time to fix it! Well times up—we better fix it fast.
It's a little crazy to think the temperature was 57 degrees up in the Catskill mountains less than a week ago. Unheard of in January! But weather records are being broken all over the US and the world. So,  as I'm sitting by a warm fire (it's only 21 degrees in the mountains today) in my favorite cozy chair watching the snowfall, it's a perfect time and setting for some reflective thinking – and there's certainly a lot to reflect on.
REFLECTION #1: IMPEACHMENT TRIAL January 16, 2020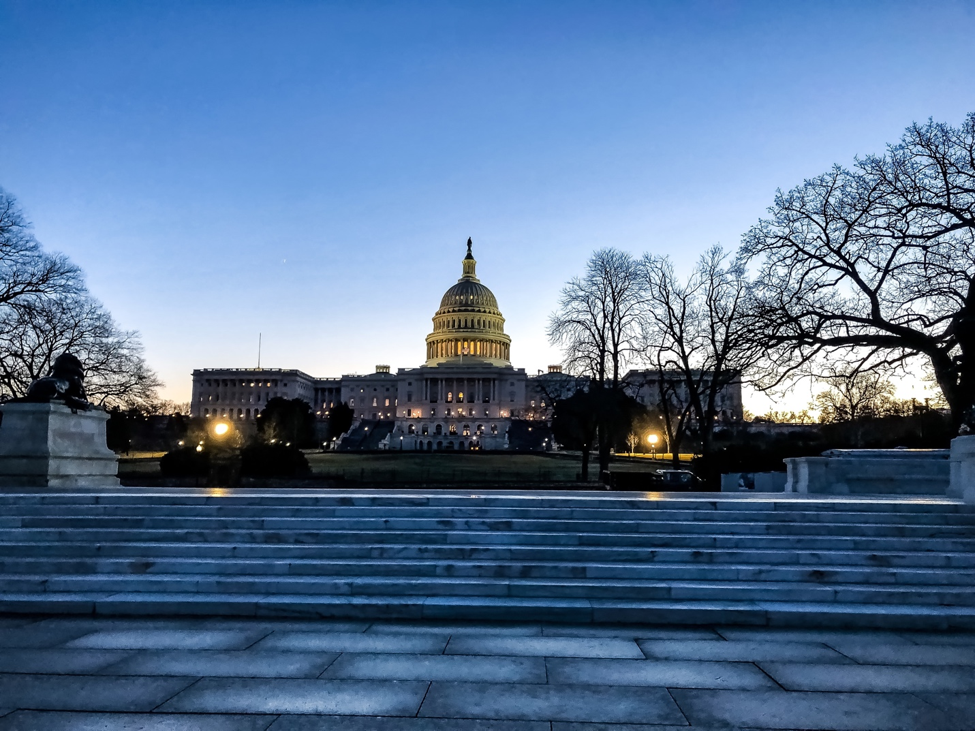 The third Senate impeachment trialof a US president in history officially began today with the swearing in of senators and Supreme Court Chief Justice John Roberts. The House passed two articles of impeachment on Wednesday the 15th, which charged him with abuse of power and obstruction of Congress. Whatever you think of President Trump these are serious allegations that can't be brushed aside with a barrage of bullying Tweets. Since January 20th 2017 when the 45th president was sworn in, it's been a roller coaster ride of rolling back numerous environmental protection policies, a revolving door of top advisors resigning or getting fired, a total disregard for protocol and a foreign policy shambles alienating many long-standing allies.
What's next we wonder as the impeachment trial unfolds?
REFLECTION #2: AUSTRALIA IS BURNING  December 21, 2019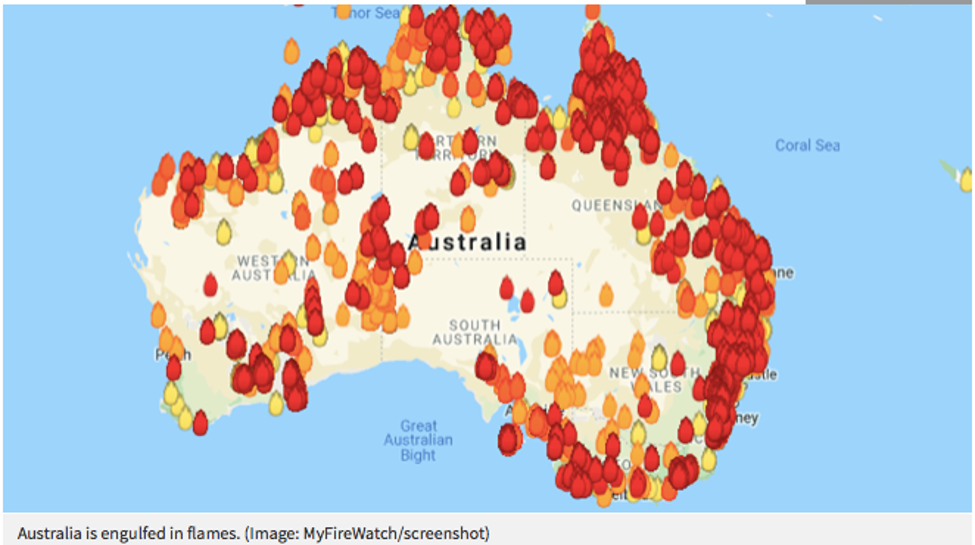 As Common Dreams reported Thursday, December 19th, Australia just endured a heatwave that broke records for temperature in consecutive days. "I think this is the single loudest alarm bell I've ever heard on global heating," said Kees van der Leun, a director at the American consultancy firm Navigant. For months, firefighters in Australia have been battling wildfires during some of the harshest drought conditions on record. The magnitude of the tragedy of fires burning through more than 15 million acres meant that firefighters were working primarily to save homes, infrastructure, and other critical resources because putting the flames out would require rainfall. Although rain is crucial to firefighting efforts, it also could also cause a new natural disaster to threaten residents because of landslides and trees falling. What is additionally heartbreaking is the loss of an estimated 1 billion animals. Let this be the final climate crisis wakeup call the world needs.
REFLECTION #3: TIME PERSON OF THE YEAR 2019  December 11, 2019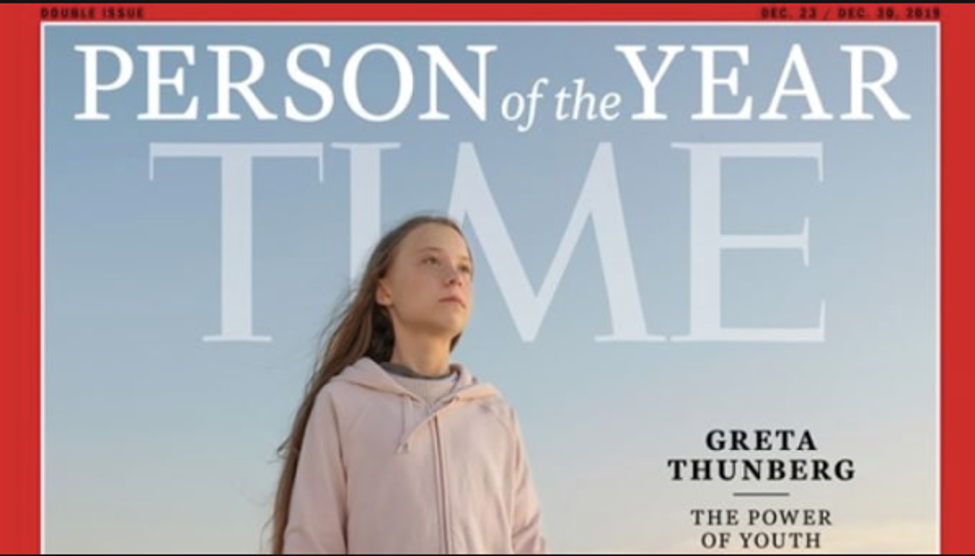 Thunberg began a global movement by skipping school: starting in August 2018, she spent her days camped out in front of the Swedish Parliament, holding a sign painted in black letters on a white background that read Skolstrejk för klimatet: "School Strike for Climate." In the 16 months since, she has addressed heads of state at the U.N., met with the Pope, sparred with the President of the United States and inspired 4 million people to join the global climate strike on September 20, 2019, in what was the largest climate demonstration in human history. Her image has been celebrated in murals and Halloween costumes, and her name has been attached to everything from bike shares to beetles. Margaret Atwood compared her to Joan of Arc. After noticing a hundredfold increase in its usage, lexicographers at Collins Dictionary named Thunberg's pioneering idea, climate strike, the word of the year.
"The change is going to come from the people demanding action," she says, "and that is us."
REFLECTION #4: DRONES TO PLANT TREES  December 4, 2019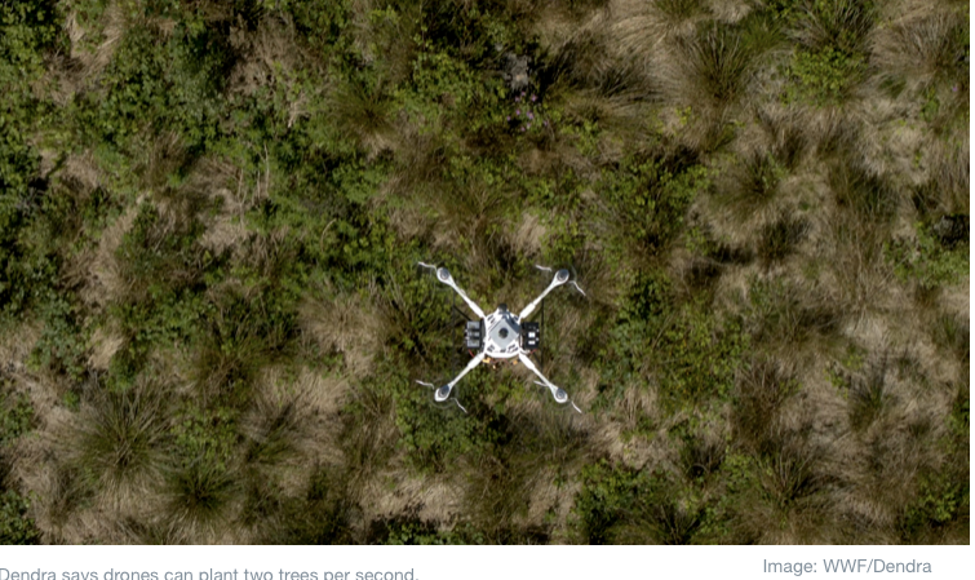 UK tech company Dendra,  is aiming to plant 500 billion trees by 2060 – using AI and drones. The WWF estimates we're losing 27 football fields of forest every minute due to deforestation and these drones can plant 120 seedpods per minute (that's like planning two trees every second). Dendra estimates it would take just 400 teams of two drone operators, with 10 drones per team, to plant 10 billion trees each year – and at a much lower cost than the traditional method of planting by hand and it can be done in hard-to-reach places. What a cool way to re-green the planet, don't you agree?
REFLECTION #5: FIRST EVER ALL-WOMAN SPACEWALK  OCTOBER 18, 2019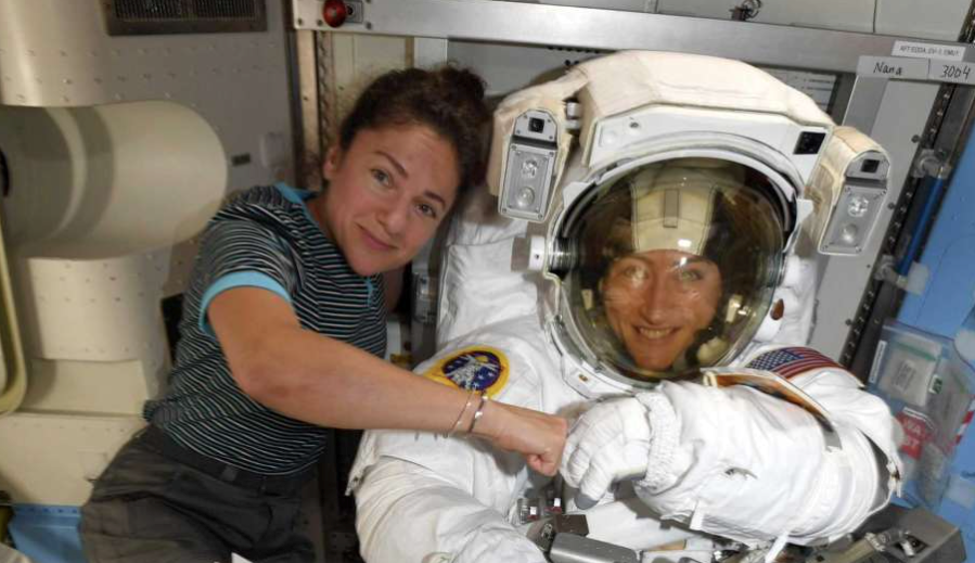 NASA astronauts Jessica Meir (L) and Christina Koch created history by performing an all-woman spacewalk, as they replaced a battery charge/discharge unit on the International Space Station. Koch said later, "In the past women haven't always been at the table. It's wonderful to be contributing to the space program at a time when all contributions are being accepted when everyone has a role. That can lead in turn to an increased chance for success." Inclusion is paramount to human enlightenment, enrichment, and survival.
REFLECTION #6: VENICE UNDER WATER November 13, 2019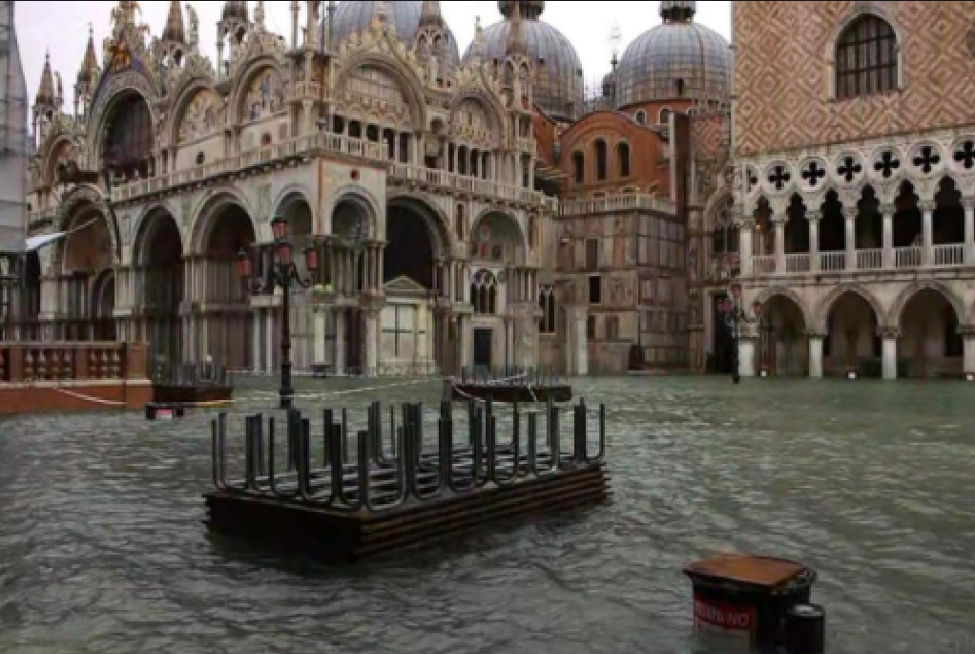 According to Venice Mayor Luigi Brugnaro the highest water levels in the region in more than 50 years would leave "a permanent mark", and "now the government must listen," he added. "These are the effects of climate change… the costs will be high." In our changing climate, sea levels are rising and a city such as Venice, which is also sinking, is particularly susceptible to such changes. This latest Acqua Alta occurrence in Venice is the second highest tide in recorded history. However, if we look at the top 10 tides, five have occurred in the past 20 years and the most recent was only last year. One of my favorite cities could be totally underwater by the end of the next century according to new scientific data…how sad would that be!
REFLECTION #7: CHANGES TO THE ENDANGERED SPECIES ACT August, 2019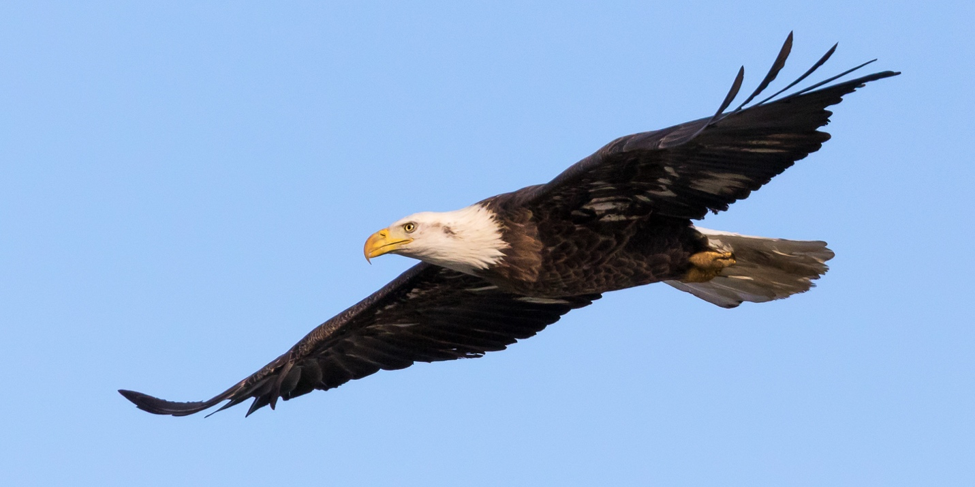 The U.S. federal law that once saved the bald eagle from extinction is facing a new set of rollbacks by the Trump Administration, worrying conservation scientists about the future of at-risk species. The U.S. Fish and Wildlife Service (FWS) and the National Oceanic and Atmospheric Administration (NOAA) announced changes that could jeopardize already at-risk species — the government will now consider economic factors before categorizing a species as endangered or threatened. Experts say this is ridiculous, as recovering species is a biological question, not an economic question. Another change, species categorized as "threatened" — just a category away from being listed as "endangered" — will no longer receive the same protections as species in the "endangered" category. Protections will instead be established on a case-by-case basis. So much damage will be done that we may not be able to undo.
REFLECTION #8: THE FIRST EVER PHOTO OF A BLACK HOLE April, 2019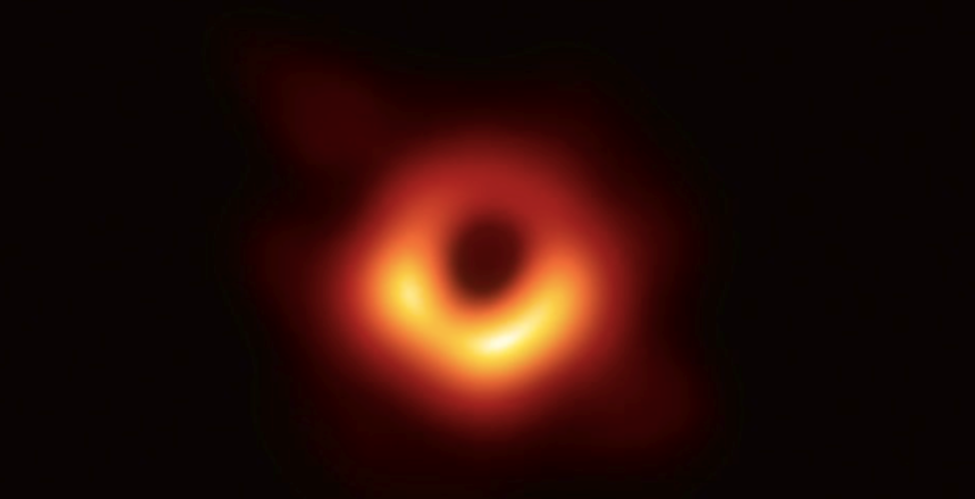 Back in April of 2019, we got our first glimpse of the weirdest and most mysterious spectacle in the universe: the black hole. Astronomers were able to capture humanity's first-ever image of a black hole on April 10, and it was a huge moment in history — not to mention it even sparked some great memes and internet reactions. Breathtaking!
REFLECTION #9: THE MOST DIVERSE CLASS OF LAWMAKERS January 3, 2019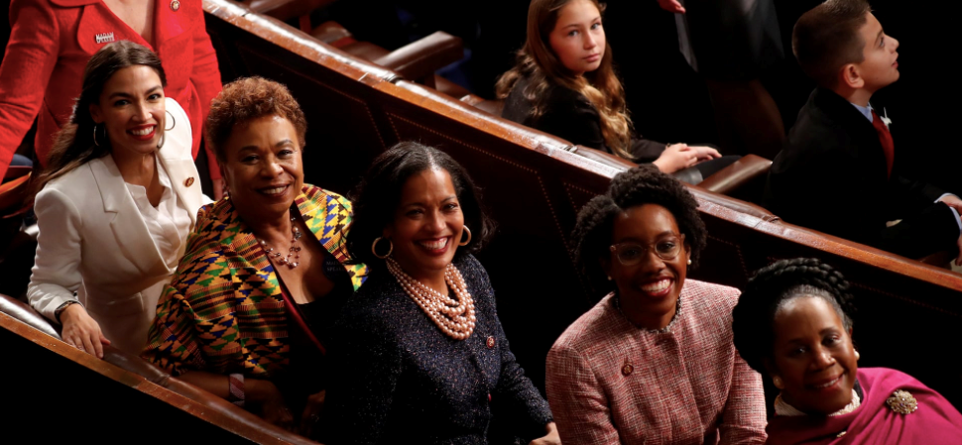 When the 116th Congress was sworn in earlier this year on January 3, it was the most diverse class of lawmakers to ever take office. The incoming class had a record-breaking number of women, people of color, and LGBTQ+ representatives — and among the 117 women newly elected to office, we also got the first Native-American women and the first Muslim-American women in Congress. We need people who represent the diversity that is the USA …may the progress continue!
REFLECTION #10: THE ME TOO MOVEMENT October 5, 2017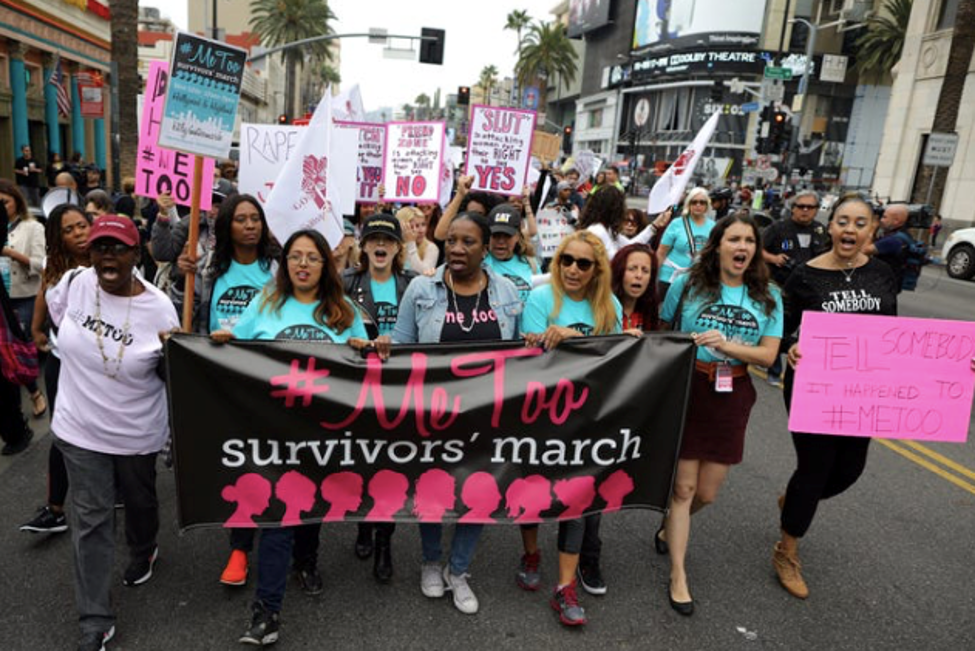 Where were you on Thursday, October 5, 2017, the day it all started?
After Hollywood producer Harvey Weinstein faced many public sexual abuse allegations in early October 2017, the #MeToo hashtag spread virally on social media — and became a rallying cry for women as millions shared their own experiences with sexual harassment and sexual assault. Spurring more than 19 million tweets, the Me Too campaign led to widespread awareness and discussion of the topic and has since then become a historic feminist movement. Something to reflect on: The global movement has brought down multiple high-profile figures and sparked wider debates over women's safety – it's about time.
REFLECTION #11: A TOTAL SOLAR ECLIPSE August 21, 2017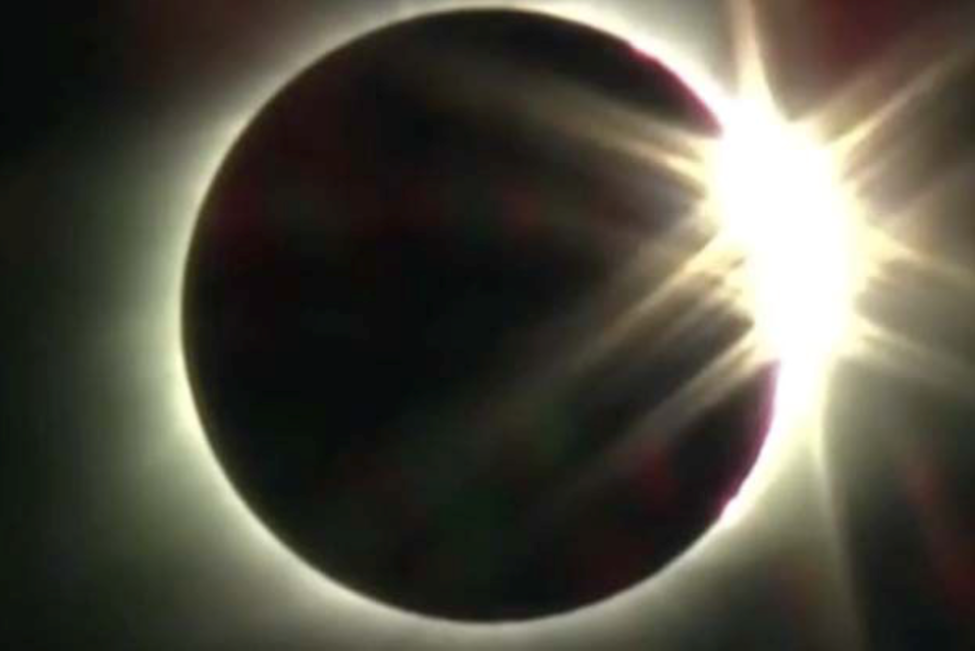 This once-in-a-lifetime astronomical event was a pretty big deal — it was the first time a solar eclipse was visible across the entire U.S. since June 1918. If you're one of the many who experienced the Great American Eclipse, you'll remember everyone was scrambling to get eclipse glasses in time for the celestial event. If you missed it, though, don't worry — there's another one happening in 2024, that one we hope to see!
REFLECTION #12: MILLIONS ATTENDED THE WOMEN'S MARCH January 21, 2017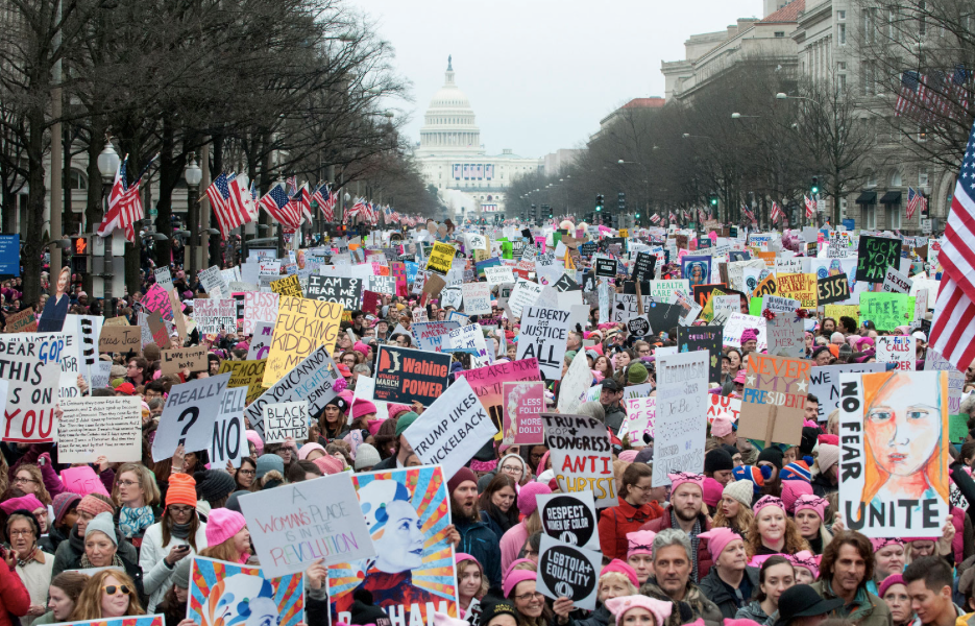 On the first day of Donald Trump's presidency, millions of people took to the streets of Washington and other cities to protest — and the result was the largest single-day demonstration in U.S. history. Supporting gender equality, civil rights, and other issues that faced challenges under the new presidency, the Women's March drew over 5 million people in over 600 marches across the world — with the Washington March alone having had 500,000 people in attendance. Where were you on that day?
REFLECTION #13: HARAME BECAME AN INTERNATIONAL PHENOMENON May, 2016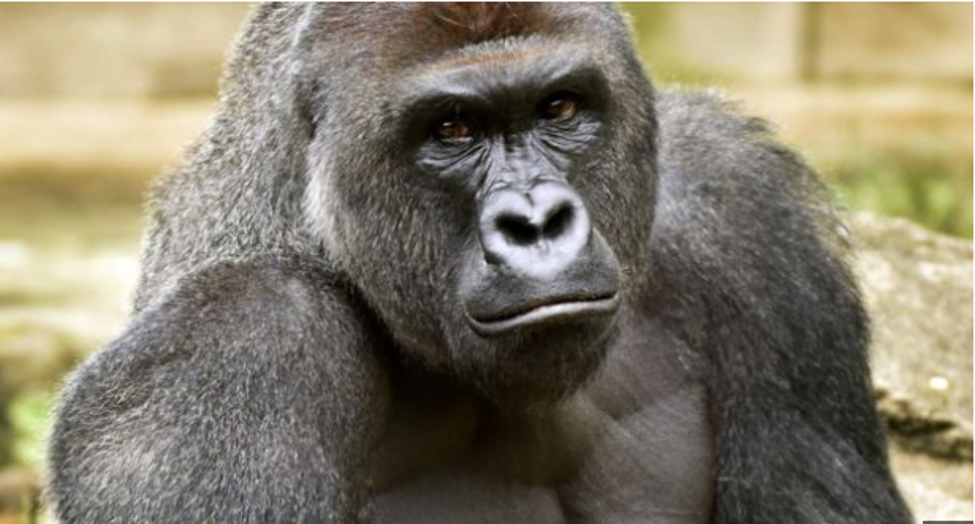 You might remember when this gorilla took over the internet back in May 2016 — a phenomenon that occurred after the animal from Cincinnati Zoo was tragically killed when a boy fell into the enclosure pit. Somehow, Harambe then became the centerpiece of ironic internet meme culture, with the news of his death sparking a massive outpouring of public grief and cries for justice — some earnest and some facetious — for the dead silverback gorilla. This powerful image touches just touches your soul. Just look into those all-knowing, soulful eyes.
REFLECTION #14: SAME-SEX MARRIAGE BECAME LEGAL IN THE US  June 26, 2015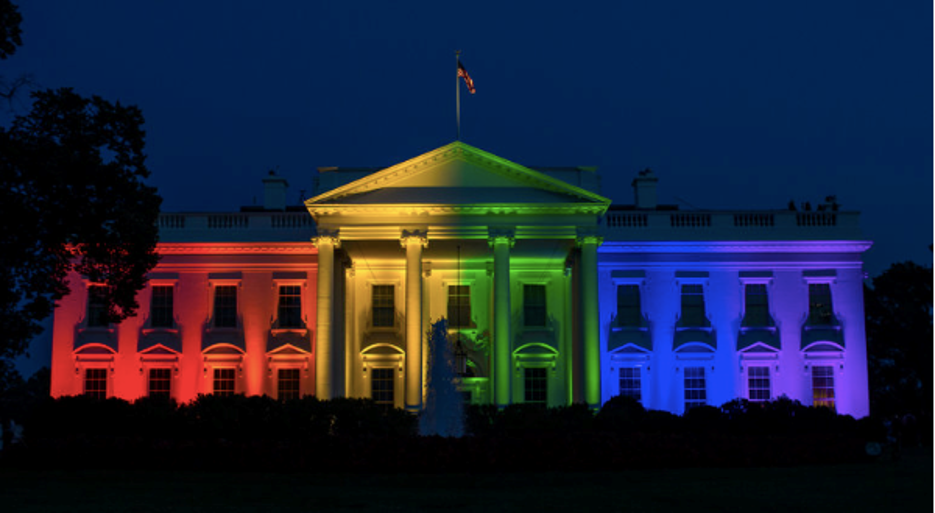 June 26, 2015, was a historic day for LGBTQ+ in America — gay marriage finally became legalized nationwide. In the landmark court case Obergefell v. Hodges, the Supreme Court ruled that same-sex marriage was legal in all fifty states, establishing a new civil right across the nation and giving the gay rights movement a long-sought victory. Rainbow color rules!
REFLECTION #15: THE ICE BUCKET CHALLENGE July/August, 2014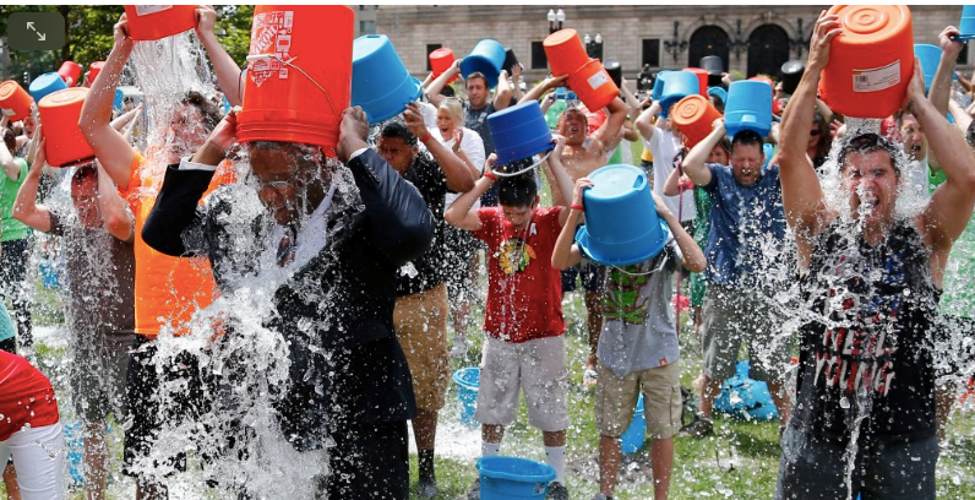 Remember that time when your Facebook newsfeed was filled with videos of people dumping ice-cold water on themselves, then challenging others to do the same? No one really knew how exactly it got so viral, but the Ice Bucket Challenge became the most popular internet trend in the summer of 2014, raising a total of $115 million for ALS awareness and research — and even leading to the discovery of a new ALS gene. Did you join the challenge?
REFLECTION #16: MALAYSIA AIRLINE PASSENGER JET DISAPPEARS March 7, 2014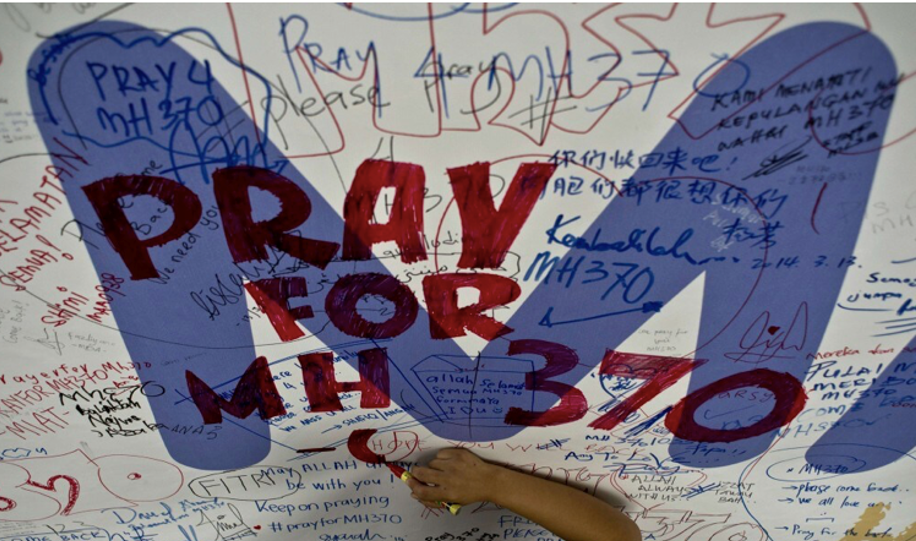 When a Malaysia Airlines flight MH370 passenger jet disappeared without a trace in early 2014, the fate of the plane — and the 239 passengers and crew onboard — became one of the biggest aviation mysteries in history. The missing plane captured the attention of millions around the world, triggering a multinational search and plenty of conspiracy theories. For years it remained an unsolved mystery — until July 2019 when The Atlantic cover story gave us the clearest explanation to date of what happened: the plane was likely intentionally crashed by the pilot. Do you agree with that?
REFLECTION #17: THE WORLD WILL END  December 21,  2012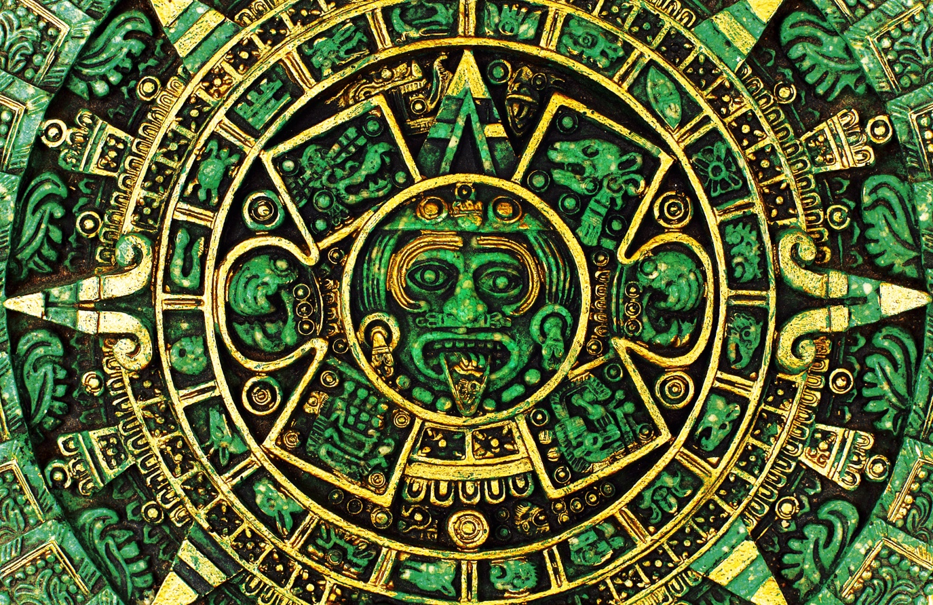 It's true, some people really believed that December 21, 2012, would be the end of the world as we know it — after all, the Mayan calendar apparently said it would be — but then the date came and went with no catastrophic event or gigantic apocalypse happening, and then we all felt a little silly the next morning.
REFLECTION #18: Y2K  January 1, 2020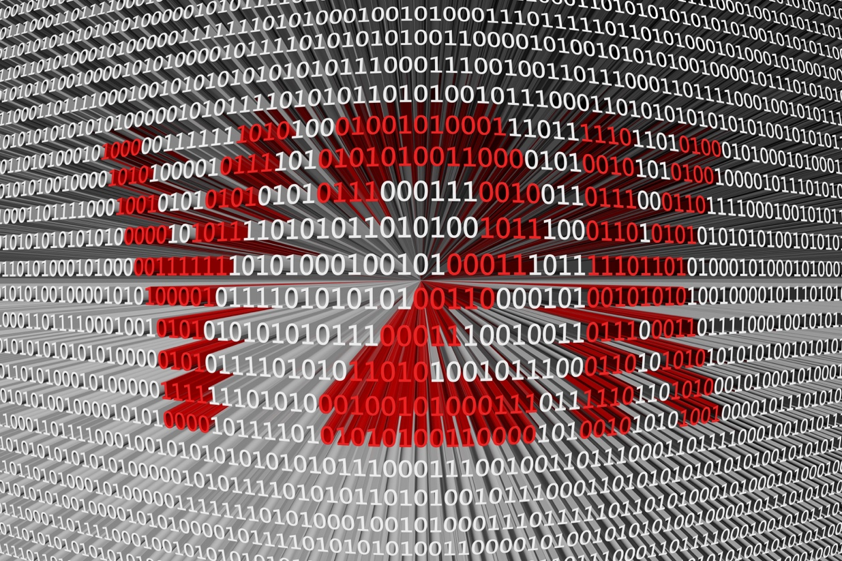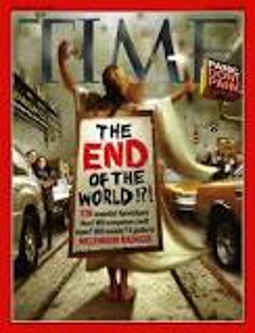 Y2K is the shorthand term for "the year 2000" commonly used to refer to a widespread computer programming shortcut that was expected to cause extensive havoc as the year changed from 1999 to 2000. Instead of allowing four digits for the year, many computer programs only allowed two digits (e.g., 99 instead of 1999). We were all hyped for disaster and nothing happened, everything just rolled over to 2000!
Wishing you and our planet a peaceful, healthy and respectful decade.