The Fancy Food Show is always a favorite of ours. This June it was held in DC from the 17-19 and with over 180,000 specialty foods and beverages from 2,400 exhibitors spanning 80+ countries, we really had our work cut out to bring you our favorite 18! But the intrepid Eco18 tasters did their best to try as much as they could to report back on their top picks…life is tough!
Of course we had to visit some of our favorites, Olympus Greek Authentic Strained Yogurt—amazing, as are their Greek cheeses. Cheese was in great abundance and we tried some really amazing ones, especially the goat cheeses on the Humbolt Fog booth. We also tasted basil crystals for the first time—amazing, had us thinking "cocktails"!  Our favorite cheese sticks from John Wm. Macy's were also there—their cheese crisps are so delicious once you start to eat them it's tough to stop….so we didn't! We saw several trends, one of which was the combining of sweet and savory, not totally new, but some really interesting combination. Sea salt was the standout, particularly paired with gourmet dark chocolate, this was a Fancy Food Show after all!. Another noted trend was healthier snacks that actually tasted really good—lentil and hummus chips were especially notable.
So, here are our top 18 – wish we could have tasted more:

Gary Poppins Gourmet Popcorn. If you love popcorn this is a standout! Their world-class gourmet popcorn is made in small batches and packaged by hand to ensure that each and every kernel has a taste you just can't get anywhere else. The cheddar and caramel variety blew our minds, apparently it's a Chicago thing. All we can say is bring it on to NYC! The packaging is really very fun too.
Forte Gelato from Figo Brands. This high protein gelato debuted at the show. The brainchild of Adrian Pace, whose personal challenge was the inspiration for this phenomenal rich and creamy healthy nutritious treat, Forte Gelato is a product that is powered by protein. Currently available in Vanilla and Chocolate flavors, it's a brand to watch.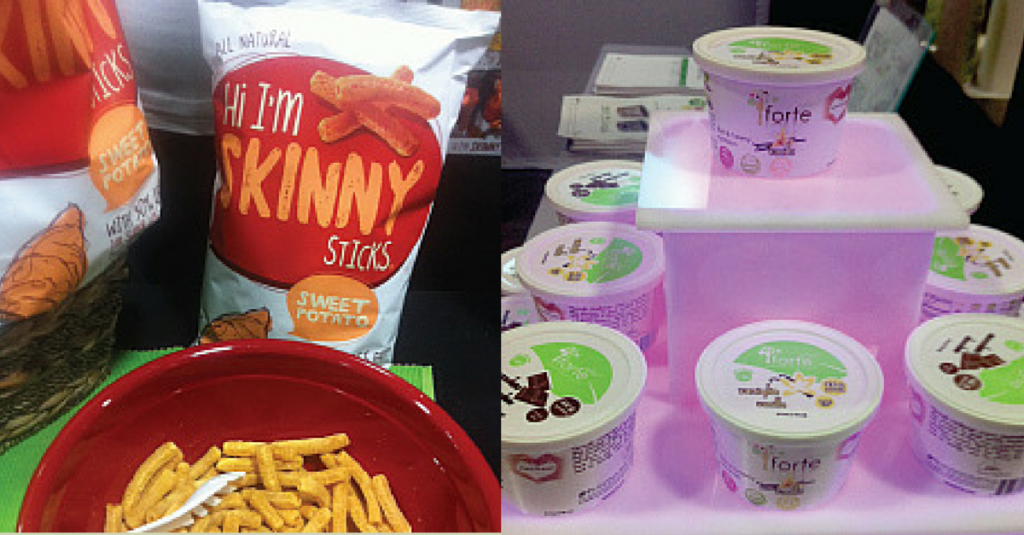 I'm Skinny Sweet Potato Flavor. We love these better-for-you, lower-in-fat great tasting snacks. Somehow we had previously missed the Sweet Potato flavor. All we have to say is "Donuts" they tasted like donuts. Not normally attracted to sweet snacks, these little sticks in a bag were so good and no guilt after eating them!
Chuao Chocolatier. How have we missed this amazing chocolate at other shows? Very glad we discovered it this time. Not only was the booth delightful, but the flavor combinations and the packaging were sensational. Master Chocolatier and Chuao founder was proudly debuting two new flavors—Maple Bacon and Ravishing Rock Road bars—both were an amazing addition to a line of award-winning chocolates.
Gearharts Chocolates. We were like kids in a candy store, what to try first! Blending Criollo Cacao from the finest Venezuelan plantations with sweet cream and pure butter is just the beginning of these memorable confections. Add to that fruits, nuts, herbs spices and liquors with no preservatives or additives, just pure chocolate heaven in every bite. Pistachio Toffee rendered us speechless!

First Field Original Jersey Ketchup. So that's what real ketchup should taste like! Made in small batches, First Field Original Jersey Ketchup combines select, fresh vine-ripened tomatoes with a special blend of ingredients that showcase the natural sweet and savory characteristics of the Jersey tomato. So simple, so good.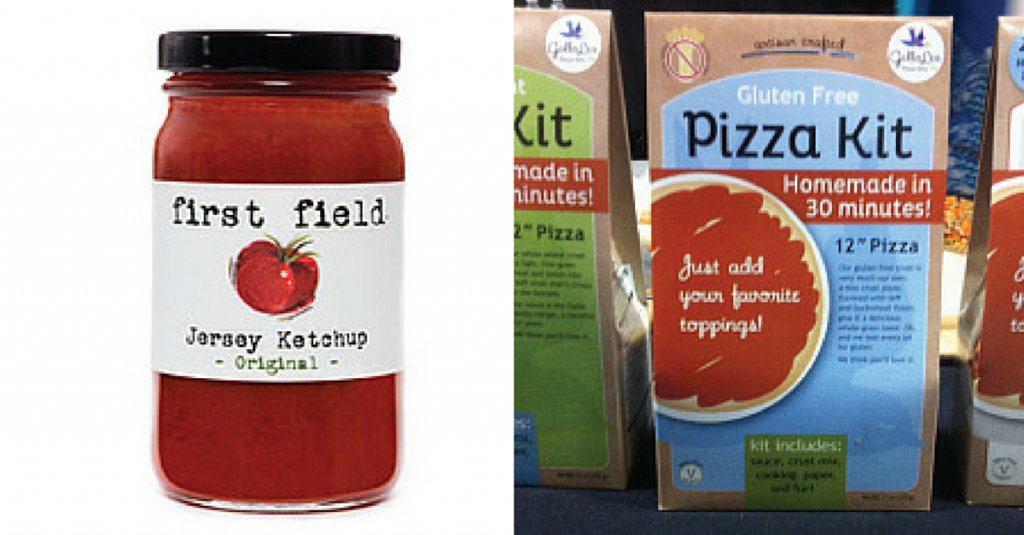 Gallo Lea Pizza Kits. Who doesn't love pizza?! And an easy, organic pizza kit that you can make at home in just 30 minutes, even better! Gallo Lea is a brand of pizza kits that pays close attention to the ingredients. The kit includes a dough mix, sauce and even the parchment paper to make sure your pie doesn't stick to the sheet! All you need is 1 tsp of oil and water, as well as your choice of toppings. This is where you can get creative, finding some of your favorite organic ingredients—we're thinking maybe goat cheese, figs and arugula! MMM!!
Crepini. Move over bagel, there is a new, lighter way to enjoy a breakfast or lunch "sandwich". The Crepini is a pack of fresh, frozen crepes that you can either buy pre-stuffed with a variety of ingredients, such as Spinach and Feta, Four Cheese and Basil or Tiramisu—among MANY other varieties. OR you can buy a pack of crepes for your own making!
Humbolt Fog Cypress Grove Chevre.  One of our favorite cheese companies, this new smooth soft-ripened dense cheese has a gentle, acidic tang from fresh goat's milk. The flavors of Humboldt Fog change with age, creating a young cheese with a clean, bright and lemony flavor and a mature cheese with an earthy, deep and almost meaty flavor. This one is a winner!
Nella Pasta. Nella Pasta is pretty much as close as you're going to get to homemade pasta, unless you, well, make it at home. BUT the point is you don't have to, as Nella Pasta is fresh pasta using only, as they put it, ingredients made by their "neighbors", including skilled farmer, harvesters and cheese makers. They guarantee all of the pasta will be made with organic ingredients that are picked fresh and in season. Toss with your favorite sauce and you'll have a delicious dinner for the whole family.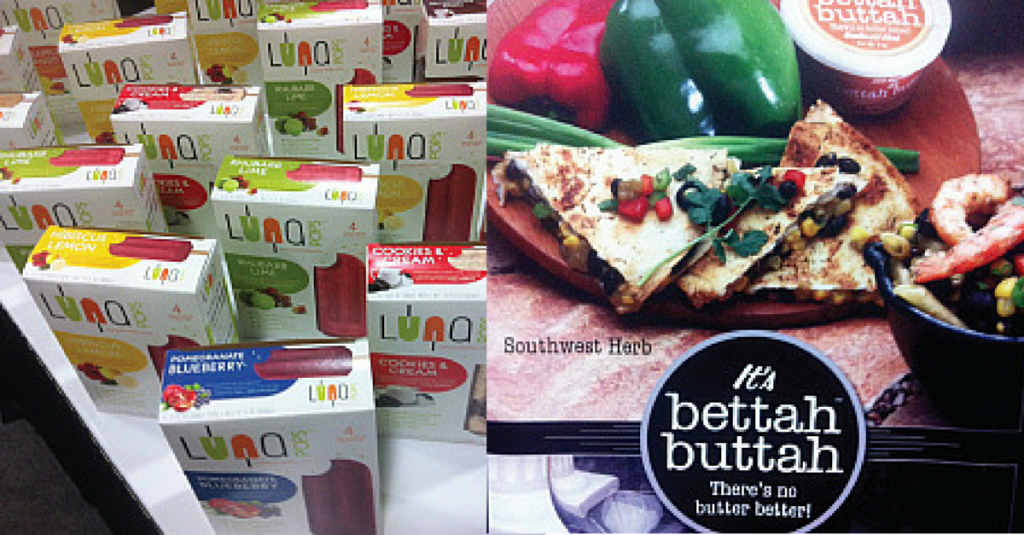 Luna Pops. What's better on a hot summer day than a popcicle or icecream?! Well, we weren't sure of anything until we came across LunaPops, handcrafted frozen ice pops based on traditional Mexican paletas. LunaPops are made with only the finest ingredients, including real fruit, pure cane sugar, real vanilla extract and fine chocolate. They come in a unique variety of flavors, including: Cookies & Cream, Milk Chocolate Chai, Rhubarb Lime, Raspberry Chocolate Chip, Hibiscus Lemon, Sea Salt Caramel and more!
Bettah Buttah. You haven't had butter until you've tried Bettah Buttah, a variety of seasoned butters, sure to spice up any dish. It is available in: Sundried Tomato Pesto, Lemon Peppah, Black Peppah Blue Cheese, Southwestern Herb and Cinnamon Sugah. Run by a family in Kansas City, Bettah Buttah was actually developed by a 13 year old—talk about a smart entrepreneur! Visit their website to download a variety of recipes to make with the Bettah Buttah—or just spread some on toast, it'll be delicious either way.

Aiva Naturals Honey.  If you think you've had honey, let us tell you, you have NOT had honey until you've tried the raw honey from Aiva Naturals! Also, the olive oil and dessert offerings are not to be missed. They are on a mission to provide the most natural, unaltered foods and search all over the world to provide the finest ingredients—so it is food you can really feel good about eating! Learn more at

Ozery Bakery Pita Crisps. We were already a fan of Ozery Bakery pitas (especially the KAMUT® Wheat one, yum!), but at the show we had the chance to sample their variety of Crispy Pitas. These pita chips come in a unique variety of flavors, including Cranberry Pumpkin Seed, Rosemary Garlic (my favorite!), Organic Wheat and Organic Spelt with Flax.
The Brooklyn Salsa Company.  We just love this line of salsas–as you know, because we kinda talk about them a lot. Their mission is to inspire global flavor with local, sustainable ingredients. Try all six flavors including The Curry, The Green, The Pure, The Tropical The Harvest and their latest—The Mole, which everyone at the show was raving about.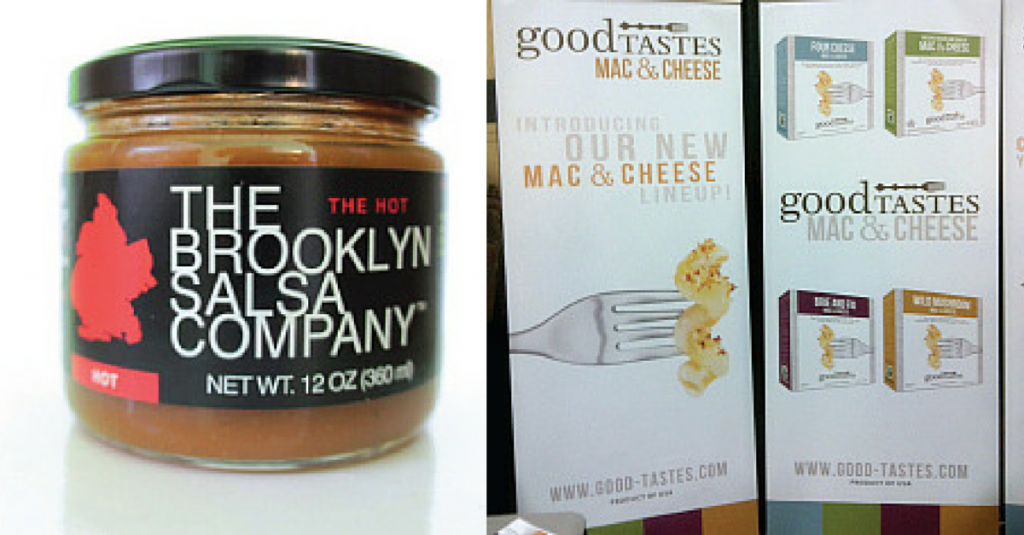 Good Tastes Mac & Cheese. Mac & Cheese for grown ups! Even if you are not a Mac & Cheese lover (yes there are some people out there) one bite of these sophisticated, cheesy combinations will make you an instant convert. All-natural and preservative free, made with Pineland Farms Cheddar & Monterey Jack, fresh herbs & buttery panko. The four flavors include: Four Cheese Mac, Wild Mushroom Mac, Bacon & Shallot Mac and Brie & Fig Mac…yumm!!!
Boat Street Pickles Pickled Figs. We love pickles and we love figs, so what a perfect balance of sweet and savory, pair well with blue cheeses and rich triple cream cheeses. They're a distinctive approach to the traditional chutney and can be served with grilled or roasted meats. Jarred in a sweet syrup of organic red wine, cane sugar, balsamic vinegar, rosemary and sea salt, these pickled figs go well with something sweet, too, such as vanilla ice cream or panna cotta. They were a 2012 sofi Silver Finalist: Outstanding Condiment.
Danielle Roasted Coconut Chips. We are big fans of Danielle Chips and the new Roasted Coconut is no exception. Made with real premium young coconut pieces. They have a rich taste and texture retained during the flash baking. The roasted, then baked, coconut chips are great alone as a snack or as an ice cream topping. They are gluten-free, all natural, vegan, vegetarian and non-GMO with no cholesterol, additives, MSG or trans-fat. This was a 2012 sofi Gold Winner: Outstanding Snack Food…congrats!
So, that's it Foodies….we came, we ate, we wrote about it! Ready for the next time.