The second stop on our Earth Day 5K tour with Earth Day Initiative, was a tour of the Natural Gourmet Institute.
The Natural Gourmet Institute was started in 1977 by Dr. Annemarie Colbin in the kitchen of her apartment. The school has now grown to graduate over 2,500 chefs from all over the world.
Our tour group was greeted by a friendly staff and an entire bookshelf holding cookbooks published by chefs that have graduated from NGI.
The NGI provides "health-supportive culinary education," based on the seven criteria for food selection. (See photo below)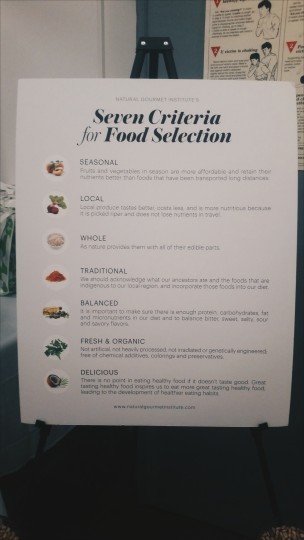 The NGI teaches culinary education based on making mindful decisions about ingredients in order to utilize a sustainable food system that respects the Earth's natural resources.
After the tour was over we were presented with a complete vegan friendly meal that consisted of a brownie made of beans, and a gluten-free "noodle" and veggie dish.
The NGI offers an array of classes and workshops where you can learn about sustainable food systems, cooking gourmet, plant-based foods and even how to launch your own food business.
They also offer Friday night dinners where chefs of the school create a 3 course vegetarian meal. Make your reservation here.
Check out classes and more on the NGI here.