What is your name?
Sarah Beard
What is your occupation? 
Impact Producer
What was your favorite green (Eco) memory growing up? 
Starting my own Save Animals club at aged 6 which included animal club folders for members, badges, fundraising and regular meetings. Very 'secret seven' but for animal protection.  All proceeds were given to the Gerald Durrell Club.
What did you do before Impact Producing Blue?
Before BLUE? I've been working in the film and television industry for over 20 years working across documentary, feature films, visual effects, and TVC's. In 2012, I joined Northern Pictures, the production company behind BLUE, and my work became focused on delivering natural history series to international networks. As a passionate ocean conservation advocate, marine-themed stories have always been my thing! In addition to my film work I've been working as an outreach producer for Take 3 For The Sea, a grassroots organization focused on reducing marine plastic pollution. Working on BLUE has been the ultimate passion project, combining my extensive marine based documentary work and my not-for-profit ocean advocacy work.
How is Blue increasing environmental awareness?
BLUE tells the story of how the nature of our ocean is being irretrievably altered. BLUE tackles themes of plastic pollution, unsustainable fishing, habitat destruction, species loss, climate change and ocean change. BLUE tells this story through those who are at the coal face (pardon the pun) of trying to protect the ocean. We meet those who are defending habitats, campaigning for smarter fishing, combating marine pollution and fighting for the protection of keystone species. In addition to the film, we are running a two-year education and outreach campaign to raise awareness and facilitate action around issues raised in the film.  This includes the launch of our school curricula which is going out to over 6500 schools in Australia and is a free online resource for teachers and students.
What are the most rewarding and challenging parts of your job? 
Rewarding…The extraordinary people I get to meet who are working in this space and the most challenging…..trying to get the message out to a broader audience, what I call beyond the BLUE belt, so beyond the core base which are environmentalists, conservationists, ocean advocates.
What is one environmental change you vow to make this year? 
Personally? To live as plastic free as possible…with BLUE? If I have to choose one…. to use the film as a tool to advocate for marine parks. Putting aside places in our ocean that are fully protected to allow species and habitat recovery and preservation. In Australia our Federal Government are considering having our existing marine parks, so we are going backward! I believe this is being replicated in other parts of the world, like the US?
Can you tell us what inspired you to work on this film? 
I don't think I know anyone who doesn't love the ocean in some capacity whether it's to swim, surf, dive, sail, or just look at but it's having that understanding what the ocean actually is the life force for our planet that drives me. Over 70% of our planet is the ocean. The ocean drives climate, stabilizes temperature, provides most of our oxygen and shapes the Earth's chemistry. A favorite Sylvia Earle quote of mine. NO WATER NO LIFE, NO BLUE NO GREEN
If there was one industry/product that you could make more eco-friendly, what would it be? 
Washing machines….the damage microfibers are doing entering the ocean is an unknown time bomb.
What's next for you now that Blue has been released?
More BLUE! We are very privileged to be running an outreach and education campaign for BLUE over the next year.
What's your favorite book? 
Right now? It's Ted Danson's Oceana: Our Endangered Oceans and What We Can Do to Save Them
A non-ocean favorite would be The Alchemist by Paul Coello
Where do you turn for your news?
I'm on the run a fair bit so the radio while I'm in transit.
Where on the green scale do you fall?
On a scale of 1- 10, I'd say 7. My green heart would be 10 but given I am a busy working mum living within the outer limits of a big city there are areas of my life that fall off the scale. Sure, I don't use single-use plastics, I compost and I eat organic when I can but to be 100% sustainable I feel you need to create more time and space in your daily life and slow down to ensure you don't fall short on making choices around convenience. 
Do you lead a vegan lifestyle? 
No, I am a vegetarian but not vegan. I am very open to being Vegan and this ties into what I said above, creating time and space in my daily life to shop, grow and prepare food properly.
Who would you want to have a conversation with past or present?
Sylvia Earle
What is a small environmental change you think we all can do to make a difference? 
Stop using single-use plastics. It's the easiest, simplest action everyone can do. By this I mean convenience plastic items you use just once and then throw away. Plastic shopping bags, straws, take away coffee cups, disposable utensils, plastic beverage bottles etc. A plastic bag can take up to 500 years to break down, a plastic straw up to 200 years, a plastic water bottle 450 years. Enough said.
How does Blue positively impact the environment? 
Our hope for BLUE is it raises awareness about the issues impacting on our ocean and can be used as a tool for a call for action and change. Individual, community, corporate, legislative change. We hope that the film can be used by NGO's already campaigning in this space as a tool to support their campaigns.
What do you want your personal legacy to be?
The positively exciting thing is that the state of the ocean is a global conversation happening right now. Being able to say I contributed to the conversations.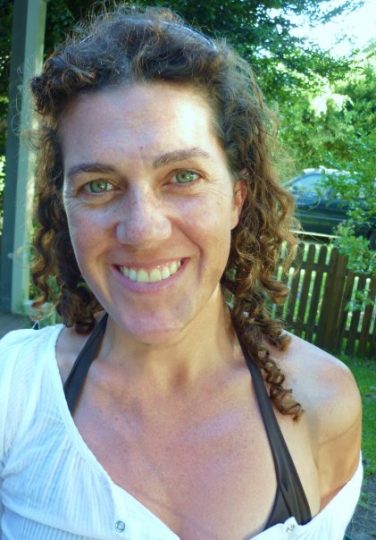 Sarah has over 20 years experience delivering content to commercial clients, broadcasters and for the feature release. She has worked across a broad spectrum of projects ranging from, The Matrix trilogies, James Cameron's documentary Voyage to the Bottom of the Earth and the award-winning Australians at War. As Visual FX producer at Animal Logic she worked on projects such as George Miller's Happy Feet and produced animation content for Time Warner's Cartoon Network. In 2012, Sarah joined Northern Pictures and focused her work on delivering natural history series to international networks.
As a passionate ocean conservation advocate, marine-themed stories have always been Sarah's passion. She has worked on shows such as The Adventures of the Quest series, Island Life, Great White Matrix and Saltwater Heroes.