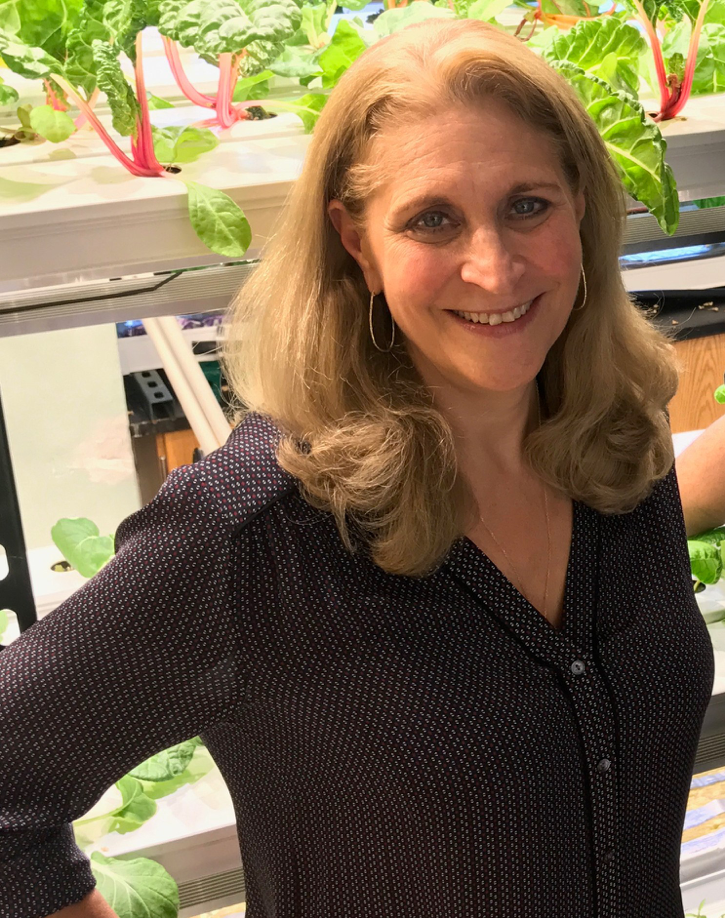 Native New Yorker and pillar of the food justice community, Kathy Soll began a Students for Service project that turned into Teens for Food Justice (TFFJ), an organization of local youth that helps to bring healthy, fresh, and affordable food to food-insecure communities. Through hydroponic urban farming, education in advocacy and nutrition, and the power that comes with growing something to be shared, the Teens for Food Justice program helps bring healthy produce to the communities of New York. We at Eco18 couldn't wait to hear from the woman who helped make this possible — read her answers to our 18 Questions below!
1) Where are you from and where are you based currently?
I am from Manhattan and have lived on the Upper West Side since 2nd​ grade. I still live in the neighborhood I grew up in which is where my husband grew up as well.
2) When did you decide you wanted to work on ending hunger and food insecurity in New York?
When Teens for Food Justice was originally formed, it operated as a Students for Service project—a group of teens from high schools across NYC coming together to work on a project in service to a community. Over time, it became clear that our volunteers were particularly concerned with food access and equity, and signed up for service projects related to addressing food insecurity more than any others. This led us to launch Teens for Food Justice, where we would focus solely on the critical issues of food justice and sustainable, healthy food access.
3) Why hydroponic farming integrated with hands-on volunteering? What do these two methods look like in combination?
Through our program students ages 12-24 construct and install high-capacity hydroponic growing systems and seed, transplant, and harvest up to 2,000 pounds of fresh organic vegetables, fruits, and herbs per month for use in their school's cafeteria and distribution to their local community.
TFFJ's student-built hydroponic growing systems require no green space, are not susceptible to changing weather patterns or conditions, use little energy, produce plants year-round, and have very high yields.
TFFJ students create and implement marketing and distribution plans for surplus harvest, receive training in nutrition and healthy food choices, affordable and nutritionally-sound shopping practices, food policy, food assistance programs, and skills for food justice advocacy, sustainable farming practices, and fitness/exercise.
Through this process, they develop into the next generation of leaders in cutting-edge urban agribusiness and the fight for food equity.
Through combining hydroponic farming and community engagement and advocacy, TFFJ is not just providing a technologically advanced solution to the lack of affordable, fresh food in food desert communities — we are building the foundation for a sustainable social movement to close the gaps in food access, health outcomes, and marketable skills between low-income and upper-income urban communities. Students become producers of their own food and provide themselves, their peers, their families, and their communities with fresh, affordable, hyper-local produce that changes the foodscape of communities where healthy, fresh food is not readily available.
4) How do you decide what foods the programs grow?
Teens for Food Justice grows food items based on what can be grown indoors in a soil-less hydroponic farm. Some of the best suited produce for hydroponic growing include lettuce and leafy greens (Swiss chard, kale, collards, spinach, arugula, bok choy, Wasabi arugula), Herbs (Basil (green and red), mint, oregano, thyme, toothache plant, citrus basil, dill, sage, parsley, cilantro), Cucumbers, bell peppers and tomatoes.
5) It's more than growing foods in community gardens — teens learn about composting, sustainable practices, nutrition, and advocacy. What does this kind of program look like for students? What benefits have you seen from this holistic education?
TFFJ is unique in providing a youth-run production-farming model that yields between 1,000 and 19,000 lbs. of food annually per school, 365 days per year, and simultaneously provides students with an education in STEM, nutrition, health, and food policy education and advocacy leadership.
Students engage in h​ands-on learning in hydroponic farming technology (including the physics of the operation of the growing system and the chemistry and biology of growing plants in an enclosed environment without soil.
Our students also receive training in healthy recipe preparation utilizing the plants from the farm as well as how to shop for healthy food on a tight or food assistance budget.
They engage deeply with food policy and community food access mapping, and receive food justice advocacy training which helps them develop the necessary leadership skills to effectively share their knowledge with fellow students and the greater school and local community through ongoing outreach events throughout the year, thus improving overall awareness of healthier eating and lifestyle behaviors of its members. Mid-year 2016/17 program evaluations of participating students show:
50% of students feel more confident in science
67% of students feel more confident sharing ideas and opinions
58% of students believe that they can make a difference in their community
75% of students understand the importance of eating fruits and vegetables
83% of students reported learning new topics and improved comprehension of concepts they didn't previously understand
30% more students believe the type of food they eat makes a "big difference" in their health
43% of students know significantly more about nutrition and sources of food
69% of students consider themselves healthy eaters, a 29% increase from the start of the program
6) What led you to focus on working with middle schoolers and high schoolers?
Middle school and high school is the sweet spot for a program like ours. Research shows that students who engage in service/community stewardship learn to become engaged and effective citizens, and are more committed to a future of service and concrete, lasting social change. We started with HS students because they are on the cusp of becoming adults.
During that time, we were selected for a comprehensive evaluation by a team of NYU graduate students which found that our impact would be greatest if the students who attended the school, and were directly affected by the lack of good local food owned and ran the program, particularly if it were to be connected to their curricular education and afterschool programming.
We first implemented their recommended model when constructing a new farm at The Urban Assembly Unison School. We were blown away by the enthusiasm of our young 6th – 8th graders that participated in the hydroponic farm build and how eager they were to explore food insecurity in their own homes and communities.
The success of our program at The Urban Assembly Unison School led us to focus on both Middle and High School students morning forward.
7) How do teachers get involved? What kind of discussion does this instigate about agriculture and urbanism in the classroom?
STEM teachers are assigned to the farm, and work closely with TFFJ's curriculum specialist to create lessons that relate to their STEM curriculum and can be taught in the hydroponic farm space. Some lessons also focus on farm operations, which help maintain the farm's production of food for the cafeteria and local community. While students learn their STEM subject and performing operational tasks in the farm space, their discussions are often shaped through an urban agriculture lens. Students engage in discussions around food insecurity and advocacy, and how the hydroponic farm is contributing to a more robust local food system​.
8) How has raising your own two children impacted the work you do?
Through my work on behalf of my kids' school's PTA, I had a role in our district leadership team. There was then and is now a big disparity in the incomes of the families that attend the various schools in the district, which greatly affects the ability of a school's PTA to raise funds for goods and services a school might not be able to access through its DOE dollars. To address this and create more equity for our district's students, I recommended that the higher income schools consider sharing some of their raised funds with schools that had families with fewer resources. There was very little who live in different communities have with one another and how little knowledge and understanding they have of one another's lives. I wondered if, by connecting kids with one another through service and social justice problem solving, we could break that cycle and get people to think differently about equity and its benefits. This is how Students for Service was formed and, ultimately, evolved into Teens for Food Justice.
9) ​What do you see as the most important mission you have in these neighborhoods and schools?
The overarching vision of Teens for Food Justice is to build a world where everyone has the access they need to good affordable food and we have put an end to the frightening health outcomes food insecurity has created. In each school and neighborhood we work in, our aim is to achieve this outcome. However, our organization is called Teens for Food Justice for a reason—it is designed to empower youth to understand, take control of, and change the way food is grown, distributed, and allocated in our society so that this vision can be realized by the next generation. By tying together the means of growing good food, education in science, technology, health, and nutrition, leadership development, and advocacy training and outreach, you give these kids the foundation they need to succeed. What better place to do that than in a school?
Expanding food access in the communities we serve and empowering youth to lead this charge is intrinsic to Teens for Food Justice's (TFFJ) mission. TFFJ works to ensure universal equitable access to healthy, fresh, affordable food through training youth in 21st century hydroponic urban agricultural farming techniques, entrepreneurship, and health/nutrition education and advocacy, empowering them as change agents who can lead themselves and their own communities towards healthier futures.
10) Teens for Food Justice formed from an evolution of Students for Service, which formed in 2009. What caused this transformation? How do the two programs differ?
As stated earlier, when the Teens for Food Justice program was originally formed, it operated as a Students for Service project—a group of teens from high schools across NYC coming together to work on a project in service to a community. We created this project from a melding of two ideas—1. The teens who volunteered with SFS were really concerned about food insecurity, sustainability, and the challenges of feeding a growing planet with shrinking resources and 2. the burgeoning hydroponic and alternative ag industry as a solution for growing produce sustainably in cities. Our first Teens for Food Justice project was launched at a Title 1 middle school in a highly food-insecure Brooklyn neighborhood, where 30 teens volunteered their Saturdays and holidays over two years to build and run a hydroponic farm and nutrition, health, and advocacy program for the kids of the school and their families. During this time, we were fortunate to be selected for a comprehensive evaluation by a team of NYU graduate students which showed that our impact on both the kids and the community would be greatest if the students who attended the school, lived in the community, and were directly affected by the lack of good local food owned and ran the program, particularly if it was to be connected, daily, to their curricular education and afterschool programming. The success of this approach led us to focus exclusively on TFFJ and to expand the program to multiple schools and now cities.
11) What have been the greatest successes of the program for you?
I know we are succeeding when I hear our students speak about our program with passion, commitment, conviction and a thorough understanding of food insecurity and its many underlying issues, such as segregation, redlining, and gentrification, that are causing this problem in the neighborhoods they live in. They are having these conversations with each other and with their teachers, school leaders, politicians, and changemakers with a strong level of confidence and a firm belief that their voices count. And, I know we are succeeding when I hear an elected official say that our students' testimony at a City Council hearing was integral to the passing of a bill to ensure that water and other non-sugary beverages are the default option on kids' menus in NYC. And, we are only getting started.
12) As an organization, what would you consider to be your biggest impact to date?
Again, I believe our biggest impact is in how our students have developed this language and conversation and that is due to how comprehensively and pervasively the program is embedded in the place where they spend such a huge amount of their time—school. It is because they build farms and grow hundreds of pounds of food every week. It is because they can eat it every day at lunch and distribute it out into their community. It is because they study science and technology in the farms and use the food from the farms to study nutrition and develop and cook recipes and then share those with their friends, families, and neighbors. It is because they are empowered to go out into the community and speak about food insecurity and what they are doing and we can do to end it. It is the scale of the program that makes it possible.
13) What is the greatest challenge when starting a new neighborhood program? How do you decide where to work next? What kinds of problems do you face?
It is not easy to implement a program of this scope and scale within a New York City school building; there is no one greatest challenge. We could not possibly have accomplished all that we have without the support and commitment of our amazing school partners so finding the partners that are willing and excited to make this commitment is really key to the decision. We meet our partner schools in a variety of ways—they come to us, funders bring us to them, partners recommend them, school districts make connections. As with any city agency, working with the Department of Education presents various regulatory and administrative challenges, but we have been doing this work for a while now and are able to anticipate many of the problems that might arise. School staff is also stretched extremely thin so it is important for us to be flexible with our partners to accommodate their schedule constraints and make engagement in the program something that enriches rather than encumbers their day. We also work very hard to identify and meet the local neighborhood stakeholders who are also working towards a more equitable food system so that we can layer the work we do onto theirs. All of this requires patience and determination which is something every member of our staff work very hard at.
14) Can you tell us about the Fresh Food Box Program and how it works?
Teens for Food Justice's Fresh Food Box Program enables community members to purchase fresh, healthy produce using SNAP/EBT, all major credit/debit cards, and cash.
Teens for Food Justice Fresh Food Boxes feature produce grown by middle and high school students at each pickup site, and all revenue from food box sales support ongoing Hydroponic Farming + Food Justice, Advocacy, and Nutrition education programming.
Each Fresh Food Box contains enough produce for two people for an entire week and will always include a unique mix of seasonal fruits and vegetables for $14, which is a steep discount from the market rate for the same amount of produce.
In every box, community members receive a variable assortment of:
Cooking greens (swiss chard, kale, collard greens, bok choy)
Salad greens (red lettuce, butterhead lettuce, arugula)
Popular herbs (thyme, basil, mint, parsley)
Plus a collection of seasonal fruits and vegetables
15) What do you see as the future of the organization? Do you want it to spread to other states?
TFFJ is a scalable, replicable model that can be exported anywhere. We are already working with the Miami-Dade County Public School system and the Gloria Estefan Foundation to launch the program in Miami within two years and are in active conversation with two other major cities. We have received inquiries about the program from places such as India and New Zealand. Unfortunately, food insecurity and its exploding health implications are a global problem. TFFJ can give youth the power and tools to turn that around wherever they live.
Two additional large-scale projects in our pipeline — which will broaden our scope from 3 to 5 campus sites, serving 18 schools in NYC — plus the 3 in Miami slated for 2020-21 increase our growing capacity to more than 100,000 pounds of produce annually. This will be consumed daily by students in their school cafeterias and by the communities at large through farm markets and other sources of distribution — for a total of more than 10,000 students and families served every year.
NYC sites currently in development are:
The Martin Luther King, Jr. Educational Campus, where a 1,300-square-foot unused storage space within the cafeteria is being converted into a high-capacity vertical farm through a $118,000 gift from Whole Foods Markets.
Far Rockaway High School, which will house a 616-square-foot farm growing close to 10,000 pounds per year that will be co-located with a full-service culinary kitchen.
The Urban Assembly Unison Middle School farm is a 500-square-foot classroom farm in Clinton Hill/Bedford Stuyvesant, Brooklyn, where students grow 100 pounds of produce per month for school and community. Future plans at this site include expansion to a 1,500-square-foot outdoor courtyard greenhouse where students will grow in excess of 20,000 pounds of produce annually and serve the cafeterias and the communities of 4 high-need schools in Brooklyn, funding by Brooklyn BP Eric Adams and City Council Member Laurie Cumbo.
16) What challenges do you think the urban agricultural movement faces in places like NYC?
I think that the regulatory environment is always a barrier to a new industry getting off the ground in a big city and also competing real estate interests. But, I think we have no choice. Alternative agriculture is coming. Its already a big factor in Europe and other parts of the world; we are just behind the curve. When we first launched TFFJ and I would say the word "hydroponics," at least 30% of my audience would say, "what's that?" Nobody asks me that anymore.

Another huge challenge goes without saying- there is very limited space available to use for agricultural purposes in urban environments, but especially in NYC. This is one of the biggest benefits of indoor urban farming. ​Indoor/controlled environment agriculture using hydroponics gives us the ability to easily retrofit and grow inside of school classrooms, and maximize production in a really small amount of space. This is especially important in urban areas where there is a limited supply of land for agricultural uses. In a typical 1,300 square ft. space, for example, we are to multiply our production by the number of growing selves we can fit into the classroom.
17) How can New Yorkers get involved in ending food insecurity in our city and the urban agricultural movement?
One way is to support organizations like Teens for Food Justice through donations or volunteering. You also advocate for policies that increase resources and funding for urban agriculture, as well as those that create land trusts or other avenues for urban farmers to own land and have more agency over the land. You can also join a local community garden and purchase food from local growers.
18) What kind of produce does your family like to work with in your own garden and kitchen?
I am a huge salad eater and I love to make big salads with a variety of leafy greens and herbs plus carrots, cucumbers, snap peas, sprouts of various kinds, tomatoes, apples, and, always, avocado. But, we love all kinds of produce—broccoli, green beans, chard, peppers, eggplant—particularly roasted and grilled and in soups. We make lots of really great soups and I am happy to share some of our favorite recipes, some of which were developed by our students.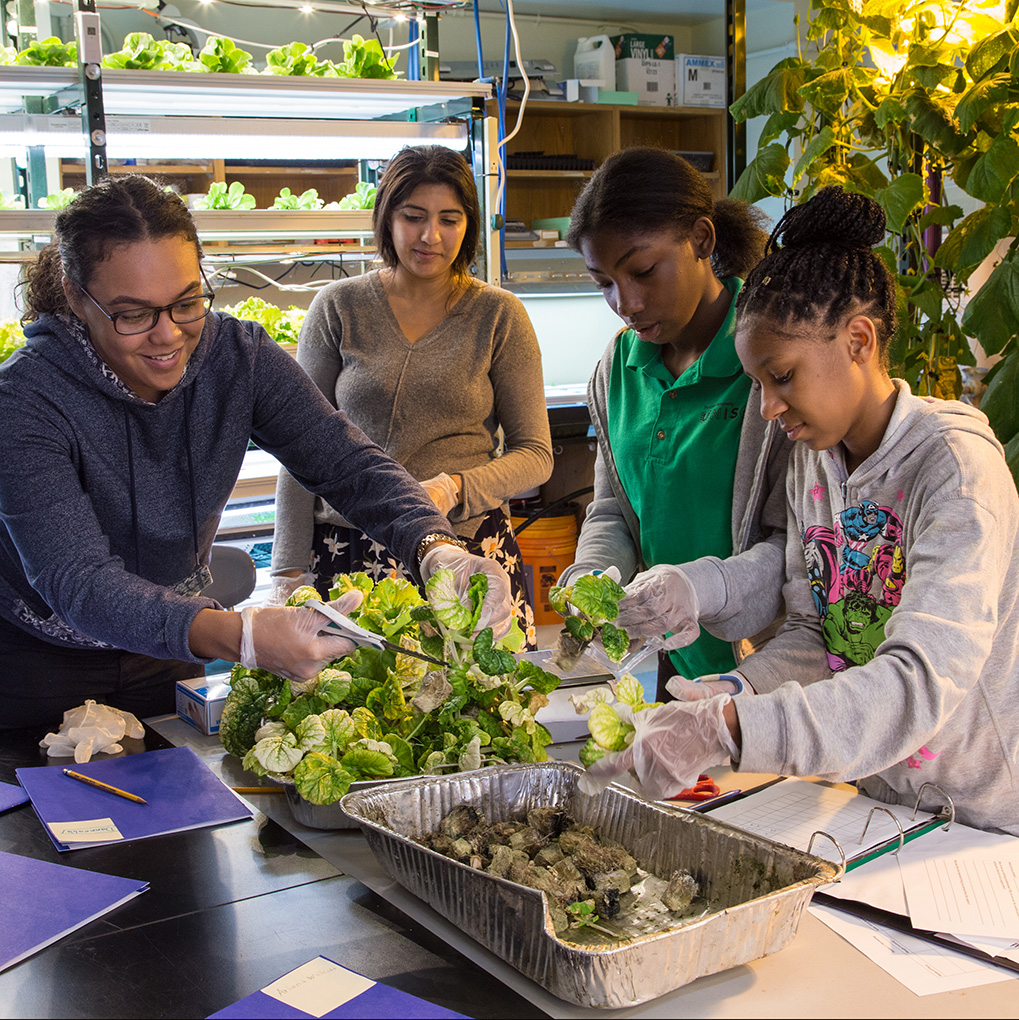 Header Image via Teens for Food Justice's Twitter