Since June is a month dedicated to raising awareness about the need to protect our children, at Eco18 we wanted to touch on a topic that often gets overlooked. As the UNICEF states, "All children have the right to survive and thrive. Yet, children and adolescents still face significant challenges surviving past infancy and developing to their full potential." Exposure to toxic chemicals is key to avoiding developmental health issues such as cancer and other life-threatening diseases.
This has become increasingly more challenging for parents due to the escalation of greenwashing.  Many companies misrepresent the actual content of their products, confusing consumers with false claims. Even the most diligent research can fail to uncover some of these insidious practices.
Greenwashing has been detected in multiple industries. BlackRock Inc., the world's largest asset manager, issued an op-ed piece earlier this year about the impact of greenwashing in sustainable investing practices. And greenwashing has also been observed in fashion, oil companies, vehicles, home furnishings, and children's products. This misleading and dangerous practice goes on through the whole supply chain, including manufacturers, brands, and retailers.
This is why Clean & Healthy New York (CHNY) recently published the report: Peeling Back the Green Façade – Calling out "Greenwashing" in the Crib Mattress Market as Lessons on Brand Manipulation of Health and Environmental Claims. With this report, CHNY wants to provide parents with the right set of tools to help them choose the most suitable products to bring home to their loved ones.
Additionally, the report was developed on behalf of the Getting Ready for Baby campaign, a collaboration of over 100 organizations that came together to ensure that all products for babies and toddlers are safe, healthy, and free of harmful chemicals. Since babies spend up to two-thirds of their days sleeping, it's imperative to make safe and healthy products for them.
The Peeling Back the Green Façade report follows a previous report called The Mattress Still Matters, released in 2020, highlighting how crib mattress brands manipulate claims about the health and environmental benefits of their products. From 37 companies reviewed for The Mattress Still Matters, 10 companies met the organization's criteria of greenwashing. In this latest report, CHNY collected documented evidence from those companies' marketing materials and presented their concerns to experts and certification programs. They then contacted all the companies in discussion and requested them to make several changes in their approach.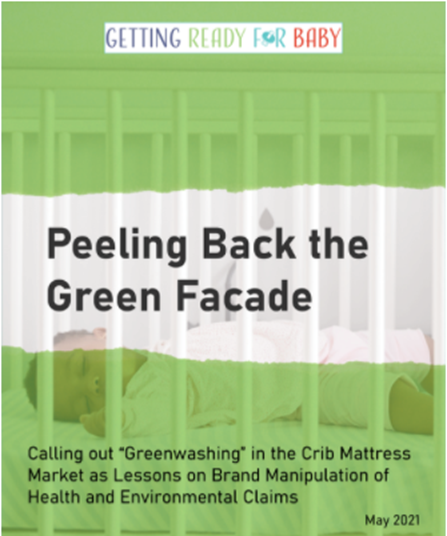 Peeling Back the Green Façade Report Results
The companies identified as to be running greenwashing practices were caught overstating the meaning of certification, as well as misusing terminology like "natural," "non-toxic," and "organic."
Four companies updated their marketing materials, reflecting the information about their products more accurately.
Two companies (Babyletto and DaVinci Baby) corrected misleading information about their certifications but did not change all of the language flagged as greenwashing.
Two companies made all requested changes and are not listed in the report.
Two other companies (Delta Children and Dream on Me) rejected, for the most part, the findings of the study. Delta Children, however, made minor adjustments, while Dream on Me made no changes.
Four companies (Colgate Mattress®, Graco®, L.A. Baby, Nook Sleep did not respond at all.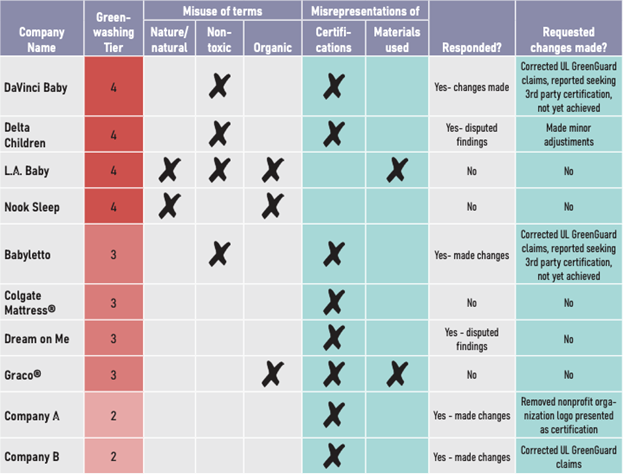 How to Combat Greenwashing in Crib Mattresses?
Based on the report results, here are some recommendations made by CHNY to help parents, brands, and retailers. Especially this Children Awareness Month, learn how to combat greenwashing in crib mattresses and make sure you keep these tips handy.
1. Tips for Parents:
Question claims of "non-toxic," "organic," "natural," or similar terminology. Instead, look for verifiable and robust independent certifications for the whole product such as MADE SAFE®, GOTS, and GOLS.
Be wary of marketing assertions such as "BPA-free," or "PFOS-free," as products with those statements may contain similar chemicals, with similar health and environmental impacts.
Watch out for misrepresentations about materials. For example, any foam with plant-based oils or "soy foam" is still polyurethane, with a small amount of vegetable oil mixed in.
2. Tips for Brands & Manufacturers:
Design and make products to meet high-quality standards for human and environmental health, and document that by securing robust independent certifications.
Provide direct links to explanations and documentation for relevant independent certifications at the point it is marketing them. 
Avoid meaningless terms like "natural" or "eco-friendly." Use third-party certifications to prove the benefits of your products.
Don't use the term "non-toxic" unless every single component and process used to make your product from raw material to final products is free of all known or suspected harmful chemicals.
Be upfront and provide full transparency about what is in your product in every component.
Don't mislead shoppers by emphasizing a minor improvement in one component of your product, such as claiming polyurethane foam is "soy foam" if polyurethane contains a small portion of plant-based oil, or that polyester is recyclable unless you offer a method of recycling (recycling facilities for polyester fibers are readily available.)