The great thing about making a huge holiday meal is the leftovers! With a little imagination and some staples from your fridge you can whip up the most delicious, easy and crowd pleasing dishes. Here are three of our favorites.
Turkey Enchilladas
Makes 16 Enchiladas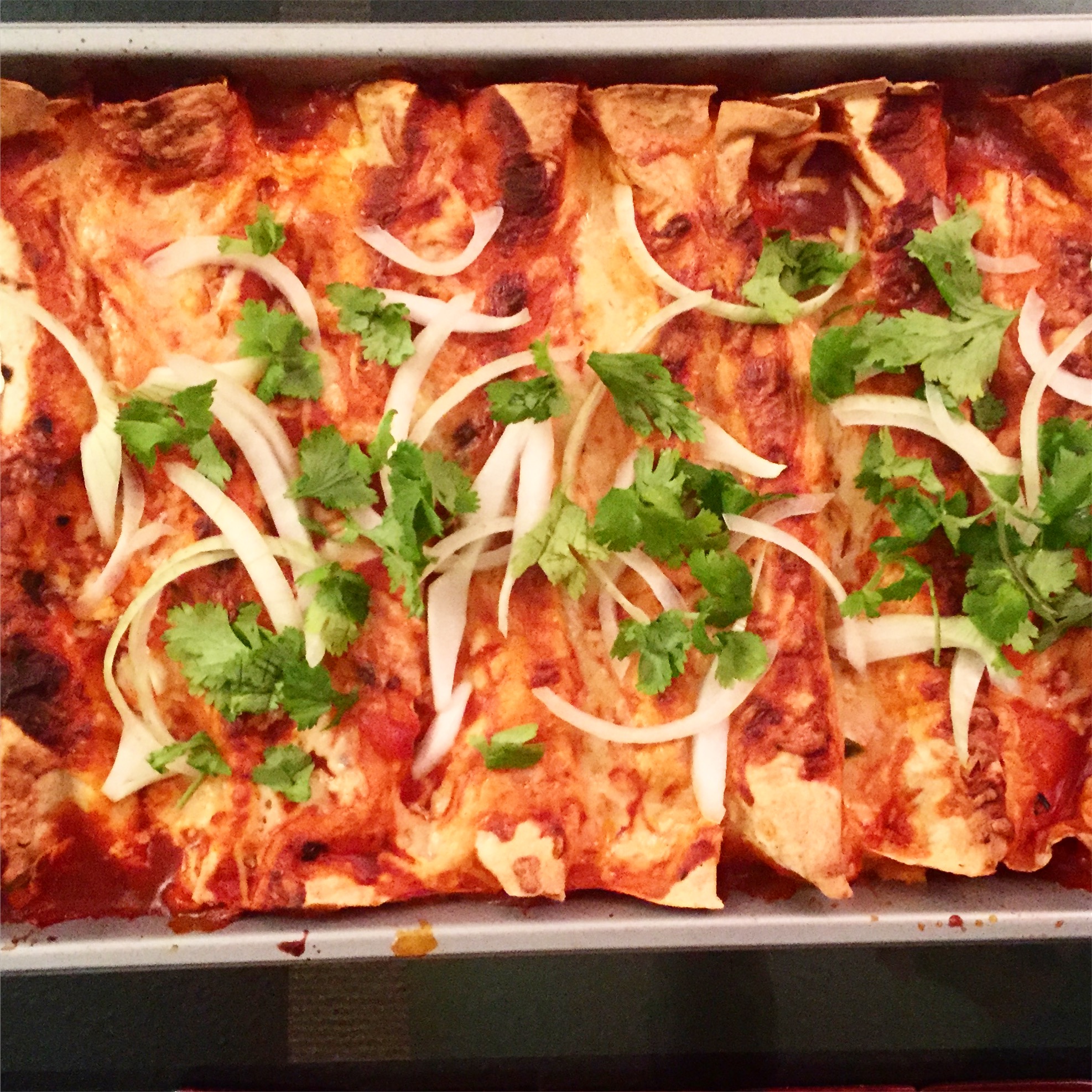 6 Tbs                   extra virgin olive oil
3                           jalapeños, finely chopped
3                          large onions, sliced
2 tsp                    ground cumin
4 cups                  cooked turkey, shredded
4 cups                  grated Monteray Jack cheese
½ tsp                  Kosher salt
½ tsp                  fresh black pepper
2 (14oz) cans         red chili enchilada sauce
16                         corn tortillas, warmed
Fresh cilantro leaves for serving
Preheat oven to 425 degrees F. Heat the oil in a large skillet over medium high. Add the jalapeños, 2/3 of the onions and cumin, cook tossing often until the onion is soft – about 10 minutes. Remove from heat and mix in the turkey, half the cheese and salt and pepper.
Take one cup of the red chili enchilada sauce and coat the bottom of two 9" x 13" baking dishes. Take 1/3 cup of the turkey mixture per tortilla and roll up, placing them seam side down on the baking dish (8 per dish).
Top with the remaining enchilada sauce and cheese. Bake uncovered until the sauce is bubbling and the cheese has melted, 15 to 20 minutes. Serve topped with the remaining onion and cilantro.
These freeze well too.
Toasted Turkey and Blue Cheese on English Muffin
Makes 4 Sandwiches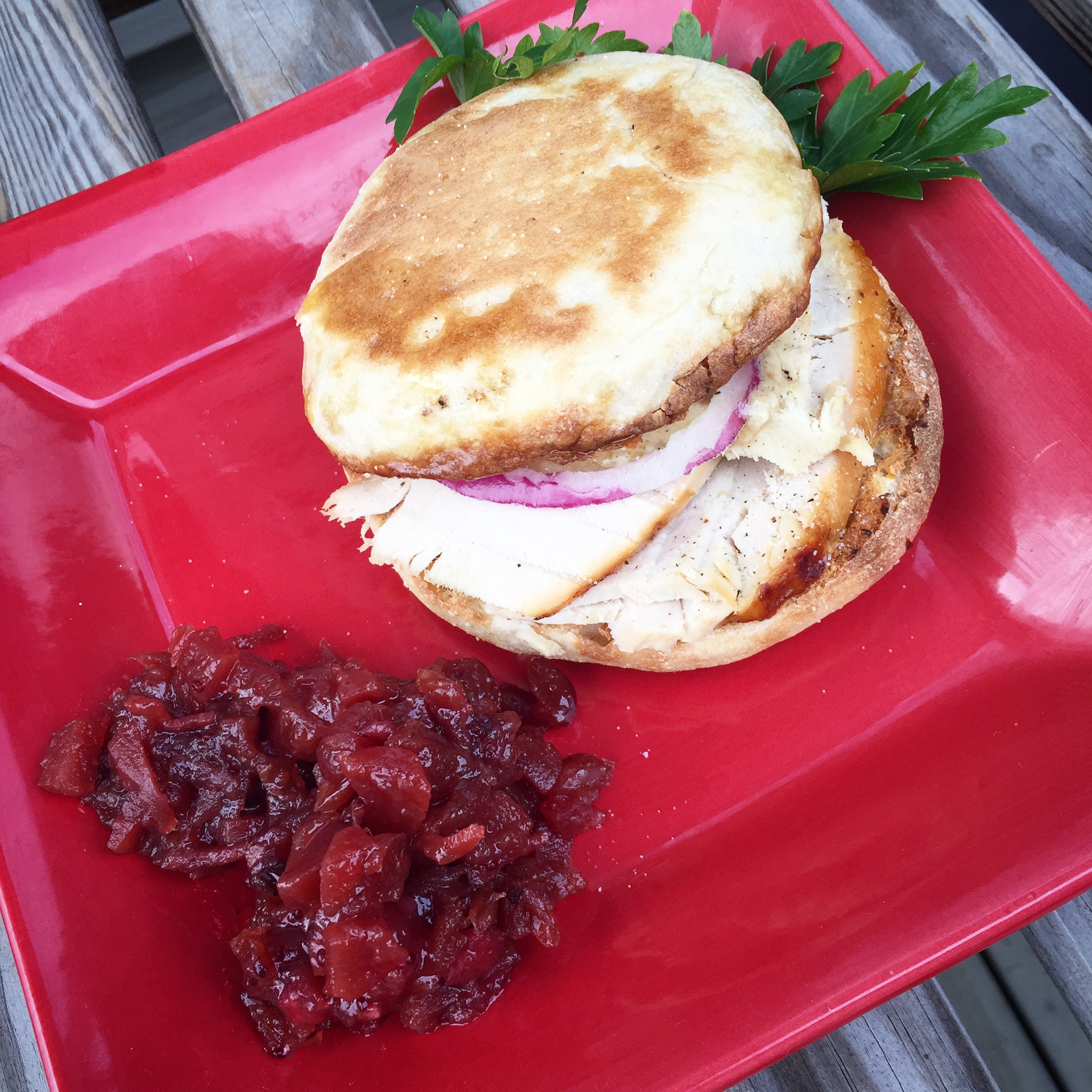 4                           sourdough English muffins, split and toasted
4 tsp                    honey mustard
2 cups                  cooked turkey breast, shredded
¼ cup                  thinly sliced onion
5oz                       Cambozola cheese
¼ tsp                   Kosher salt
¼tsp                    fresh black pepper
leftover cranberry relish
parsley or arugula for garnish
Preheat broiler. Arrange English muffin halves, cut sides up on a baking sheet. Spread honey mustard over four of the halves, top each with ½ cup turkey and ¼ cup of onion. Divide cheese evenly among the remaining four halves. Broil for two minutes or until the cheese melts. Salt and pepper the turkey halves and then top with the cheese muffin half.
Bubble and Squeak
Makes 2 Servings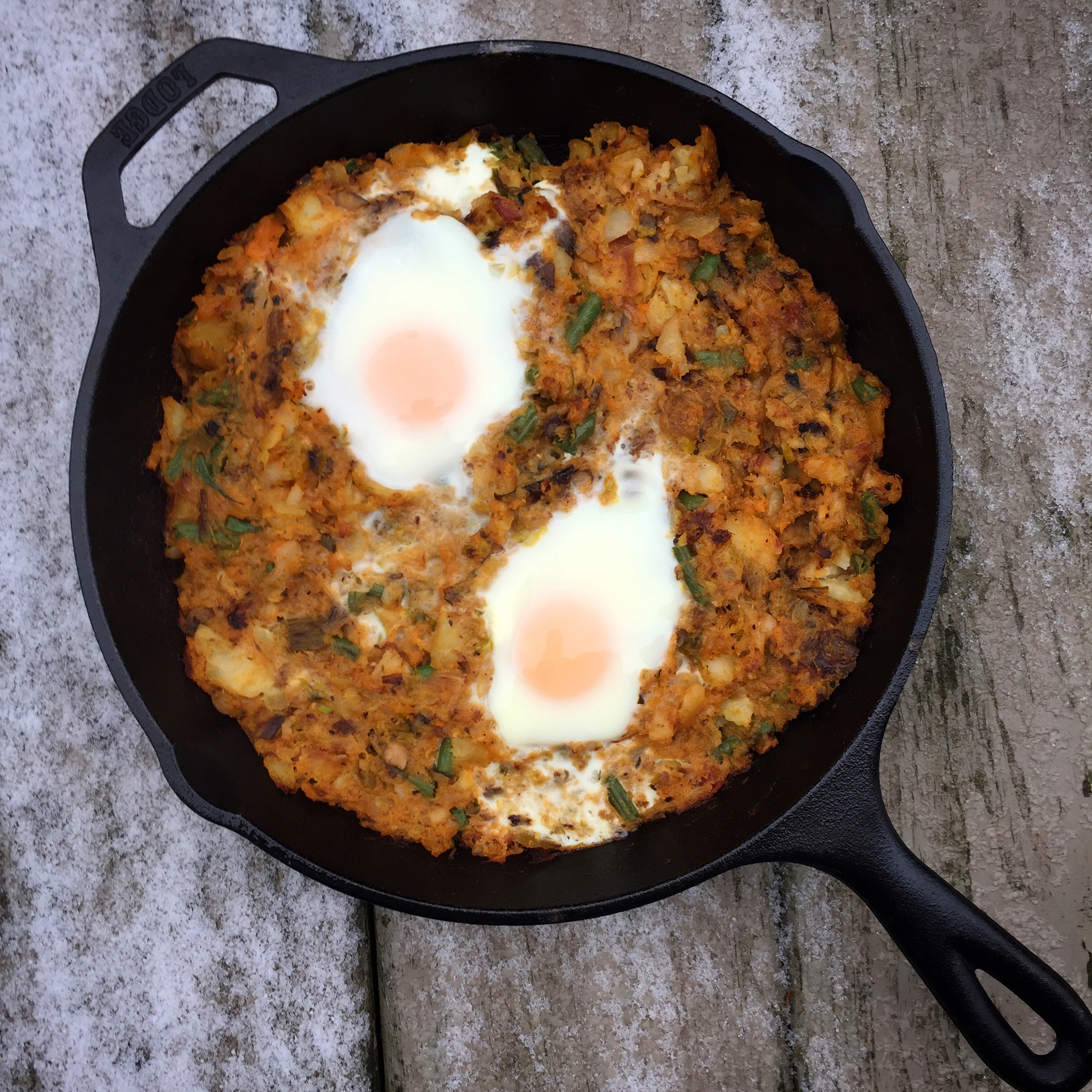 4 cups                 leftover veggies: mashed potatoes, Brussels sprouts, sweet
potato, cabbage (whatever you have), well mixed
1                          small onion, finely sliced
1 Tbs                    butter
2                          eggs (optional)
Melt the butter in a cast iron skillet, allow it to get nice and hot, then add the onion and cook for a minute or two. Next, add mixed veggies, work everything together in the pan and push it down so that the mixture covers the base of the pan – allow the mixture to catch slightly on the base of the pan before turning it over and doing the same again. It's the bits of potato that catch in the pan that define the term 'bubble and squeak', so let the mixture color. You can cut into wedges and serve, or crack two eggs on top of the 'bubble and squeak' and bake in a pre heated 325 degree F oven until the whites are solid. About 15 to 20 minutes.