Justin West, founder of Thrive Lot, is committed to healing our hungry planet by developing sustainable, intentional, and productive garden projects. He has combined technology with agroecology in a one-of-a-kind business model that taps into the power of community expertise. In doing so, he has paved the way for a greener future – not with the obstructive and disruptive nature of asphalt, but with the natural and nutritive properties of soil.
What is Thrive Lot?
Thrive Lot is a tool for people who wish to support biodiversity in their homes and local communities by installing gardens that intentionally and carefully combine specific plants with unique landscape designs. We help develop gardens that combat soil erosion, chemical contamination, landscape degradation, and more. Thrive Lot connects customers to local experts and helps all team members effectively communicate throughout the implementation process.
Where did the idea of Thrive Lot begin?
When I was five years old, I started living on this old Amish farm. I had a huge garden, big fruit trees, and berry bushes, and I did a lot of canning and preserving. When I was 11, I got into 4-H wildlife judging, which involves looking at a property and making management recommendations to improve the wildlife populations. I actually competed nationally at 15 and won the national championship in urban ecological design, but then kind of forgot about it for a decade.
I started a number of businesses in college – e-commerce, sales, and marketing agencies – and was really interested in social enterprise and looking for something that could have as big of an impact as possible.
By 2013 or 2014, I was convinced that we were eating the planet. Obviously, we're choking it with fossil fuels, but people were figuring that out. Tesla was selling the Roadster in 2008, and solar was making a ton of progress. But I recognized that we needed to figure out how to keep feeding our expanding population.
Although I started trying to build an indoor farming business, I realized that tapping into natural ecosystems would better sustain biodiversity long-term. So I dropped that business, and right at that same time, permaculture just smacked me in the face. I met a friend in Spain who had friends that were going off grid with permaculture, and I realized that this is a way we can facilitate natural systems to grow food for life, where we can put less and less in every year and get more and more out. It's regenerating life and habitat.
So then I asked, how do we scale this? I've been obsessed with tech for a long time, and I was living as a digital nomad. Uber was my car and Airbnb was my house. I was running my marketing agency on Upwork, and I was seeing that the fastest, most aggressive change agents in the world are marketplace platforms. And so that set off a five-year journey of trying to figure out how to combine permaculture with a marketplace platform and aggressive business model. Ultimately, that led to Thrive Lot.
3. How do you integrate indigenous and traditional knowledge in a space that often dichotomizes "natural" and "technological" into two separate categories?
We build technology to serve the people that have indigenous knowledge and are skilled in permaculture and regenerative agriculture. I think that there's a lot more to be rediscovered than discovered. For example, the hillside that I live on in Knoxville, Tennessee, has not been managed as a lawn (fortunately), and the hillside is covered in chickweed and purple deadnettle and all of these amazing edible weeds that were cultivated for thousands of years by indigenous people here. A weed is just a plant whose use is not well understood. There's food all around us! But we've been using technology and chemicals and industrialization to eradicate it. What we are doing is finding people that have the knowledge to bring ecosystems back and to bring these perennial native plants back, and we're giving them the technology to be able to go to work and earn money in the modern world.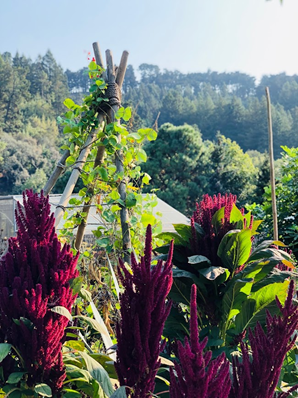 4. Are Thrive Lot projects available throughout the United States?
Right now, we are in 29 markets. That includes a lot of south Florida; New York City; Columbus, Ohio; and Atlanta, Georgia. By this time next year, we should be available nationwide. We are probably going to grow into larger markets first, starting with LA and then Portland, Seattle, and the Bay Area of San Francisco.
5. What determines where you are going to open up your next market?
To date, it's been all about finding and helping Master Growers – people who know how to do it all: agroecology, landscape design, and implementation. Those people are incredibly rare. So we're building a platform that actually brings multiple different skill sets together on a project, and that can happen anywhere. This will allow us to start opening up markets where the people want us to go. There are thousands of people in the U.S. who have experience in building agroecological systems and have kept them alive. They can help us implement our projects anywhere, which is inspiring.
6. What is the size of the typical Thrive Lot project?
To date, we are keeping them big because we are a small business that is starting at the high end of the market in order to grow.
It's like the Tesla strategy, where they sold the Roadster – a tiny little car with several unknowns – at $120,000. But they sold it first to the innovators who really believe in electric cars, and they proved that there was a market. Thus, they could build up the resources and raise more money. So then a decade later, they could sell the Model Y and Model 3 and have a mass-market offering. They also have great financing and can now make it more accessible.
We're following that same strategy. People that want an ecosystem in their yard right now are innovators and leaders. There's a lot of them, and there's just enough that have the money to pay for more expensive projects. So, right now our smallest project is $10,000, and our largest will likely be between $250,000 to $500,000. The average is $30,000. If you were going to get "the full model" with all the bells and whistles (water catchment, a waste digester, a chicken coop, a greenhouse, etc.) on the average quarter-acre lot, it would cost between $70,000 and $90,000.
7. What role do you see communities playing in environmental advocacy work?
Our innovator customers and local agroecologists often already have informal communities, especially on the agriculture side. The customers aren't well connected yet, but they're passionate people. What we hope to do is to connect those communities to really drive impact. I would love to see people band together in their communities and ban certain pesticides, or band together to inform playgrounds and schools about certain types of mulch that have poisonous chemicals that are seeping into groundwater.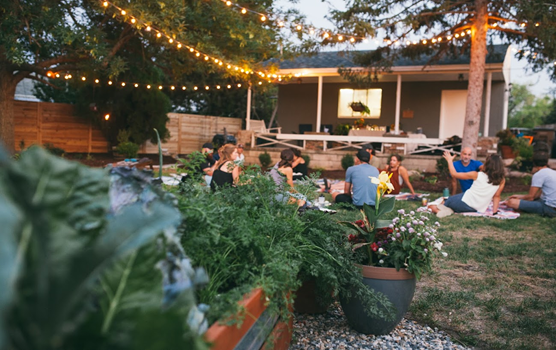 8. How do you integrate community development into your mission as a company?
We run the Thrive Lot Foundation, a nonprofit arm to which we have committed to giving 10% of our profit. The Foundation will help install systems for communities and people that can't afford to purchase them on their own. One of the key things that the foundation will focus on is making sure that every project is supported financially in the long term and that education is available to ensure proper implementation. We've seen a lot of really well-meaning people in permaculture plant fruit trees in communities that are food deserts, but then the people don't have the knowledge or even the utensils to prepare the food, to save the food, or to know that it is good and safe to eat. So we want to make sure that whenever we do roll into community development and into philanthropic work, we are really setting it up for long-term success.
9. You now have quite the team working on Thrive Lot. What have different members brought to the table?
I don't know if we have enough time for them all! Our team really is our biggest asset. Everybody that has come together believes that this is their life's purpose and that this is what they want to see in the world. We are fully remote and completely autonomous. We don't even track time off right now. I just tell people to take a minimum of two weeks off every six months to clear their heads, because that's what I do.
Daniel and Michael Hodge are my Co-Founders. Daniel is a product designer and an architect, and Michael is an engineer. Kathy Butkevich is our COO, with around 35 years of C-suite experience and a past job as a CEO at a public company. She is an incredible collaborative force who brings people together to move forward really complex projects. Ashley is our Community & Foundation Director. She started a food equity nonprofit and is herself a kind of Master Grower. She is extremely knowledgeable when it comes to agroecology. Kevin is our operation wizard. Jill, John, and CJ have been upfront manually managing the platform, representing customers, and helping growers. Then Dustin has touched on everything. I didn't even cover everybody; we have 15 full-time team members right now and a handful of contractors.
10. How do you stay up-to-date with the current science around sustainability?
I've always had a signal versus noise kind of philosophy. I call it a low-information diet. I work really hard on the things for which I believe I can be of service in the world, areas where I believe that I can create a change. And then I absorb information through trends and our team's Slack channel.
People are constantly posting articles and although I don't have time to read most of them, I do see the headlines and I'm incredibly inspired. I see that so much is going in the right direction. But we still have to keep pushing as hard as possible because the clock is ticking.
11. What organizations continue to inspire you and the development of Thrive Lot?
            Most recently, Closed Loop Partners, one of our recent investors, has been inspiring me. They really built an incredible organization focused on the circular economy. They are passionate and knowledgeable about their work, and they go to the next level on everything.
One of my good friends and advisors, Brian von Herzen of the Climate Foundation, is on our advisory board, and he's doing some really cool things in the Philippines and in Australia with permaculture. He is also involved with marine permaculture. I met him through a group called Planet Positive.
United Designers is a permaculture training group. Daniel Halsy is a great guy who built an amazing community and training program for people like Master Growers. We really enjoy working with those folks.
12. Have you learned anything about sustainability or adaptability from the customers with whom you have worked?
Females are driving the regeneration of communities. In fact, our customer base is almost entirely female. The few male customers who do come through often have this mindset of, "Oh, I can do that myself." But this isn't gardening. This is agroecology, infused with years of science that make these systems possible. Not only are the mothers and grandmothers and female leaders in the community driving the regeneration of yards, but they also see the need for it. They recognize the value of ecosystem science.
13. What differentiates agroecology from gardening?
Starting this business, I thought that it would be all about food. I was kind of worried that everybody would want to grow vegetables that they could buy in the store. But that doesn't work. Traditional gardening techniques have the same problem as monoculture: you're carving out an ecosystem, putting in what you think you want, and then having to fight for it because it's unnatural. Nature fills niches, and whenever you plant a bunch of the same foods beside each other, something besides you eats it and multiplies and expands to fill that niche.
I felt that selling biodiversity was going to be a little bit more of a challenge, but it turns out that our customers come to us primarily because they want to nurture biodiversity as well. They care about their carbon footprint. They want to create a habitat for wildlife. Blueberries, herbs, fruits, and vegetables are all kind of a bonus.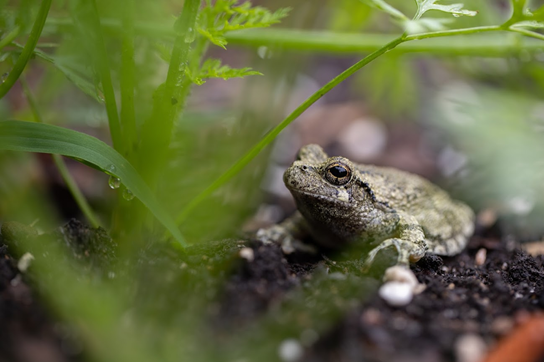 14. What is the importance of food sovereignty?
The skillsets for food sovereignty are really rare right now. We're scaling out ecosystems that, over time, need less while yielding more. The cheaper and more available that kind of ecosystem becomes, the quicker we can have food sovereignty, native food, and abundance everywhere.
I don't think you should have to work to eat in the modern world. In the old world, too, you see indigenous communities thriving because they were facilitating natural systems. One of my favorite examples is the Moroccan Food Forest. We should all be able to ask for everything that we need to live very healthy lives. But it's not built that way right now. So we are disrupting the way food is owned, created, consumed, and thought about.
15. What does the process look like for implementing a project?
Via marketing sales and technology, Thrive Lot holds the space for local experts to come to a customer's property and develop their land. We prefer to have in-person initial site assessments, where agroecologists can examine the species within the land and notice details like sunlight angles and soil health. These visits really inspire our customers. We also collaborate with customers to build their visions and determine what is feasible. We have a spatial site assessment tool where information is stored, and through this, we can facilitate a digital conversation. Then the design evolves and eventually turns into an installation.
It should take no more than a month to get your design. Then you can expect the first phase of installation within three to six months. Right now, the entire process from start to finish tends to take six to nine months. We want to make that a little bit faster, but there are always going to be seasonal considerations, such as when to plant annuals and trees.
16. Do you have a favorite project?
We have a project at the Museum of Discovery and Science in Fort Lauderdale that we funded ourselves in partnership with the museum. I am incredibly excited for it to open because they are the first science museum that is putting in a food resilience exhibit. They are spending about $4 million on the exhibit, and it is going to open up into a forest garden that we have installed.
The National Science Foundation, the governor, Congresspeople, and the CEO of the museum, Joe Cox, are all involved. We hope that this installation turns into installations at museums all over the world and starts to educate children (and by default, their families) on agroecology, food sovereignty, and what is possible.
17. What has been the most challenging aspect of project implementation?
Initially, we worked with people who primarily only had the agroecology skillset. They didn't have design skills, business implementation skills, or landscaping skills. It was really hard for them, for us, and for the customer. We've learned that there are all these amazing soil and plant nerds who just love working with natural systems. But to really connect with customers, there needs to be someone who can really communicate the strategies of the organization. The person who has all of that ecological knowledge doesn't need to be buying bulldozers, hiring labor, organizing spreadsheets, or sending invoices. They need to be working with nature because their skills are rare. There are a lot of other companies that are great with trucks and labor and moving mulch and all of the other things that come with the install phase.
Our first few projects were really tough, but we have long evolved into our mission of bringing together agroecologists with people who have the tools to build gardens and ecosystems in every yard. We've got 40 million acres of yards that are mostly poisoned and mowed and destroyed. It's a big opportunity to heal.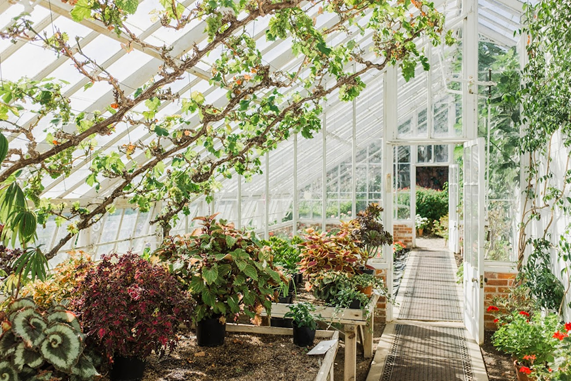 18. How has the pandemic impacted the future plans and operations of the company?
I see that things have the potential to get really bad, but I do think that we have the ability to change and adapt. It was not really surprising that a global disaster occurred, and although I have a lot of friends who had family members die, I also know that it could have been a lot worse. I think that COVID woke a lot of people up to the fact that our modern systems are fragile. They extract, they push people out, and they are invisible. I think that the future certainly holds a lot more bad headlines and a lot more tough events that we are going to have to go through.
The worse it gets, the more people are going to wake up to the fact that they can have food all around them in their community. They will realize that there are native perennial, edible species. We have the resources to heal what's around us and facilitate life around us and have that life take care of us. I think COVID was, in a way, positive for our business in that it did help more people in the general public realize that.