On paper, vegetables are pretty much the superheroes of the culinary world. Packed with nutrients, vitamins and minerals, the list of health benefits that come with a bowl full of veggies is pretty much never ending. And while vegetables are usually a staple in adult diets and recipes, it can take a little more convincing when it comes to our little ones.
Because kids are often reluctant to trying new things, especially food-wise and especially vegetable- wise, we've gathered a few of our favorite veggie filled dinners from fellow bloggers that your kids will surely love.
Roasted Cauliflower and Lentil Tacos with Creamy Chipotle Sauce—Cookie and Kate
Ingredients: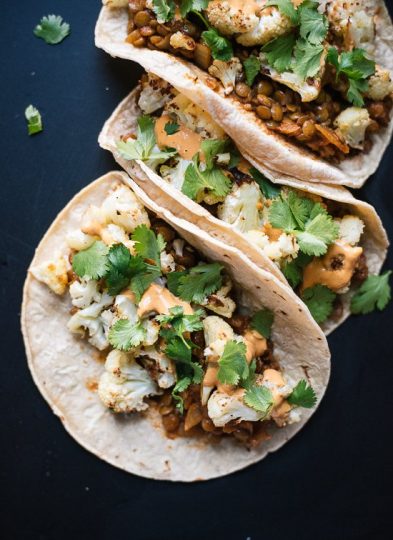 Cauliflower
1 large head of cauliflower, sliced into bite-sized florets
2 to 3 tablespoons olive oil
Salt and freshly ground black pepper
Seasoned lentils
1 tablespoon olive oil
1 cup chopped yellow or white onion
2 large garlic cloves, pressed or minced
2 tablespoons tomato paste
½ teaspoon ground cumin
½ teaspoon chili powder
¾ cup brown lentils, picked over for debris and rinsed
2 cups vegetable broth or water
Chipotle sauce
⅓ cup mayonnaise
2 tablespoons lime juice
2 to 3 tablespoons adobo sauce (from a can of chipotle peppers) or chipotle hot sauce to taste
Salt and freshly ground black pepper, to taste
To roast the cauliflower: Preheat oven to 425 degrees Fahrenheit. Toss cauliflower florets with enough olive oil to cover them in a light, even layer of oil. Season with salt and pepper and arrange the florets in a single layer on a large, rimmed baking sheet. Roast for 30 to 35 minutes, tossing halfway, until the florets are deeply golden on the edges.
Warm the olive oil in a medium-sized pot over medium heat. Sauté the onion and garlic with a dash of salt for about 5 minutes, until the onions are softened and turning translucent. Add the tomato paste, cumin and chili powder and sauté for another minute, stirring constantly. Add the lentils and the vegetable broth or water. Raise heat and bring the mixture to a gentle simmer. Cook, uncovered, for 20 minutes to 45 minutes, until the lentils are tender and cooked through. Reduce heat as necessary to maintain a gentle simmer, and add more broth or water if the liquid evaporates before the lentils are done. Once the lentils are done cooking, drain off any excess liquid, then cover and set aside.
To prepare the chipotle sauce, just whisk together the ingredients and set aside (if you have no choice but to use whole chipotle peppers from the can, use a blender to purée it all).
Warm tortillas individually in a pan over medium heat. Stack the warm tortillas and cover them with a tea towel if you won't be serving the tacos immediately.
Once all of your components are ready, you can assemble your tacos! Top each tortilla with the lentil mixture, cauliflower, a drizzle of chipotle sauce and a generous sprinkle of chopped cilantro.
Easy Grillable Veggie Burgers—Minimalist Baker
Ingredients
1 cup (155 g) cooked brown rice*
1 cup (120 g) raw walnuts (or sub bread crumbs)
1/2 Tbsp grape seed or avocado oil, plus more for cooking
1/2 white onion (~55 g | 3/4 cup), finely diced
1 Tbsp (~8 g) each chili powder, cumin powder, and smoked paprika
1/2 tsp each sea salt and black pepper, plus more for coating burgers
1 Tbsp (12 g) coconut sugar (or sub organic brown or muscovado sugar)
1 1/2 cups (227 g) cooked black beans*, well rinsed, drained and patted dry
1/3 cup (22 g) panko bread crumbs (if gluten-free, use gluten-free bread crumbs)
3-4 Tbsp (51-68 g) vegan BBQ sauce
Instructions
If your brown rice isn't cooked yet, start there by following this method for the best results. Otherwise, move onto the next step.
Heat skillet over medium heat. Once hot, add raw walnuts and toast for 5-7 minutes, stirring frequently, until fragrant and golden brown. Let cool and move onto the next step.
In the meantime, heat the same skillet over medium heat. Once hot, add 1/2 Tbsp oil and onion. Season with a bit of salt and pepper and sauté for 3-4 minutes, or until onion is fragrant, soft, and translucent. Remove from heat and set aside.
Once walnuts are cooled, add to blender or food processor with chili powder, cumin, smoked paprika, salt, pepper and coconut sugar and blend until a fine meal (see photo) is achieved. Set aside.
To a large mixing bowl, add drained, dried black beans and mash well with a fork, leaving only a few whole beans (see photo).
Next add cooked rice, spice-walnut mixture, sautéed onion, panko bread crumbs, BBQ sauce, and mix thoroughly with a wooden spoon for 1-2 minutes, or until a moldable dough forms. If dry, add extra 1-2 Tbsp BBQ sauce. If too wet, add more panko bread crumbs. Taste and adjust seasonings as needed.
For larger burgers, divide into 5 patties (1/2 cup in size), or form 10 smaller burgers (1/4 cup in size). To help form the patties, line your 1/2 or 1/4 measuring cup with plastic wrap and pack with burger mixture. Press down to pack firmly, then lift out by the plastic wrap's edge, and slightly flatten with hands to form a 3/4-inch thick patty. Set on a baking sheet or plate for grilling.
If grilling, heat the grill at this time and brush the grill surface with oil to ease cooking. Otherwise, heat the same skillet you used earlier to medium heat.
Once skillet is hot, add just enough oil to lightly coat the bottom of your skillet, then add your burgers – only as as many as will comfortably fit in the pan. Otherwise, add burgers to the grill and close lid.
Cook for 3-4 minutes or until well browned on the underside, then flip gently. They aren't as firm as meat burgers, but will definitely hold their shape. Reduce heat if cooking/browning too quickly. Cook for 3-4 minutes on other side.
Remove burgers from heat to let cool slightly, and prepare any other toppings/sides at this time (such as grilling/toasting your buns).
Serve burgers as is, or on toasted buns with desired toppings. Leftovers keep in the refrigerator for 2-3 days. See notes for freezing/reheating instructions.
Vegetable Stir-Fry with Noodles—Budget Bytes
Ingredients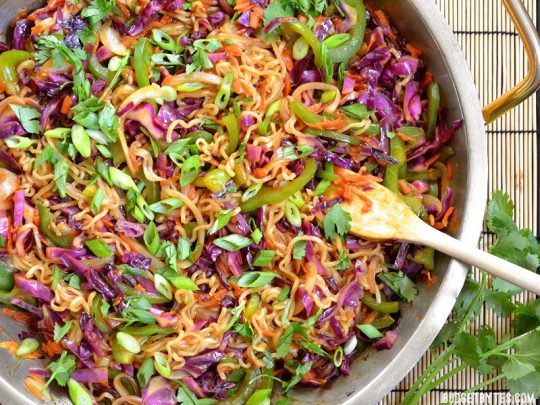 1/2

 

head

 

purple cabbage

2

 

green bell peppers

2

 

carrots

1

 

yellow onion

2 -3 oz

 

bricks

 

ramen noodles

1/4

 

cup

 

soy sauce

3

 

Tbsp

 

brown sugar

2

 

Tbsp

 Sriracha or less

1

 

Tbsp

 

cornstarch

3

 

green onions, sliced

handful

 

cilantro (optional)
Instructions
Remove the core and any wilted outer leaves from the cabbage, then cut it into very fine strips. Cut the onion and green bell pepper into thin strips as well. Use a large holed cheese grater to shred the carrots.

In a small bowl prepare the sauce by stirring together the soy sauce, brown sugar, 

sriracha

, and corn starch.

Begin to cook the noodles according to the package directions (boil for 3 minutes, or until tender). Drain the cooked noodles in a colander.

Heat the vegetable oil over medium high heat in a large skillet until it is hot and shimmering. Add the vegetables and sauté for only a few minutes, or until the vegetables just begin to soften. Pour the prepared sauce into the skillet and continue to sauté for one to two minutes more, or until the sauce has thickened and coated all of the vegetables. Turn off the heat.

Add the cooked and drained noodles to the stir fried vegetables and toss to combine. Top with sliced green onions and a handful of fresh cilantro, if desired.
Spaghetti Squash Lasagna Bake—Minimalist Baker
Ingredients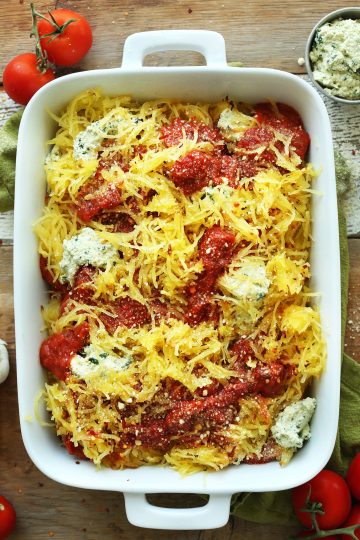 SQUASH
2 large spaghetti squash (~3-4 pounds each)
TOFU FILLING
3-4 Tbsp (45-60 ml) extra virgin olive oil, plus more for squash
Sea salt + black pepper, to taste (~1/2 tsp each), plus more for squash
2 lemons, juiced (~1/3 cup or 80 ml)
12 ounces (340 g) extra-firm tofu, drained and pressed dry for 10 minutes
3 Tbsp (9 g) nutritional yeast
1/2 cup (30 g) fresh basil, packed
1 Tbsp (3 g) dried oregano
1/4 cup vegan parmesan cheese, plus more for serving
Instructions
Preheat oven to 400 degrees F (204 C) and line a large baking sheet with foil.
Carefully halve your spaghetti squash lengthwise using a sharp knife. I find the best way is to pierce the skin with the very tip of the knife and push it all the way through to the other side. Rock the knife back and forth to cut one half all the way through, then repeat on the other side.
Use an ice cream scoop (or sharp spoon) to scrape out the seeds and most of the stringy parts. It should appear pretty clean.
Brush the interior with oil and sprinkle with a little salt and pepper. Place cut-side down on baking sheet. Roast for 45 minutes, or until a knife easily pierces the skin and flesh. Remove from oven and set aside to cool slightly. Also reduce oven heat to 375 degrees F (190 C).
In the meantime, add all tofu filling ingredients to a food processor or blender and pulse to combine, scraping down sides as needed. You are looking for a semi-pureed mixture with bits of basil still intact.
Taste and adjust seasonings as needed, adding more salt and pepper for flavor, nutritional yeast for cheesiness, and lemon juice for brightness.
Once fully baked and slightly cooled, use a fork to scoop out spaghetti squash into fine strings. Set aside.
Lightly grease a 9×13-inch (or similar size) baking dish and lay down 1/3 of the squash. Top with several spoonfuls of tofu ricotta, then pour on a layer of marinara sauce. Repeat until all ricotta filling and marinara is used up – about 3 layers. Make sure the top layer is sauce.
Loosely cover the dish with foil and bake for 20 minutes at 375 degrees F (190 C). Then remove foil and bake for an additional 10-15 minutes, or until the sauce is bubbly and the top is golden brown. Cover with foil if the squash is browning too quickly.
Let cool briefly, then serve with desired toppings (listed above). I prefer red pepper flakes and vegan parmesan cheese. Fresh basil adds a nice pop of color.
Best when fresh. Store leftovers covered in the refrigerator for 2-3 days. Reheat in a 350-degree F (176 C) oven for 20-25 minutes or until completely warmed through.
Quinoa Enchilada Casserole – Damn Delicious
Ingredients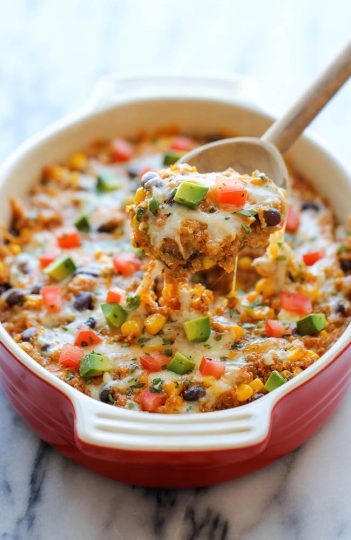 1 cup quinoa
1 (10-ounce) can Old El Paso™ mild enchilada sauce
1 (4.5-ounce) can Old El Paso™ chopped green chiles, drained
1/2 cup corn kernels, frozen, canned or roasted
1/2 cup canned black beans, drained and rinsed
2 tablespoons chopped fresh cilantro leaves
1/2 teaspoon cumin
1/2 teaspoon chili powder
Kosher salt and freshly ground black pepper, to taste
3/4 cup shredded cheddar cheese, divided
3/4 cup shredded mozzarella cheese, divided
1 avocado, halved, seeded, peeled and diced
1 Roma tomato, diced
Instructions
In a large saucepan of 2 cups water, cook quinoa according to package instructions; set aside.
Preheat oven to 375 degrees F. Lightly oil an 8×8 or 2 quart baking dish or coat with nonstick spray.
In a large bowl, combine quinoa, enchilada sauce, green chiles, corn, black beans, cilantro, cumin and chili powder; season with salt and pepper, to taste. Stir in 1/2 cup cheddar cheese and 1/2 cup mozzarella cheese.
Spread quinoa mixture into the prepared baking dish. Top with remaining cheeses. Place into oven and bake until bubbly and cheeses have melted, about 15 minutes.
Serve immediately, garnished with avocado and tomato, if desired.