Everyone has their favorite celebration foods for July 4th, but with a few simple twists, you can lighten up the ingredients and still enjoy every single bite. Salads always seem like the healthier option, but there can be a lot of extra calories hidden among the innocent produce! So don't compromise on flavor, just use a few tricks and maybe these recipes will become your new traditional favs!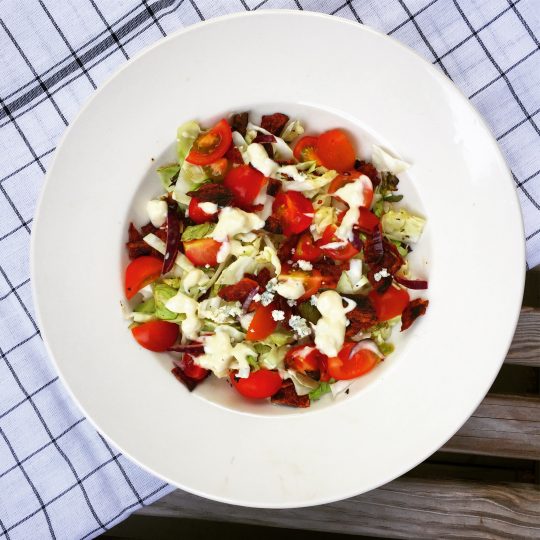 Grilled Wedge – Salad Slaw
The best of both world's…two classics rolled into one! The toppings from a wedge salad adding to a coleslaw with a smoky char on the cabbage!
Makes 6 servings
6 slices of turkey bacon
1 green cabbage (about 2 lb) cut into 8 wedges
1 pint halved cherry tomatoes
2 scallions thinly sliced
2oz blue cheese crumbled
¼ cup olive oil mayonnaise
¼ cup olive oil
2 Tbs rice wine vinegar
½ tsp fresh black pepper
¼ tsp kosher salt
Cooking spray
Cook bacon in a skillet over a low heat, be careful not to burn. Pat dry and let sit so it becomes really crispy – break into pieces.
Preheat grill to medium-high (about 450 degrees). Spray cut sides of cabbage with cooking spray. Grill, uncovered, until charred and tender, 2-3 minutes per side. Transfer to a cutting board and coarsely chop. Transfer to a large bowl and add bacon, tomatoes, and scallions. Stir together blue cheese, mayonnaise, oil, vinegar, salt and pepper in a small bowl. Mix well and drizzle over cabbage mixture. Serve immediately.
Corn and Tomato Salad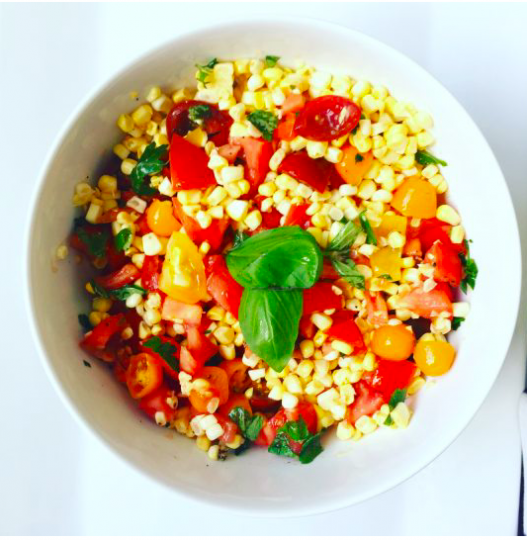 So simple, and so delicious!
Makes 6 servings
1 large heirloom tomato, cut into ½" dice
1 cup halved cherry tomatoes – mixed colors look great
½ tsp kosher salt
⅓cup extra virgin olive oil
1 Tbs fresh, chopped parsley
3 Tbs red wine vinegar
1 Tbs grainy Dijon mustard
1 Tbs low sodium soy sauce
1 Tbs white miso
1 medium shallot, minced
3 cups fresh yellow and white corn kernels
12  fresh torn basil leaves
2-3 fresh basil leaves for serving
Place tomatoes in a large bowl. Sprinkle with salt and let stand for 30 minutes. This brings out the juices and they will meld with the dressing.
Combine the oil and next six ingredients (through shallots) in a screw-top jar and shake well until blended.
Add vinaigrette, corn, and basil to the tomatoes, gently combine and top off with fresh basil leaves!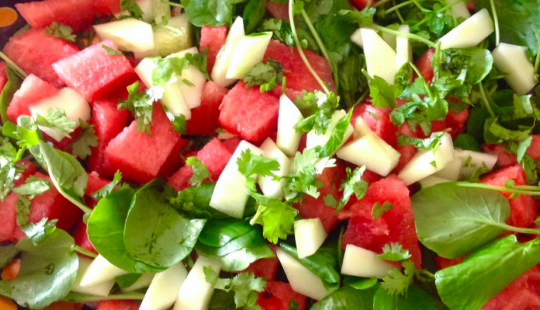 Watermelon Salad
You can easily adapt this very simple recipe to add toppings and herbs of your choice. We especially like feta cheese and almonds, but basil and shaved Parmesan work well too!
Makes 8 -10 servings
For the salad:
1 5-pound watermelon, cut into bite-sized chunks
6 cups fresh spinach or arugula
2 cucumbers peeled, seeded and cubed
2 Tbs chopped fresh cilantro
Topping Optional:
⅔cup feta cheese, crumbled
½ cup slivered almonds

For the dressing:
2 Tbs balsamic vinegar
2 Tbs red wine vinegar¼ cup EVOO (Extra Virgin Olive Oil)
Salt and pepper
In a small bowl, combine the vinegar, salt, pepper, and whisk until salt is dissolved. Slowly whisk in the olive oil, a few drops at a time and adjust seasoning. In a large bowl, combine the melon, arugula/spinach, cucumber, and cilantro. Pour the dressing over the melon mixture and toss gently until everything is coated and evenly mixed.
To serve, divide salad among individual plates and if desired, garnish with slivered almonds and feta cheese.