I love this soup any time of year. I have frozen it (without the asparagus tips for garnish) and heated it in cooler months. It still tastes wonderful, but to me chilled is the very best way of enjoying asparagus.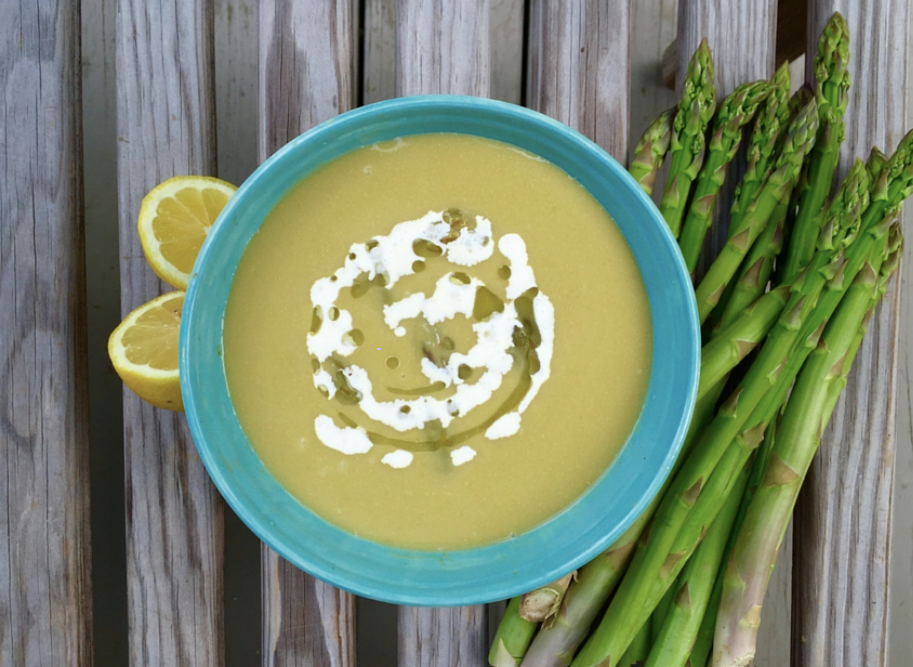 Serves 6-8:
4 cup                       onions chopped
1 stick butter
64 fl.oz                    chicken stock (or vegetable stock )
2 lbs                        asparagus
1/2 cup heavy cream for serving (optional)
1 tsp                        lemon oil for serving (optional)
salt and pepper to taste
Melt butter in large pot and simmer onions until soft and golden—about 25 minutes, stir often. Add chicken stock and bring to the boil. Trim the tips from the asparagus and reserve, chop the asparagus into ½" pieces and add to the pot. Cover and simmer for 45 minutes. Cool then puree in a blender working in batches. Return to the pot and add asparagus spears and simmer 5-10 minutes till tender. Add salt and pepper and it's ready to serve hot.
If serving chilled, let the soup cool and then refrigerate for at least 2-3 hours before serving. I like to put the soup into the individual serving bowls and swirl in the cream then drizzle with lemon oil. Homemade croutons and chopped lemon balm on-the-side are a great addition.