Beets, which are actually beetroots, a humble root vegetable, are very good for your health. Rich in antioxidants, they help prevent cancer and fight inflammation. Beets are rich in essential vitamins and minerals such as vitamin C, iron, and magnesium. They also boost liver and heart health. Apart from the beetroot, beet greens are also very healthy.
Many people say they don't like beets, I say you haven't really tried them! Commonly served pickled, the poor beet often gets a bad rap. I actually like pickled beets, but I like them served many other ways too! Here are a couple of my favorites…try them, you'll never bash beets again!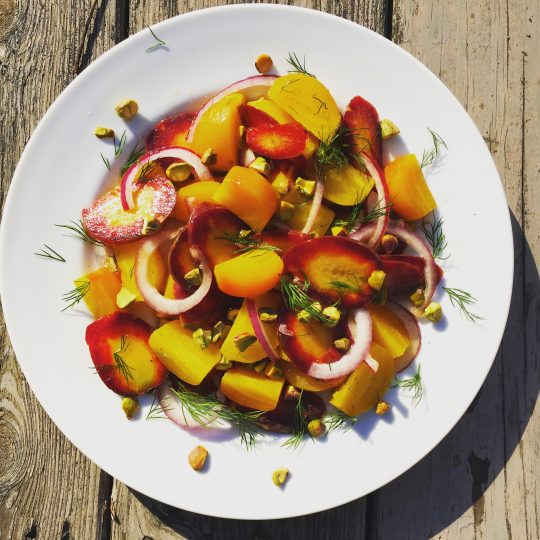 Yellow Beet, Purple Carrot, and Pistachio Salad
Makes 6 servings
2 lb                  golden beets (6-8 small ones)
½ cup             thinly sliced red onion
2                      purple carrots, thinly sliced, diagonally
¼ cup             roasted, unsalted pistachios, chopped
2 Tbs               coarsely chopped fresh dill
3 Tbs               fresh orange juice
2 Tbs               EVOO (Extra Virgin Olive Oil)
1 Tbs               white wine vinegar
½ tsp               black pepper
¼ tsp               kosher salt
Preheat over to 400 degrees. Wrap beets in foil and bake for an hour, until tender. Cool, peel and cut into wedges. Combine beets, red onion, carrots, 2 tablespoons pistachios, and 1½ tablespoons of dill in a bowl. Combine orange juice, oil, vinegar, pepper, and salt in a small bowl, stirring with a whisk until smooth. Add juice mixture to the beet mixture, toss gently to coat. Put on a serving platter and sprinkle with remaining pistachios and dill.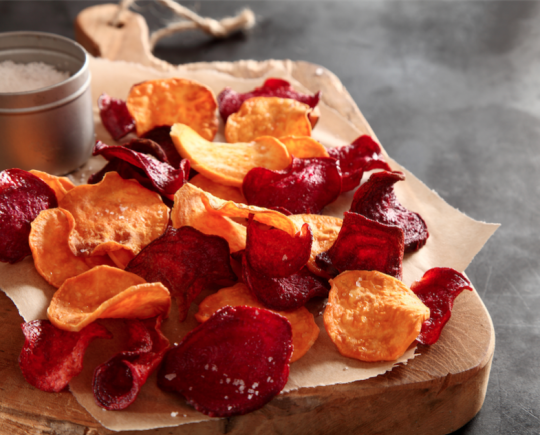 Beet Chips
Makes 6 servings
12                    beets (red, golden or mixed)
½ cup             EVOO (Extra Virgin Olive Oil)
2 tsp                sea salt
Preheat the oven to 300 degrees, line several baking sheets with parchment paper. Scrub the beets well and cut off the tops. Use a mandolin slicer to slice the beets paper thin (1/16 inch). There is no need to peel them when they are this thin. If using red and golden beets, put in a separate bowl, divide the oil and salt evenly and toss well. Let the beets sit for 15-20 minutes to release their natural juices. Toss the beets again, then drain off the liquid and pat dry, Lay the slices in a single layer on the prepared baking sheets. Bake for 45 minutes until crisp but not brown. If they need more time check regularly so they don't burn.
Remove from the oven and allow to cool. If you don't eat the whole lot in one go, store in an airtight container!