It's that time of year again! Eating outside, picnics, time for enjoying all the wonderful fresh, healthy produce, and what better than raw salads for your next picnic.
These two recipes are a snap to prepare and make great summer eating. Both vegetarian.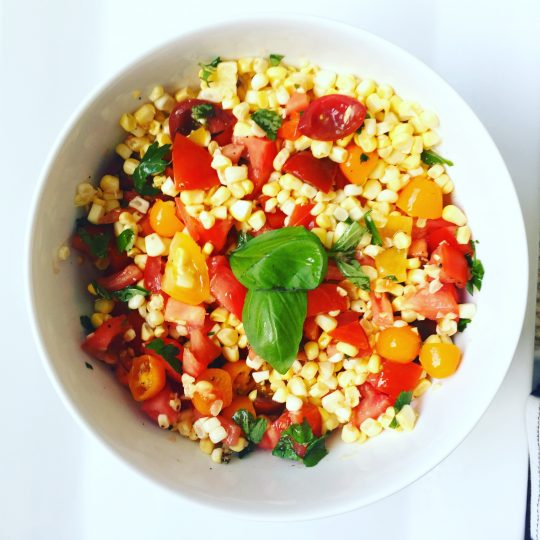 Corn and Tomato Salad
So simple, and so delicious!
Makes 6 servings
1 large heirloom tomato, cut into ½" dice
1 cup halved cherry tomatoes – mixed colors look great
½ tsp kosher salt
⅓ cup extra virgin olive oil
1 Tbs fresh, chopped parsley
3 Tbs red wine vinegar
1 Tbs grainy Dijon mustard
1 Tbs low sodium soy sauce
1 Tbs white miso
1 medium shallot, minced
3 cups fresh yellow and white corn kernels
12 fresh torn basil leaves
2-3 fresh basil leaves for serving
Place tomatoes in a large bowl. Sprinkle with salt and let stand for 30 minutes. This brings out the juices and they will meld with the dressing.
Combine the oil and next six ingredients (through shallots) in a screw top jar and shake well until blended.
Add vinaigrette, corn and basil to the tomatoes, gently combine and top off with fresh basil leaves!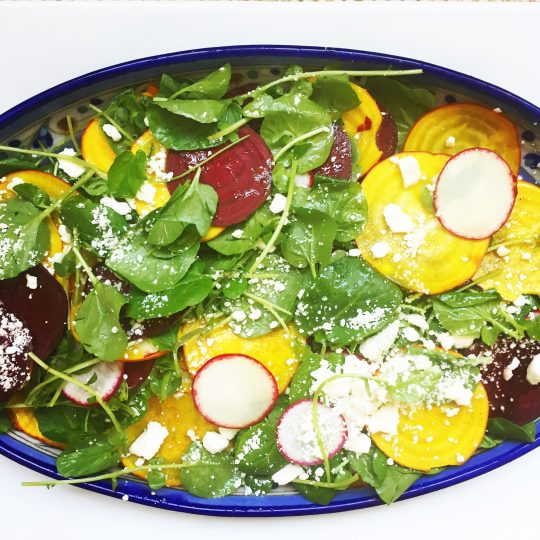 Raw Beet and Radish Salad
Beets, never tasted so good
Makes 6 servings
¼ cup apple cider vinegar
1 Tbs honey
2 Tbs extra virgin olive oil
½ tsp sea salt
½ tsp fresh black pepper
2 bunches beets (red and golden) – thinly sliced on a mandolin
1 bunch radishes, thinly sliced on a mandolin
3 cups watercress
1 cup crumbled feta cheese
Place the first five ingredients in a screw top jar and shake well until combined. Place the sliced beets, radishes and watercress in a large bowl, add the dressing and toss, Top with the feta cheese and it's ready to go
Both these salads hold up really well and stay crisp and crunchy for hours!