The Fall season is the best time to truly enjoy food and relish in the autumnal flavors that surround us, am I right? From pumpkin pies to apple crumble to a gloriously warm and comforting mug of hot chocolate and marshmallows, there are few things more comforting than cozying up with some of our favorite desserts in these cooler months. And while we are all for treating ourselves now and then, it's also important to try and remember that junk food is still junk food and dessert is still dessert. With that being said, there's no need to compromise anymore!
Today we have gathered a few of our favorite Fall desserts that won't have us feeling guilty after gorging. It's amazing how a few ingredient swaps can change an indulgence into a sweet and healthy treat.
From Cookie and Kate, here we have a delicious Pumpkin Bread that, amazingly, is naturally sweetened and made with whole wheat flour!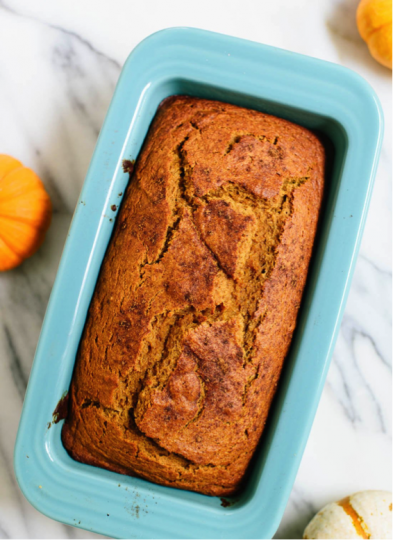 Ingredients:
• ⅓ cup melted coconut oil or extra-virgin olive oil*
• ½ cup honey or maple syrup
• 2 eggs
• 1 cup pumpkin purée
• ¼ cup milk of choice or water
• 1 ½ teaspoons pumpkin spice blend (or ½ teaspoon cinnamon, ½ teaspoon ground ginger, ¼ teaspoon ground nutmeg, and ¼ teaspoon allspice or cloves)
• 1 teaspoon baking soda
• 1 teaspoon vanilla extract
• ½ teaspoon salt
• 1 ¾ cups white whole wheat flour or regular whole wheat flour
• Totally optional: ½ cup mix-ins like chopped walnuts or pecans, chocolate chips, raisins, chopped dried fruit…
• Pinch of ground cinnamon, for sprinkling on top
Instructions:
1. Preheat oven to 325 degrees Fahrenheit (165 degrees Celsius) and grease a 9×5-inch loaf pan.
2. In a large bowl, beat the oil and honey together with a whisk. Add the eggs and whisk until blended. (If your coconut oil solidifies on contact with cold ingredients, simply let the bowl rest in a warm place for a few minutes, like on top of your stove, or warm it for about 10 seconds in the microwave.)
3. Add the pumpkin purée, milk, pumpkin spice, baking soda, vanilla and salt, and whisk to blend. Lastly, switch to a big spoon and stir in the flour, just until combined. Some lumps are ok! If you're adding any additional mix-ins, gently fold them in now.
4. Pour the batter into your greased loaf pan and sprinkle lightly with cinnamon. If you'd like a pretty swirled effect, run the tip of a knife across the batter in a zig-zag pattern.
5. Bake for 55 to 60 minutes, or until a toothpick inserted into the center comes out clean (typically, if I haven't added any mix-ins, my bread is done at 55 minutes; if I have added mix-ins, it needs closer to 60 minutes). Let the bread cool in the loaf pan for 10 minutes, then transfer it to a wire rack to cool for 20 minutes before slicing.
If you aren't a Pumpkin kinda person, try warming up with this delicious (and healthy!) hot chocolate from Detoxinista. Dairy-free with raw cacao powder, this is one sweet drink that will leave you satisfied.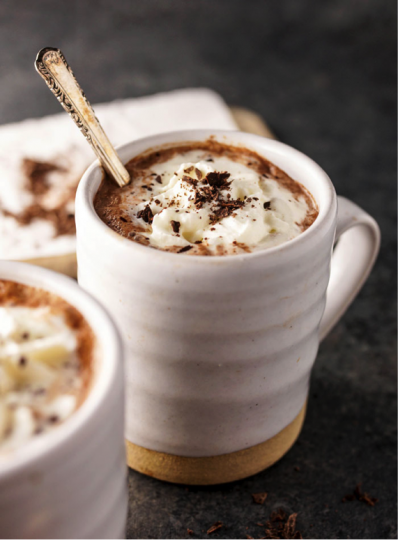 Ingredients:
1 cup almond milk(store-bought or homemade)
1 tablespoon raw cacao powder
1 Tablespoon pure maple syrup
1/4 teaspoon vanilla extract
Pinch of sea salt
Instructions:
Combine all the ingredients in a saucepan over high heat, using a whisk to break up any clumps. Keep stirring until smooth and piping hot, then pour into a mug and serve warm.
Top with dairy-free whipped cream and shaved chocolate, if desired.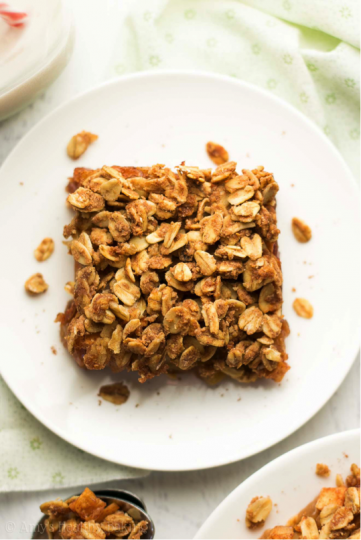 There's nothing quite like the warm and cozy flavors of apple and cinnamon on a crisp fall day. That's why this Healthy Apple Crumble from Amy's Healthy Baking is one of our go-to's!
Ingredients:
for the streusel
¾ cup (75g) old-fashioned oats (gluten-free if necessary and measured like this)
¼ cup (30g) whole wheat flour or millet* flour(measured like this)
1 tsp ground cinnamon
2 tbsp (30mL) pure maple syrup, room temperature
1 ½ tbsp (21g) unsalted butter, melted
for the filling
6 cups (767g) diced red apple
2 tbsp (16g) cornstarch
1 ½ tsp ground cinnamon
⅛ tsp ground nutmeg
Instructions:
Preheat the oven to 350°F, and coat an 8"-square pan with nonstick cooking spray.
To prepare the streusel topping, whisk together the oats, flour, and cinnamon in a small bowl. Make a well in the center. Pour in the maple syrup and melted butter. Stir until fully incorporated.
To prepare the filling, toss the apples with the cornstarch, cinnamon, and nutmeg in a large bowl until completely coated.
Transfer the filling to the prepared pan, and gently press down with a spatula. Sprinkle evenly with the topping. (The topping tends to clump, so try to break it up into fairly small pieces.) Bake at 350°F for 50-60 minutes or until the apples are fork tender. Cool completely to room temperature; then refrigerate for at least 3 hours before serving to allow the juices to fully thicken.