Here at eco18, we work to be the most conscious consumers possible. More often than not, consumers give little to no thought about the brand behind the product, or the morals behind the brand.
And when it comes to water bottles, to us it only makes sense to support brands that recognize where their business comes from and works hard to give back. Today we're going to be taking a look at one of our favorite water bottle companies and the story behind them: Polar Bottle.
Founded in 1994 by Robert Heiberger and Judy Amabile, Polar Bottle was born from the desire to develop a bottle that would be sure to keep drinks cool on long and grueling bike rides. Mr. Heiberger happened to be a Mechanical Engineer and had knowledge on heat loss design, so Judy got to work and began making insulated and reusable bottles with hand sourced plastics from Denver. From the starting point of having only 3 employees, Polar Bottle has transformed itself as a true leader in the field of the water bottle market, and makes sure it gives back.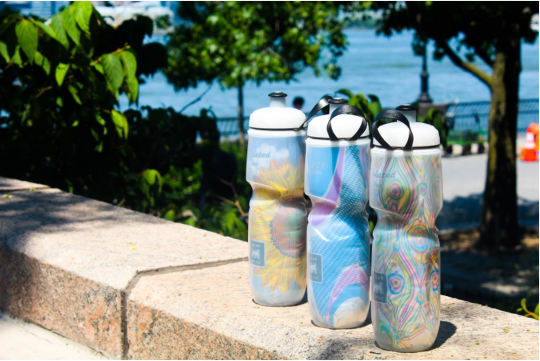 In terms of giving back, all Polar Bottle products are made in the USA, mostly assembled and shipped from Boulder, Colorado. And best of all, Polar Bottle recognizes the importance of keeping the planet clean and green for future generations.
As reported by experts, about 2 million tons of standard, single use water bottles end up in landfills every year. And sure, we all need at least 8 cups a day to function as our best selves, but why the waste?
By purchasing a reusable water bottle, you will be saving the ecosystem from the tribulations that excessive plastic use causes. Not to mention you can pick a bottle that really suits you and that you'll love to show off!
Polar Bottle features a slew of different bottles for different uses—all of which come in awesome designs, colors and sizes. Or, if you need something specific you can even show your true colors and customize your own. Our personal favorites, as featured above, are the Sports Bottles Floral Series in Sunflower, the Spin Series in Bermuda, and the Artist Series in Royal Peacock. We love these for sticking in our backpacks for hiking, in our water bottle clip for biking, or just for throwing in our work bags to stay hydrated throughout the day without worrying about any spills!
While the aesthetics are great, what we love most is Polar Bottles commitment to giving back. Every year, thousands of dollars worth of product are donated to conservation groups, and seeing as how Polar Bottle originated as the brainchild from the need to stay hydrated while staying fit, Polar Bottle works to promote sustainability by preserving natural recreation areas and helping establish policies that encourages citizens to protect the planet by using alternative transportation.
All in all, eco18 loves giving shoutouts to brands we believe in and support, and we couldn't recommend Polar Bottle more. Sleek, practical, and ethical, this brand is one to watch.